Tammy's corner: QUOINE Weekly Roundup (June week 4)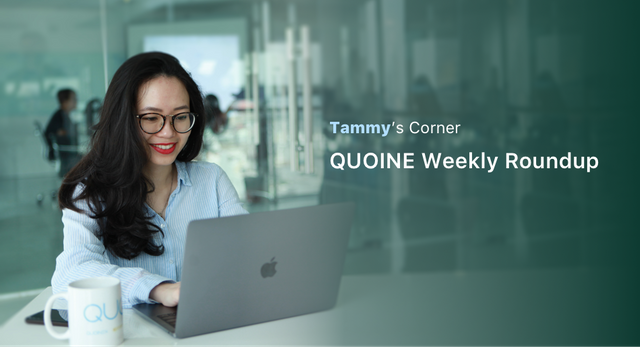 Dearest QUOINERS,
It has been 9 months since I first joined the crypto world. Doesn't matter how long you have joined this space, I bet you have heard the little tale of a friend of a friend who bought bitcoin when it was $100 and before he knows it, his account skyrockets to millions of dollars when bitcoin increases in price. Often I wondered why it couldn't have happened to me. 🤔
It's funny how the gloomiest time and the most opportune time are often one and the same.
Despite the bear market, it's business as usual at QUOINE as we work to improve customer experience on our platforms, build partnerships and reward active users. Below are some of the important weekly highlights:
Lending feature on QUOINEX
Our Lending feature was launched on QUOINEX this week. For those who don't know, this feature allows you to offer loans to margin traders and earning daily interest of up to 0.070%. There is a simple tutorial on how to utilize the lending feature to earn interest on your holdings. We are expecting many exciting updates as the lending app will offer additional incentives for QASH holders.
QUOINE and Lendingblock formed a partnership
On June 26, QUOINE announced a partnership with Lendingblock, the institutional platform for collateralised digital asset lending. The partnership will be to facilitate the sharing of liquidity and also extend borrowing and lending to exchange users. As QUOINE will leverage the lending exchange and loan lifecycle management services provided by Lendingblock, we will offer our partner the ability to borrow and lend cryptocurrency in a secure and transparent manner.
Updated Privacy Policy and Cookies Policy
Please be noted that we have updated our Privacy Policy and our Cookies Policy. To avoid interruptions in accessing our services, you MUST log on to the QUOINEX or QRYPTOS website to confirm your agreement with the updated terms. We need your immediate action to ensure your trading activities on QRYPTOS and QUOINEX will not be impacted.
Fanchain Private Sale
Besides the great bonus of 80% for the private sale, the Fanchain team is also offering all QASH holders on QRYPTOS and QRYPTOS users with an account balance of $1000 USD equivalent some FANZ tokens as an airdrop. Please check out this interview between QUOINE Head of Operations Seth Melamed and Fanchain CEO Kevin April regarding FANZ Private Sale on QUOINE ICO Mission Control.
---
And here is a little call to action as a takeaway from my recap: log on to QRYPTOS or QUOINEX to accept the updated Privacy policy. And while you're at it, why not check out the Fanchain Private Sale and trade a little? Also, follow us on Instagram and participate in our #HumansOfCrypto movement.
I hope you have great weekend ahead, QUOINERS. Here and there I heard, "Patience is a virtue." 😉
Warm Regards,
Tammy Ha