QUOINE Blogger Roster wants you 😉
Dearest QUOINERS with a flair for words,
We see you.🧐
By means of receiving your many fantastic written submissions for QASH Rewards Program in the past months, we are convinced that our community has some of the most talented content creators who are both well-versed in the crypto language and have a deep understanding of our platforms.
Some of you have received our invitation to join our Blogger Roster, where you will get to participate in special assignments.
For those who are interested to join us, kindly submit your writing sample to https://goo.gl/M9mPbv if you would like to be a part of our Blogger Roster.
We want to work with you. 🤝
So what is the Blogger Roster about?
Here are some details of ways we would love to collaborate with you. 😉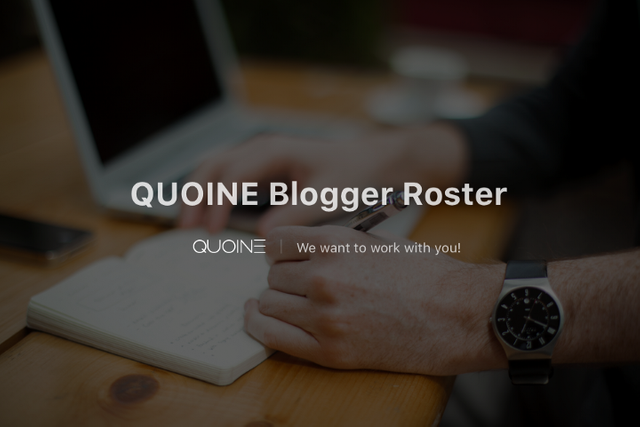 1. Traditional blogs
Whereas in the past we set blanket assignments for all bloggers, we will instead now be asking for pitches from you guys. You know us, you know what we're all about, and we want you to pitch us your ideas for blogs that we will run on our current blogging channels and also on our forthcoming blog platform on Liquid. We want you to come up with ideas for content you could write and we will select the best ideas and commission them.
Though we will leave the ideas up to you, below are a few suggestions for the kind of content we would be looking for. Bear in mind that we do not want run of the mill content. We want new, original, interesting blogs. We have had enough submissions of rewrites of our whitepaper already.
Blogs around our products and features: Liquid, World Book, QASH, Lending app, margin trading, etc.
How-to guides: deposits/withdrawals, features on QRYPTOS, QUOINEX, Liquid, signup for an account, how to KYC, how to join the QASH community, etc.
Reactive blogs to current news: There are lots of news items that you could use as the basis of a blog, such as market news, exchange hacks, sector developments, etc.
Trading tips and strategies: share your knowledge.
Market trends: If there's been a big shift in the market and you can get us a piece quickly, we could work with that if you work in QASH or other tokens we list.
General topical blogs: Security, cold wallets, KYC/AML, listing practices, ICOs, blockchain, mass adoption, etc.
The above are just suggestions.
Payment to be discussed on successful acceptable to the QUOINE Blogger Roster.
2. Educational content
We are also seeking learning content for the Liquid platform. We have a range of topics to cover.
We need up to 1,500 words per post, with each article well structured and broken into several parts with appropriate headers. Accompanying images, screenshots and graphics will be useful, but you can also simply suggest graphics we can request our designer to make.
Contact us for the full list of topics.
Payment to be discussed on successful acceptable to the QUOINE Blogger Roster.
Apply now: https://goo.gl/M9mPbv
By joining the Blogger Roster, you represent you have read, understood and agreed to be bound by these terms and conditions of entry
Are you ready to be a part of us?
Warmest Regards,
The QUOINE team