People of QUOINE: Ngoc Bui — Quality Assurance Leader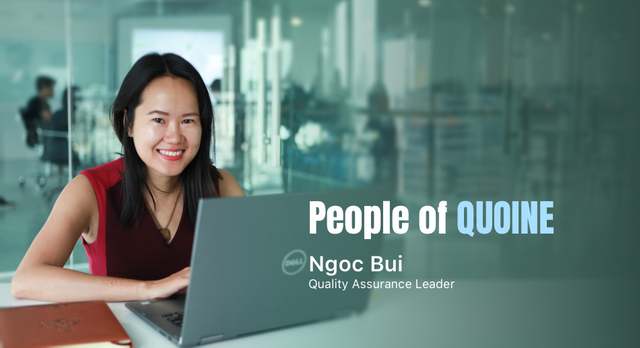 Introduce yourself
Hello! This is Ngoc Bui. I am the Head of the Quality Assurance department at QUOINE.
If I have to describe myself, I would say I am adventurous, well, mostly adventurous. I enjoy challenges in general, they help keep work exciting, and I also enjoy being challenged in different ways during my travels. I get really excited when difficulties present themselves. "Ain't no mountain too high" is my motto.
Before I joined QUOINE, I was Head of the QA department for Coc Coc search engine and I also worked as QA manager at a software company in Malaysia for 2 years. In my leisure time I love reading non-fiction books. My favorite book would definitely be "Thinking Fast and Slow" by Daniel Kahneman, I would recommend this to anyone! I am also a big fan of traveling. Seeing new places and cultures and trying different foods is amazing. My personal favorite destination so far is Bromo, Indonesia.
What does your department do?
Just like other tech companies, Quality Assurance (QA) deals with guaranteeing a level of quality for the end client, and helping the software development team identify problems early on in the process. It is not surprising that people in this role are often known as "testers". Of course, the role is more than just testing. It's about contributing to the quality of the final product.
What are your daily tasks?
We perform numerous tests on a daily basis to make sure product features from Back End, Front End and Mobile Team are bug-free and up to standard. We are the point of contact for Back End, Front End, Mobile, Marketing and sometimes even Customer Support when it comes to providing information about new product releases.
What is it like to work at QUOINE?
Unlike other tech companies, where QA engineers are often passive with a fixed set of product requirements to test, at QUOINE we approach our tasks more like a Business Analyst. The ability to analyze requirements and have an overview of the impacts that a certain feature has on a different department is important. This job would be a great fit for anyone who enjoys the process of analyzing, just like me.
I have come to realize during my time here that it is important to have the ability to prioritize. QUOINE is a FinTech company in a crypto world that is changing quickly and aggressively. There are always so many products being developed concurrently in all departments. A QA person needs to know which task to prioritize over others because of the sheer amount of work that is occurring within QUOINE.
For the same reasons, the ability to adapt to change is crucial.
What does it take to work in the QA department at QUOINE?
A perfect candidate to become a QA engineer at QUOINE would be some who has good analytical thinking, is detailed oriented and can see the product from the user's point of view. Most importantly, he/she should have a passion for QUOINE's products. We all love the QUOINE vision, and we are so excited to be working towards the Liquid launch at the moment. A new team member should share the same passion for our work.
What are some of the latest updates you want to share with our community?
As you may know the Liquid exchange is coming soon, and we are working very hard on it. Liquid is a promising project and we at QUOINE won't let you down. Watch this space for the forthcoming development updates!
What would you say about QUOINE?
I love QUOINE! QUOINE has an active working environment and it's great to work with young passionate developers who are very smart and always willing to learn more. I really enjoy working with my team. Our CTO Mario is a great leader, he is kind and humble. He understands our product better than any CTO I have ever worked with. Being a part of Mario's team means you are working with Mario and not for Mario.
QUOINE is providing us so many opportunities to learn and to grow together.
A message to our community
Liquid is a very cool project and will undoubtedly bring you a better trading experience. We are working very hard on this project as a team. Please stay tuned for the launch of Liquid!
As a final note, we are expanding our team, so if you are interested please apply via careers.quoine.com.