Honeyminer - Making Mining Great Again
Honeyminer: https://x.co/honeyminer
'How do I earn Bitcoin?', 'How do I mine with a computer?' are some of the most asked questions since the emergence of cryptocurrencies.
HoneyMiner answers those questions and is popularly referred to as a software which 'makes mining and earning money simple for anyone with a computer'.
What is HoneyMiner?
HoneyMiner is a mining software created by a company with the same name. The software allows its users to participate in a dynamic mining pool by running the app when the computer's graphics processing unit (GPU).
A free beta version of the HoneyMiner was launched in June. The software uses the SSL technology and encryption to make the clients always protected at all times.
The HoneyMiner servers are also 100% anonymous and decentralized. The software adopts a 2-factor authentication to ensure that only you will be able to use your account.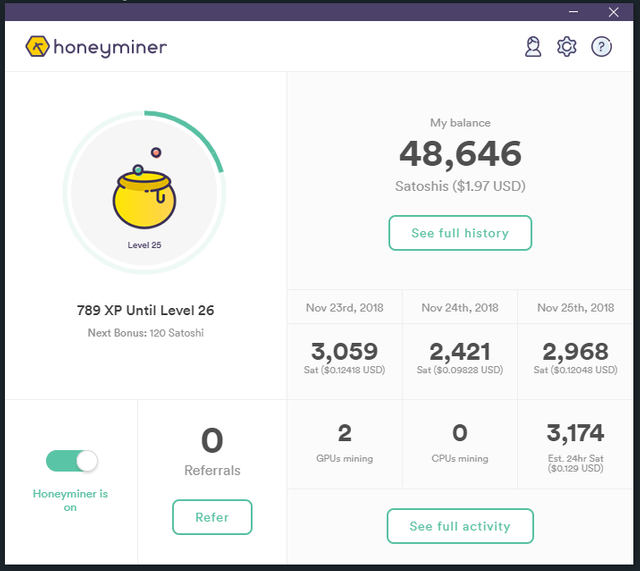 How does HoneyMiner work?
To use HoneyMiner, all you need is to download the software, and create an account, and have a computer with a working wireless connection.
For every session, the HoneyMiner app will scan dozens of tokens and choose the most profitable ones to mine. Tokens will be automatically mined and sent to you on a daily basis.
When a mining session is complete, HoneyMiner sends the participant's earnings, converted into bitcoin, directly to the user's wallet. You can decide to invest in more hashpower and profit more or you can withdraw the earnings for cash.
The mining pool of HoneyMiner focuses on mining cryptos like Ethereum, Ethereum Classic, ZCash, Monero and other GPU-friendly digital assets.
Mining with HoneyMiner is not only possible with rigs. Each computer gets different tasks, based on its performance or capabilities. The capability of your computer determines how much profit is made.
With HoneyMiner, the mining process is almost automatic, you do not have to create a special configuration, setting or even monitor the prices of the digital assets to be mined.
The HoneyMiner software that says you can earn profits from your computer's GPU daily without doing anything. Mining is done for free with the software.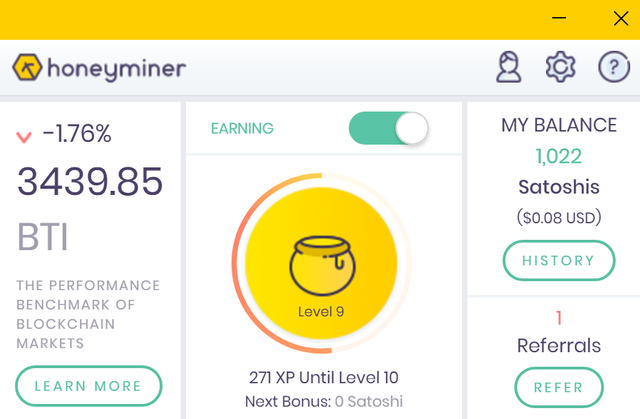 HoneyMiner for professionals
The current HoneyMiner software has only been recently released and new features are being constantly added but the company has announced that a specialized version would be launched soon.
HoneyMiner Pro is currently undergoing development for professional miners who need help with power consumption management and options for manually choosing which cryptos to mine.
The HoneyMiner Pro asides from adding extra features, would be removing a lot of restrictions. Miners would be able to choose coins to cash out in, in case they don't want bitcoin.
Takeaway
With the HoneyMiner beta you can earn from $1 to $3 USD daily without necessarily doing anything. Its a nice source of passive income regardless of what machine you are running it on.
Back in the day in a land far far away Bitcoin was actually mined by the users themselves. It was a global network where people from around the world contributed there hashpower, whether it was big or small. The users had a stake in the network. But unfortunately that time has passed and Bitcoin is mined in far away lands in loud warehouses churning out million of hashes a day. Mining is now an oligopoly. In order to join this oligopoly you need to buy from a monopoly.
Honeyminer is trying to take back some of that power and give it to the users. They won't be able to compete with the big mining firms but the users can now have a stake in a much smaller network. A small stake but a stake none the less.
Honeyminer: https://x.co/honeyminer