Hello Steemit Community,
Today, I would like to inform you about an on-going public sale of a coin. LAPO is building its own blockchain. The public sale will go until the end of May '18.
This project comes from Switzerland, which is known for its private banking sector. LAPO team is building a blockchain that aims to be stable and fast - the next generation cryptocurrency. On top of LAPO blockchain, they are looking to build comprehensive financial tools for cryptopayments, exchanges, and other financial services.
The ICO received great reviews, including a 5.0 from TrackICO and 100/100 from ICORanker.

https://www.trackico.io/ico/lapo-blockchain/
https://icobench.com/ico/lapo-blockchain
https://icomarks.com/ico/lapo-blockchain
https://icoranker.com/ico/lapo-blockchain/
Founders of LAPO believes that price stability, speed, privacy, and decentralization should be the fundamental traits of an optimal cryptocurrency. Supporting traits should target the wider adoption of the currency - simplicity, elegance of concept, easy integration, ability to work with an exchange.
In order to provide stability and protect the coin from the daily volatility of the crypto markets, the team brings together an autonomous stability fund which would detect and avoid illegal market manipulation. LAPO will employ artificial intelligence to govern this stability fund, thus LAPO coin (LAX) will have a stable store of value.
LAPO team will also introduce a LAPO platform, where LAX is the core of the ecosystem. The platform will bring along a simple and effective multi-currency wallet, payment processing in multiple cryptocurrencies, fast private transactions, real-time decentralized trading (wallet-to-wallet) and smart contract functionality with tokenization features to connected to the LAPO bank. By these features, the platform will offer a complete cryptocurrency ecosystem.


*Whitepaper pg 11

After this introduction, I will go through the facts of the ICO as usual.
Domain Registration - Date; Name
Domain Name: LAPO.IO
Creation Date: 2018-01-05T14:03:44Z
Registry Expiry Date: 2019-01-05T14:03:44Z
Registrar: NameCheap, Inc
Registrant Name: WhoisGuard Protected
Registrant Organization: WhoisGuard, Inc.
Source: https://www.eurodns.com/whois-search/io-domain-name
Corporate Information - Date Of Incorporation, City Of Incorporation Etc.
Current Entity Name: Lui.is GmbH. (mentioned in Disclaimer)
Company Number: CHE-462.403.509
Status: Active
Incorporation Date: 25 March 2015
Company Type: Limited Liability Company
Jurisdiction: Switzerland
Registered Address: Via Torretta 1, Locarno, Switzerland
https://ti.chregister.ch/cr-portal/auszug/auszug.xhtml;jsessionid=66a4549a6a0930c4f8d97850d987?uid=CHE-462.403.509

CEO, CTO, Chief Blockchain Developer - Number Of Followers On Linkedin - Twitter - Date Of Joining To Social Media
CEO – Luiis Franceschi
Linkedin: https://www.linkedin.com/in/luiisfranceschi/
Followers: 2.764
Twitter: @luiisfranceschi (Joined Jun 2009, Follows 130, followers 440)
Instagram: https://www.instagram.com/luiisfranceschi
CTO – Christian Albera
Linkedin: https://www.linkedin.com/in/christian-albera-03457680/
Followers: 500+
Twitter: N/A
Instagram: N/A
Lead Blockchain Developer – Tim Uy
Linkedin: https://www.linkedin.com/in/tim-uy-0b56/
Followers: N/A
Twitter: N/A
Instagram: N/A
Price Offering At The Time Of Steem, Total Market Cap At The Time Of ICO.
Name: LAPO Coin (LAX)
Soft Cap: 500.000.000 LAX (pg 44 of Whitepaper)
Hard Cap: 3.000.000.000 LAX (pg 44 of Whitepaper)
Exchange: 1 LAX = 0.025 CHF / USD (As of 01 May 2018)
1 ETH = 26,600 LAX ; 1 BTC = 360,960 LAX
Min Purchase: 0.1 ETH / 0.01 BTC
Bonus Structure:
1st Week = 30% Bonus
2nd Week = 20% Bonus
3rd Week = 10% Bonus
4th Week = No bonus
Distribution Of Resources
The breakdown of token allocation is as follows (whitepaper pg 37):
• 50% Development
• 20% Overhead
• 10% IT Infrastructure
• 15% Marketing
• 5% Other variable costs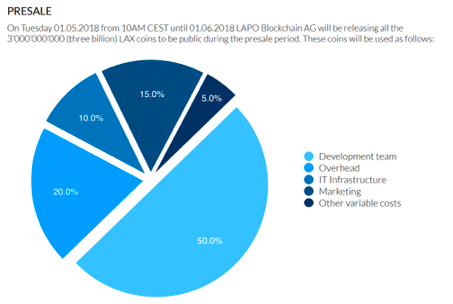 Inflation Rate Per Year / Tokens To Be Burnt Over Years
Pre-mined: 10.000.000.000 (Ten Billion) LAX
Crowdsale: 3.000.000.000 (Three Billion) LAX
Stability Fund: 5.000.000.000 (Five Billion) LAX
Founders*: 1.000.000.000.000 (One Billion) LAX
Bounty: 500.000.000 (500 Million) LAX
Team, Developers, Masternodes *: 500.000.000 (500 Million) LAX
Founders and Team&Developers&MN coins are locked up for 1 year.
90 billion LAX is to be mined over 100 years.
Number Of People In Telegram Channel; Number Of Twitter Followers
Telegram: Lapo Telegram Channel 7,240 members,
Twitter: @LapoBlockchain 7,588 followers (As of 1 May '18)
Word Cloud Of White Paper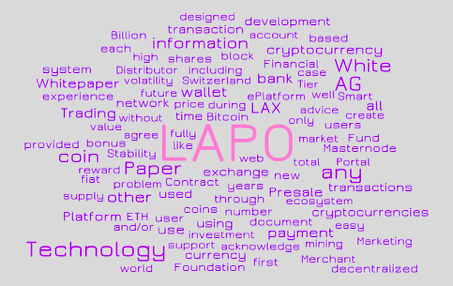 I hope this introduction to LAPO will help you to decide whether to invest in LAPO or not.
Happy investing,
Q.
Whitepaper: https://lapo.io/files/lapo-whitepaper.pdf
Webpage: https://lapo.io
My Ref Link: https://app.lapo.io/?ref=YqWIq4kqPN
Bitcointalk: https://bitcointalk.org/index.php?action=profile;u=1674132