Top 5 Cryptos Launched in October 2017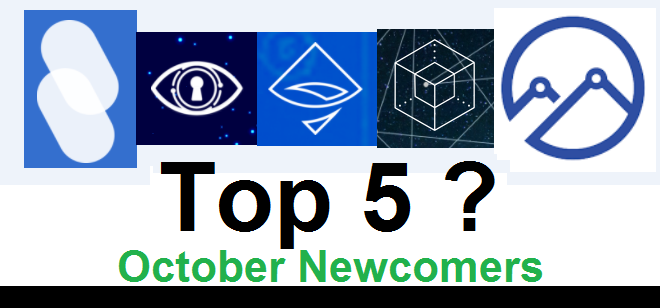 Ranked by market cap the following list contains the top 5 cryptocurrencies / tokens listed in the last 30 days on Coinmarketcap. As the list is only a snapshot in time and some of these tokens are just a few days old it remains to be seen if they can really be called "top"...
| Rank | Name | Symbol | Added | Market Cap | Price |
| --- | --- | --- | --- | --- | --- |
| 1 | ATMChain | ATM | 27 days ago | $77.171.661 | $0.026487 |
| 2 | Amber | AMB | 8 days ago | $34.971.062 | $0.241862 |
| 3 | AirSwap | AST | 14 days ago | $30.696.750 | $0.204645 |
| 4 | Enigma | ENG | 18 days ago | $29.791.157 | $0.398085 |
| 5 | Everex | EVX | 21 days ago | $28.152.960 | $1.71 |
Are these new cryptos here to stay?
Regarding the giant wave of new ICOs in the last months and the hype that has surrounded this new method of funding an enterprise let's have a closer look at the list.
The analysis shall be conducted from a rational market perspective with exchange data and charts as a basis.
#1 ATMChain (ATM)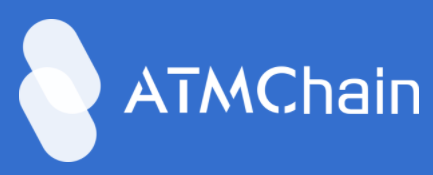 Almost all trading volume comes from one exchange. The others only represent a very small share of trading volume. An uneven distribution of volume increases the risk of manipulation or fake volume therefore this is a negative sign.
---


The chart above doesn't allow anyone to draw a conclusion from it. Looks like spread back and forth trading perhaps to create fake volume. A negative sign.
---


A look at market depth reveals that there's way more ATM to sell than anybody wants to buy ... at least at the price most sellers want to have a trade. This again is a negative sign.
ATMChain seems to have very limited upward potential. It's better to stay on the sidelines.
#2 Amber (AMB)



Only two exchanges have listed the AMB token.
---


Though trading volume of Amber is far lower than ATMChain's dubious 499,200 $ volume this chart gives us a hint at where it wants to go. The depth of market is in accordance with the direction of the price.
#3 AirSwap (AST)



A good volume distribution looks more decentralised. Of course there's always one exchange which is leading in terms of trading volume but if a token is really traded on the market as a whole, a single exchange shouldn't dominate all trading activity.
---


The chart doesn't look good at all. The downtrend has slowed down a little but is still intact. Support areas have been broken down and turned into resistances - a confirmation of the downtrend. Now AST trades at fresh all time lows as well as new supports that haven't been tested before.
All in all there's a bearish outlook for AirSwap.
#4 Enigma (ENG)



The volume distribution looks OK again which means decentralised and not dominated by a single exchange.
---


A quite similar picture to AirSwap's outlook. Trading at all time lows.
---


Generally we can see an oversupply.
The outlook is bearish.
#5 Everex (EVX)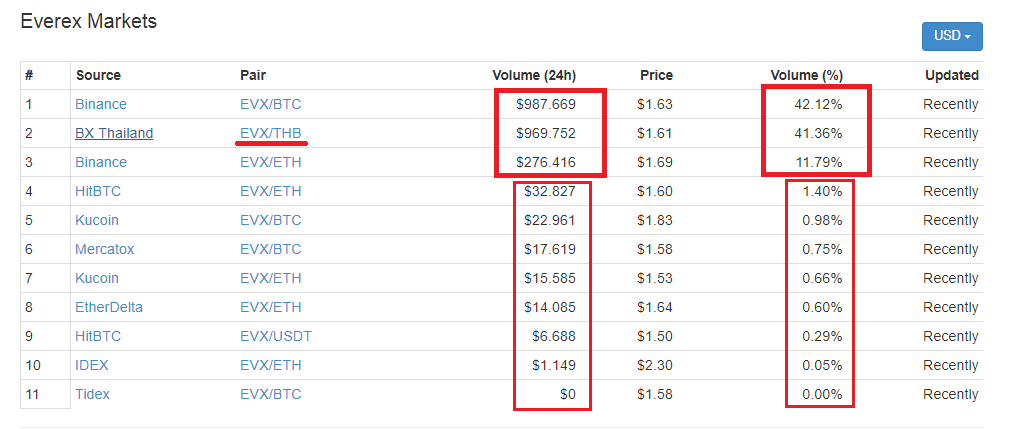 Trading volume is dominated by two exchanges which isn't good. Notice that this is the only token of the presented five that can be traded against a fiat currency - the Thai Baht.
---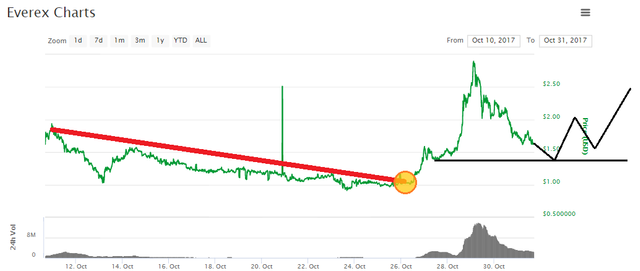 There wasn't an appropriate candlestick chart around but in case of (chart)emergency one can also try to apply charting techniques on a classic line chart. Here we see that the downtrend has been clearly broken to the upside along with increasing volume. The chart is quoted in USD and it's the only one of the five which has a positive outlook.


A look at the depth confirms what can be seen on the chart. Buyers and sellers are almost in equilibrium with the sellers having some Everex more to offer. Moreover the shape of the depth curve looks healthy because there are many small orders on both sides giving the curve a steady rise instead of big buy and sell walls that look like giant stairs.
However with only two exchanges having relevant volume to set the price it's still too risky to touch EVX.
So is the top 5 just garbage?
Not necessarily. The list containing the top 5 was ranked by market cap. And it shows that ranking by market cap can be extremely flawed if you add a time factor. Limiting factors to market cap could rather be attached to local areas or sectors like it's done in stock rankings.
What do you think? Should the list rather be ranked in terms of trading volume instead of market cap? Maybe based on fundamentals and innovation potential or based on something completely different?