A new thing to try on coinmarketcap.com if you haven't already. FILTER PREMINED and I'll tell you why you should....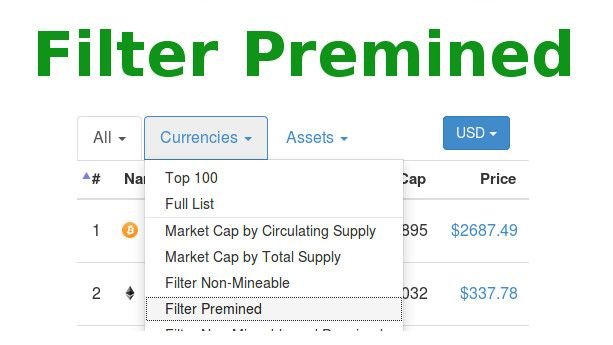 First of all, let's answer. WHAT IS A PREMINED COIN?
A premined coin, is one that unfairly gave a bunch of coins to some one else (or a group of people) when a blockchain was launched. You will hear tons of excuses why this is okay, but it is not good in my opinion.
Was Bitcoin premined? NO

Was Steem premined? NO

Was Peercoin premined? NO
How many coins are premined, or unfairly launched?
.
I counted 63 out of 100 top coins on coinmarketcap.com are PREMINED / Unfair Launch coins.
63% were not fairly launched like Bitcoin or Peercoin!!
What's the problem with premining coins?
It's unfair distribution.
.
When you give a lot of coins to a certain group of people, it makes it easier to manipulate the price if they want to buy and sell coins to and from them selves on an exchange. In addition, you can get wide "controlled" price swings if the large coin holders (who basically got these coins "for free") want to dump at a high price, and re-buy at a low price.
How can I see which coins (in order) are NOT PREMINED?
PREMINED COINS (like Ripple) will have an asterix next to its trading symbol like XRP*
Another PREMINED coin (like NEM) also has an asterix NEM*
PPC does not have an asterix next to it.
At the top of the screen at coinmarketcap.com, under CURRENCIES choose Filter premined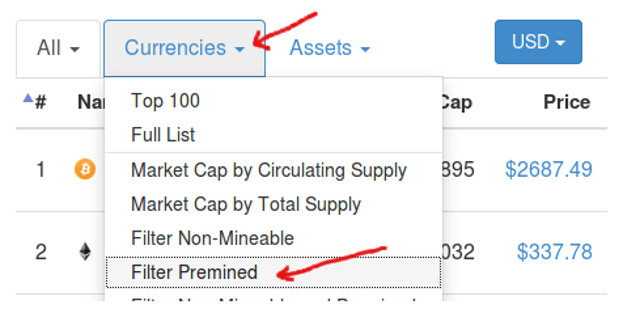 When you do that, Peercoin jumps from #55 spot to #39 very quickly.
So many people don't realize the difference between premined and non-premined coins, and they should.
The founder of Peercoin (Sunny King) has to mine his coins, just like every other user when the Peercoin chain was launched. The coins in circulation right now, (100% of them), were mined using fair methods that the public could have used.
This is just another example of what makes Peercoin's chain even more fair and trustworthy.