Join The Brand New PECUNIO Telegram Group Today!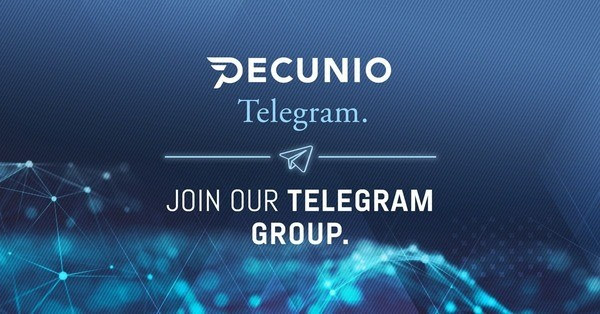 Hello PECUNIO fans!
We are proud to announce that we are less than a week away from our main ICO. With the date almost upon us, we are happy to let you know that we've opened a Telegram group for all potential participants to come and ask us any questions.
Our CEO, Reinhard Berger, had this to say in his most recent PECUNIO email:
Dear PECUNIO member,

I hereby would like to invite you to join our PECUNIO Telegram group so you don't miss any important future updates.
In the upcoming days and weeks a lot of exciting news around PECUNIO are going to be announced and as a member of our Telegram group you are always up to date.
Within our group you can also connect with like minded
people and share opinions or questions about PECUNIO.
Furthermore our Telegram group is moderated by 4 of our community managers who are glad to support you and answer any of your questions.
Join our Telegram group now and get your share of the future.
Kind Regards

DI Mag. Reinhard Berger MBA
CEO of PECUNIO

Our ICO starts in less than a week!
At PECUNIO, our mission is to bring cryptocurrency investing to everyone. With our revolutionary gold-backed token and our easy-to-understand crytocurrency funds, we hope to make that dream a reality.
Coming off the success of hitting our $4.5m hard cap for our pre-ICO, we would like to invite you to participate in our main sale which is starting very soon. For more information, please head over to our website.