The Mining Situation in China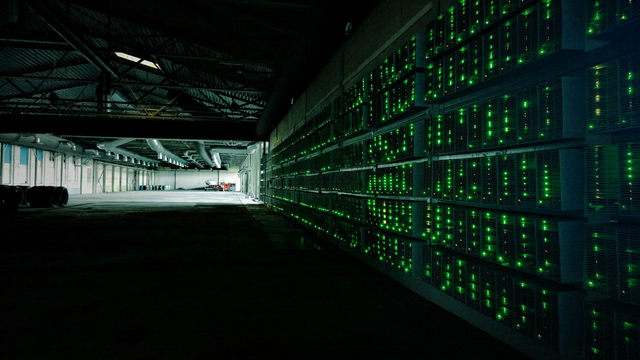 China has announced many times a ban on cryptocurrency, however, this was never a blanket ban. The crypto mining industry was very profitable to be shut down, so the Chinese government didn't crack down on it but allowed miners to keep their operations intact.
Meanwhile, the population is still allowed to hold cryptocurrencies. The exchanges in mainland China were shut down in September 2017 and also the financial institutions in China are not allowed to offer products based on cryptocurrency, or any crypto trading when based inside the country.
A very difficult situation since the internet in China is censored, monitored and individuals are under government surveillance.

The Great Chinese Firewall - Human Rights Violations & the Western Corporations
The great Chinese firewall prevents the Chinese from accessing anything the government doesn't like and many western corporations like Google have done their part to support this authoritarian regime (i.e. Google plans to launch censored search engine in China).
"GOOGLE IS PLANNING to launch a censored version of its search engine in China that will blacklist websites and search terms about human rights, democracy, religion, and peaceful protests."
-Source: The Intercept
After "The Intercept" whistleblowing of Google's plans of the "Dragonfly" search engine, Google seems to have scrapped it, however, it was still developing this censorship search engine at least until March 2019.
"In December 2018, Dragonfly was reported to have "effectively been shut down" after a clash with members of the privacy team within Google. However, according to employees, work on Dragonfly was still continuing as of March 2019, with some 100 people still allocated to it."
-Source: Wikipedia
There are plenty of US and EU corporations that do not care for human rights violations by the Chinese authoritarian regime. This is not the first case, it is just one that caught the attention of private rights groups and forced Google to rethink.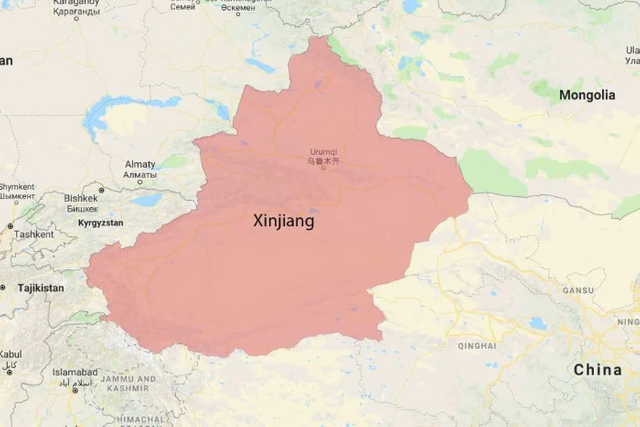 Image Source
The above part of the article was important to explain what exactly is happening in the Xinjiang region of China. There is a tense situation with human rights violations of the Uighur minority where China has detained 1 million Uighurs so far on re-habilitation facilities. There are widespread allegations of torture, forced sterilization, and international condemnation that has led many multinationals to pull off factories and businesses from this particular region.
Xingjiang is an area with abundant natural resources exploited heavily by the Chinese state-run and private mining corporations.
It is also where a large percentage of the Chinese Bitcoin and Cryptocurrency mining farms is located.
Xinjiang, which has vast coal resources, accounted for over half, or 36%, of this computational power in the country.
Source: Quartz
China accounts for more than 65% of the total BTC hash rate and close to same percentages for all cryptocurrencies.

Timeline of Events
April 11th, News of a mining accident in China appeared on mainstream media. An explosion and a flood at a coal mine in the region of Xinjiang on April 10th left 21 miners trapped and rescue operations were underway.
April 16th, Hashrate for BTC went down by a daily average of 35% and reports surfaced about a temporary stop of industrial level operations in the region of Xinjiang. The Chinese government ordered all mines to halt operations as long as the rescue of the trapped miners was underway. There is no news if the miners have been rescued yet, or if there had been fatalities from this accident.
April 30th, The region of Inner Mongolia, China, bans cryptocurrency mining (source) regarding the industry as highly pollutive and Xinjiang was expected to follow.
May 13th, Elon Musk announces on Twitter that Tesla has stopped accepting BTC as payment citing environmental concerns (source).
May 14th, Inflows of BTC in crypto-exchanges reach 1 year high (source).
May 18th, China bans payment processing and financial businesses from accepting or offering cryptocurrency-related services (Reuters).
May 18th, Politicians in the EU are considering introducing laws on imposing a cap on Bitcoin's mining electricity consumption (source).
May 18th, The Iranian government imposed a ban on Bitcoin mining at the household level (Iran accounts for 4% of BTCs hashpower) (source).
May 18th, NVidia announced it will limit the hash rate on their new GPU models to prevent use for cryptocurrency mining. The company will make their graphic cards less efficient to deter the use of them by cryptocurrency miners (source).
May 19th, The cryptocurrency industry suffers a big blow, as more than a trillion dollars are removed from the total market cap as selling intensifies.
May 21st, The Chinese Financial Committee (FSDC) announced a general crackdown of cryptocurrency mining in the country (source) after a meeting presided by Liu He (member of the Politburo of CCP).
May 26st, Iran bans Cryptocurrency Mining as electricity demand is expected to rise during the summer season. (Bloomberg)
May 27th, The regional government of Sichuan, China, will discuss the implications of a crypto mining ban for the region (source).
[update] June 9th, China seems to have started enforcing a ban of Cryptocurrency mining in Xinjiang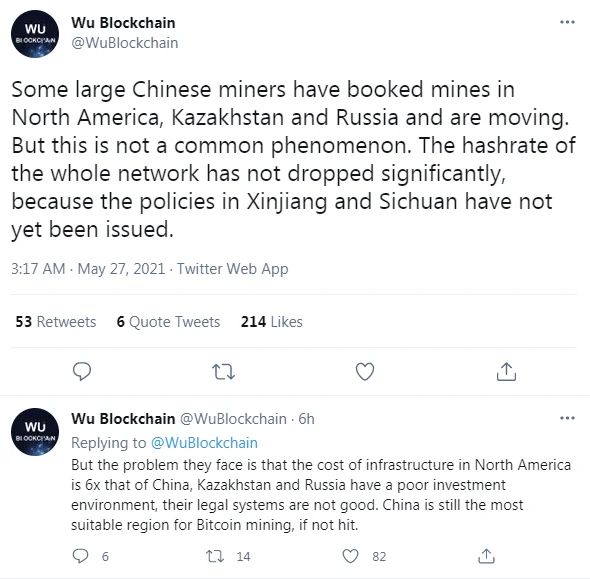 The policy of cryptocurrency mining is currently only in effect in the region of Inner Mongolia. But the Chinese government seems to be reading a crackdown all over the country. We are not done with the China FUD yet.
I expect news from China to keep coming and we don't know yet if a full ban will be in effect or some miners perhaps be allowed to continue after perhaps proving to have used mostly green energy sources.
Moreover, we still don't know the fate of these 21 miners, there had been limited news coverage about the current state of the rescue operations and China is once again directing all the news according to the government policy of reducing damage to its profile. The last news I've found on this accident is from 25 days ago and there are no new reports on the mainstream media.
Musk when tweeted about the Xinjiang mining accident, he claimed that 21 miners were almost killed, however, news stopped coming from the rescue operation and we don't know if any were actually killed. It was another irresponsible tweet that follows the sheep mentality.

China is the epicenter of Cryptocurrency mining. It is a very profitable industry for the country and added billions to the GDP. Thus, the mining industry was allowed to keep operations so far.
However, the Chinese government has now released a CBDC, a digital cryptocurrency that plans to expand and 100% integrate it into the economy.
It will be a requirement to remove competition and cryptocurrencies pose such a threat.
Decentralized cryptocurrencies have competitive advantages over fiat digital cash, and also allow financial freedom, something the Chinese Government despises.
Even democratically elected governments that aren't this authoritarian don't like the idea of providing financial freedom to the population.
Decentralization is a financial vehicle that gives us the freedom to select how we will use our money. It gives us absolute control over our wealth, without any government or third party being able to reject our transactions and lock us down financially.
What will happen next, could be a moderate crackdown and partial reduction of mining in China, or even a blanket ban. China though, with this kind of moves keeps expanding its influence and increasing a profile of being powerful, at least when this concerns cryptocurrencies.

Lead Image From: Finance Magnates
This article was originaly posted on my read.cash account. Link
Writing on the following networks:
Noise Cash
Read Cash
Steemit
Hive
Medium
Vocal
Minds
Vocal.Media
Den.Social(inactive)
Publish0x(inactive)
I'm also active on the following social media: