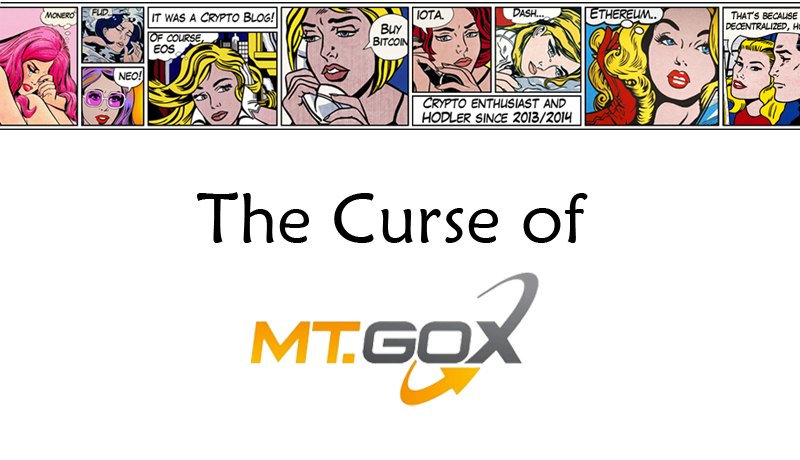 You've probably heard the story of the fabled Mt.Gox debacle that plagued Bitcoin back in 2011-2014. Mt.Gox was at the time the world's largest Bitcoin exchange and when it got hacked and almost a million Bitcoin was stolen and it caused Bitcoin to crash. Now it has been discovered that the curse of Mt.Gox continues, as it turns out that these past two months or so a Mt.Gox-trustee has been discovered dumping the remaining 200K Bitcoin into the markets.

KOBAYASHI
The person responsible is Nobuaki Kobayashi and he is the japanese attorney and bankruptcy trustee of Mt.Gox. Despite the hack having happened years ago, most people who lost their funds at the time have yet to receive any kind of compensation for their losses and Mt.Gox is still held liable by the court. Kobayashi is responsible for doing his best to repay those who lost funds during the hack.
Not all of the Bitcoin that were stolen were lost forever. Out of the 850.000 or so BTC that was stolen, abotu 200.000 BTC was recovered. Now, in order to repay the missing funds Kobayashi has apparently started dumping a significant part of these funds on the open market: about $360m worth of BTC and $44m worth of BCH: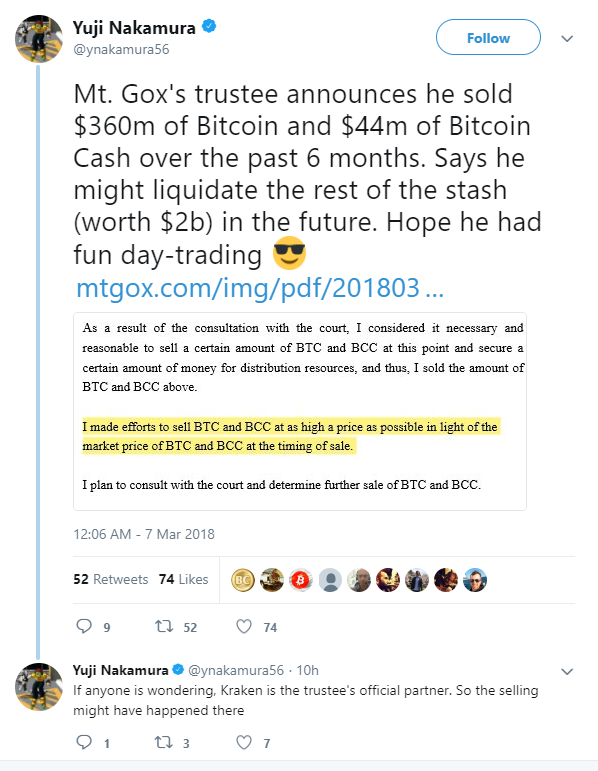 (source: Twitter)
An article I found describes how Kobayashi sold the first batch of BTC on December 22nd 2017, sending the Bitcoin price from $16,000 to a dipping point of $10,800. Then on January 17th a second batch of BTC was sold which crashed the price in a similar fashion once more. Then again on January 31st another batch was dumped. In total about $360 million USD was dumped on the markets.
Most particular is that a large batch of BTC being sold act6ually happened on February 6th, which was the bottom at $6000, arousing suspicion that this was in fact an attempt to further crash the market by dumping at the bottom on purpose.

WORRISOME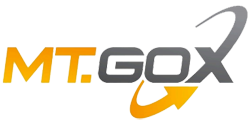 What's most worrisome is that this particular 'whale' has
another 180.000 BTC at his disposal to dump onto the market
. That's almost $2 billion dollars of sell pressure that can hit the market at any time, probably causing even more repeat occurrences of the price crashing. It doesn't sound like this is over yet.
On the bright side, the total value of the Bitcoins stolen back in the day was $460 million USD. Of course, the price was still low then. If Kobayashi did in fact liquidate $360 million USD worth of Bitcoin already to repay those lost funds, then it seems he is on track to recovering the whole amount of capital. One might assume that after another $100 million USD is liquidated there should be no reason to continue the massive sell-off and in fact it will be interesting to find out what actually happens to those funds left-over.

If you've been around the space you've heard the tales of whales manipulating the price. This example shows that it's not always ill-intent per se that is behind it: it can very well be a pragmatical reason too. But it also illustrates that Bitcoin market manipulation is very real, and that big whales do in fact have the power to make or break the market.

(Art by Roy Lichtenstein)