NEO passes complete code audit by Red4Sec 👍

NEO has just passed a complete code audit by a company called Red4Sec, which means that Red4Sec has deemed the NEO code trustworthy and reliable.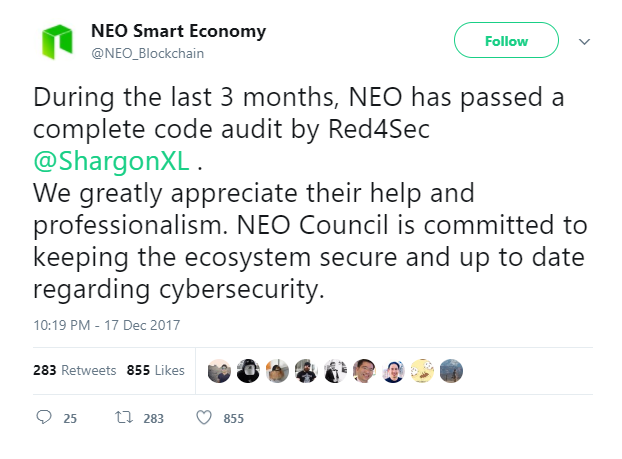 (source:
twitter
)
Red4Sec is a cybersecurity initiative formed by experts with many years of experience in the Cybersecurity sector. On their website it states that they are experts in ethical Hacking, audits of web and mobile applications, code audits, perimeter security and incident response.
A three month period for testing purposes sounds like a pretty good amount of time, and Red4Sec appear to be a legimate ethical hacking initiative. This is very good news for the NEO blockchain as it enhances trust in the blockchain, which is of course very important when it comes to handling value. By passing this code audit, it means that Red4Sec has critically looked at the code and tried to find bugs or loopholes or other ways to hack or abuse the blockchain, but they have failed to found any problems.
I have not come across many projects that have actively sought code audits for their projects. The fact that the NEO team has done this shows a great deal of professionalism, in my opinion.
I don't dare say this is the reason why NEO has been going up (I believe it is a combination of factors), but it surely adds to it!
Please consider Upvoting, Resteeming or Following if you liked this content! I write frequently about crypto-related things, so consider following me if you are interested in that sort of thing! Thank you!
⚙️Level 6 Steempunk Adventurer ⚙️
Come battle me through @STEEMPUNKNET!