⚠️ Despite altcoin exuberance, Never disregard Bitcoin! ⚠️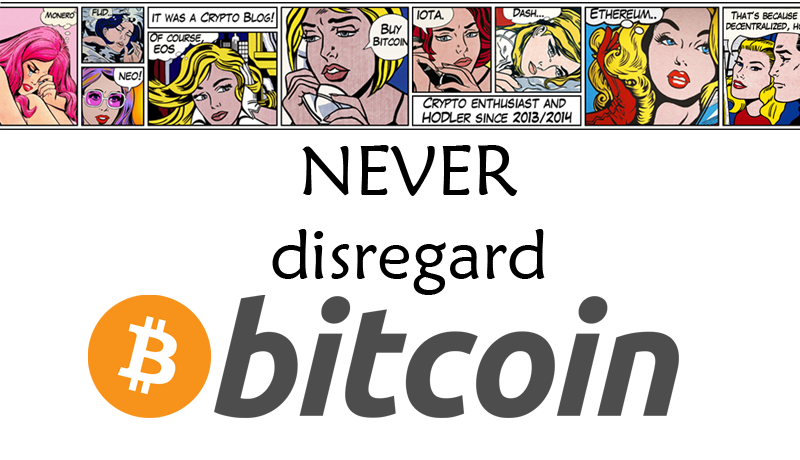 Altcoins are going crazy, even moreso than during last summer, and it seems like Bitcoin's days are numbered and the future is in alts. But the lesson I've learned is that no matter how great altcoins are: never disregard Bitcoin.

BITCOIN GOES UP, ALTCOINS GO DOWN
Most of you know that when Bitcoin goes up, altcoins go down because of people flocking out of them and trying to jump on the Bitcoin train. Right now it almost seems like the opposite is true: Bitcoin profits are pumping up the entire altcoin market significantly.
When alts are doing great it's easy to feel like they are the future, their tech is superior and their development much more swift. It is why I got into mostly alts in the first place! There is definitely good money to be made in altcoin trading also, but regardless of how bright the future looks: the present belongs to Bitcoin.
Never disregard Bitcoin. When Bitcoin is done consolidating and is ready to break out, up or down, it will affect the entire market no matter how awesome your alts are. Bitcoin is still the 'dollar' of cryptocurrencies and the one which everybody uses to buy everything else. It is the main economy in cryptocurrency and the one where everything is tied to.

BOOM/BUST CYCLE
I found this interesting picture that illustrates the 2017
boom/bust
cycle of Bitcoin. It shows the average drops and the subsequent price spikes afterwards pretty well. It also shows that if this pattern is to continue, it will bring us up significantly: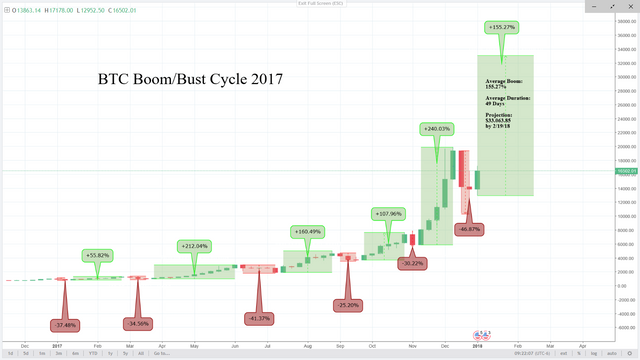 This projection puts us at an estimate of $33K per Bitcoin when the next spike happens. Local Steemit celebrity @haejin has predicted a short term target of about $23K per Bitcoin. Although, admittedly, he also predicts that despite this altcoins will have much higher Bitcoin valuations also. I'm not so sure these situations will coincide at ideal moments though.

OPTIONS
The way I see it, Bitcoin will either go up to $23-33K like the predictions are, which means that when this happens it's very likely to see all the altcoins dropping 50% in this process (simply because of the difference in BTC-Alt ratio, but probably even more than 50% because of the mass FOMO exodus out of alts and into Bitcoin).
The other option is that Bitcoin goes down and crashes down to $12K, $10K or $8K. I wouldn't consider the latter to be impossible. When something like this happens and Bitcoin goes down so much, history shows that in such a situation altcoins too suffer, and often moreso than Bitcoin itself.
The only real moment when Altcoins can really shine is in times like we are now: when Bitcoin is going neither up nor down. But how long will that keep going on? How long before Bitcoin starts to make another serious move? 1 day? 2 days? 1 week? a month? To me, playing the altcoin trading game has been fun and profitable, but it's about time to move back into Bitcoin because it is starting to feel like a game of chicken to me.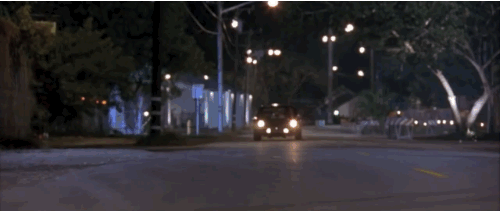 I'm sure there are a lot more gains to be had, but I am consolidating my positions into the good solid crypto's and taking my trading positions out. What do you all think? Am I too early? (I usually am..)
I just remember this cartoon below here like it was yesterday, and it actually wasn't that long ago at all. I think when push comes to shove, not at all that much has changed.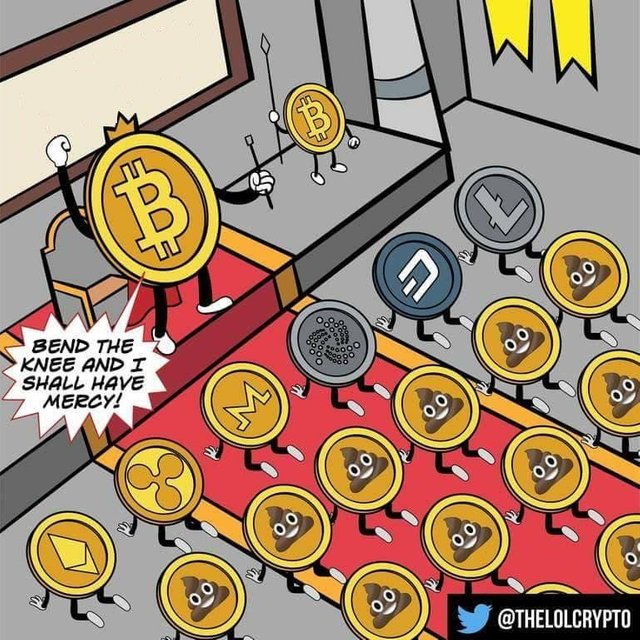 (Art by Roy Lichtenstein)