Hot off the press! Brendan Eich, the creator of Javascript and Mozilla Firefox, and now the developer of Basic Attention Token and the Brave browser, has disclosed during an AMA session that they are close to announcing an on-going partnership with a Top 3 NYC media company.
A friendly user on Reddit has created a screenshot of what Brendan Eich wrote regarding the partnership: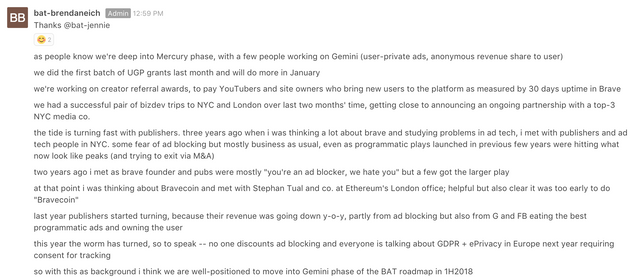 (
click here for large version
)
This is great news, because BAT depends on partnerships with media companies to create a revenue stream for it's users. A top 3 NYC media company is definitely not a bad partnership to form in this case: it will likely bring a lot more partners onboard.
It's also very interesting to note how the attitude of advertisers has changed from hating ad-blockers to accepting their existence. I tend to believe this is true, because nowadays ad-blockers are widespread and very common.
I've been invested in BAT for a long time now, because of Brendan Eich. If anybody can pull this off, it's probably him. And he seems to be doing it. The Brave browser is great (I switched to using it, except for Steemit because of plugins) and the only real functionality still lacking is the ability to get paid for displaying ads. I am very much looking forward to this feature and once it's there, I will switch to Brave and never look back and tell everybody I know to do the same.
I'm not sure I would recommend investing a lot in this project though. The token clearly has value, that much is true, but I do not know if it needs to have value. I see the token more as a way to route value from A to B, not to store value. Still, with the current crypto hype you can be sure this will explode when the earning-crypto-for-ads feature is enabled.
If anything is going to take crypto mainstream, it's things like BAT and Steemit, where they can get involved without having to face investment costs. Let people earn crypto, get acquainted with it, and in due time they will switch entirely to it. I firmly believe that.
Please consider Upvoting, Resteeming or Following if you liked this content! I write frequently about crypto-related things, so consider following me if you are interested in that sort of thing! Thank you!
⚙️Level 7 Steempunk Adventurer ⚙️
Come battle me through @STEEMPUNKNET!