💰Big AIRDROP happening for IOST holders 💰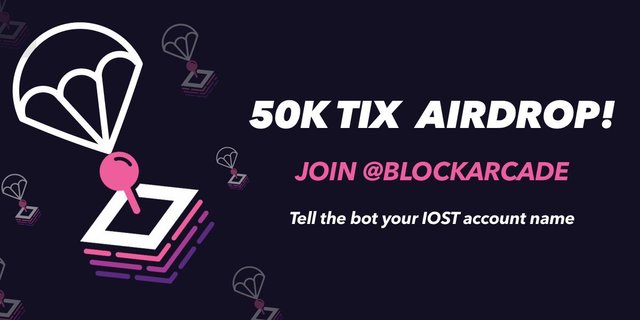 For those that aren't aware BlockArcade is an IOST node operator with partner node status. We focus on dapps and apps for the IOST ecosystem. You can learn more about our node on IOSTABC:
https://www.iostabc.com/account/blockarcade
To help promote our IOST node and new dapp StackWave, we wanted to do an airdrop of BlockArcade's token TIX!
How to participate
Join our Telegram room: https://t.me/blockarcade

Tell @blockarcadebot your IOST account name using /iost youraccount on Telegram.

That's it! Say hi if you'd like! 👋
We will airdrop a total of 50,000 TIX split evenly between all activated and real IOST accounts sent to @blockarcadebot on Telegram before the end of August 18th CST.
Play now at: https://blockarca.de
Have questions or feedback? Join us in Telegram: https://t.me/blockarcade