4 reasons why your crypto game sucks big time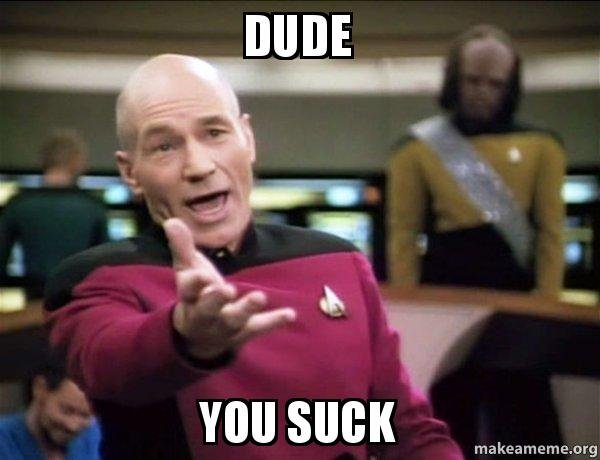 Don't worry im not serving up clickbait but I have probably piqued your interest if you believe even to the smallest degree that your crypto game could use some improvement. 
Im going to share with you four reasons why your game sucks right now, not because I researched it but through genuine personal experience. So lets get started...
Education 
First of all I'm not suggesting that you're not educated and I'm sure you probably did well at school and even graduated from college. 
But most people that suck at crypto haven't taken the time or just can't be bothered to learn about the space. 
The chances are they have been brought into from a friend, or watching YouTube videos about 100x returns or even traditional media. 
The problem is here is that these sources in themselves aren't fully grounded in how the crypto space works either. 
If you want to improve your crypto game, spend time learning as much as you can about the space, before you even think about investing your money. 
Would you buy a house without taking a survery to see if its at risk of falling down? Then why would you buy into crypto without fully researching what it's all about. 
Strategy 
I own a little Bitcoin, Ethereum and a number of altcoins through ICO's. 
In a previous life I may some of my income through day trading forex (foreign exchange markets),whilst stressful I actually made the most profit around the time of the financial crash and Eurozone debt crisis due to market volatility. 
I profited because I had set out a strategy and was determined to execute the plan. 
My holdings in crypto are part of a deliberate strategy to profit against Bitcoin, then increase my holdings in the coin, because I believe it to be the new gold or store of long term value. 
It is so important to have a strategy when investing your money or else you risk losing it all. 
Before you invest a penny you should decide on a game plan and part of the strategy should be an idea of what you should do when the market or circumstances goes against you. 
For example if your strategy is to invest in Bitcoin at $5k then sell at $6k but the price moves against you and drops to $3k in a day, what do you do? 
Have you planned for this sharp change in price and momentum in your strategy? Or are you now panicking because you remortgaged the house, and took money out your pension fund to invest in crypto.  
Commitment
I think commitment along with the previous are the top reasons why people lose money in crypto and ultimately suck at it. 
Finding that ICO that goes 10x or 100x takes time and effort, or finding that perfect entry point to buy a coin again takes time and effort. 
Unfortunately if you have entered the crypto space thinking that it's easy money because your friend was lucky on an ICO or because you heard that the Winkelvoss twins became crypto billionaires, you'll probably get disillusioned very quickly and therefore lack the overall commitment to be successful in crypto. 
As I mentioned before, once you have a strategy you need to remain committed to it, in time, effort and energy in order to execute it.  
Greed 
How much did you spend on your credit card to invest in Bitconnect, or a sure thing ICO?? 
In the interest of transparency I invested in Bitconnect myself and lost money as a result, no where near what others did, but with the benefit of hindsight I should have known better. 
But let me explain the difference, I played with earnings from other investments, investments that I was already in profit on. 
So in a sense I was playing with house money and therefore it was all money that I could afford to lose, yes I wasn't happy but equally I wasn't wiped out. 
However if this wasn't the case for you then the chances are you weren't investing, you were GAMBLING and essentially you were greedy. 
As part of your strategy I mentioned early, calculate the level of profit you're prepared to accept and how much you're willing to and financially are able to risk in order to make that profit. 
If you can't fund your investments without using the rent or mortgage money then find another way to get into the. Steemit is a good way btw!!!
When you've attained that profit execute your exit strategy and wait for the next entry position.  
Conclusion
Spend some time on educating yourself so you don't fall for fake mining opportunities etc. 
Have a well thought out strategy for investing be prepared to change the strategy as and when, and make sure that it includes a plan for getting out. 
Put the time and effort into implementing your strategy.
Finally DON'T BE GREEDY!!!  
Thanks for reading crypto currency is a lucrative hobby of mine. But my expertise is in social media. But if you have any suggestions for future content let me know in the comments below. Oh also don't forget upvote!!