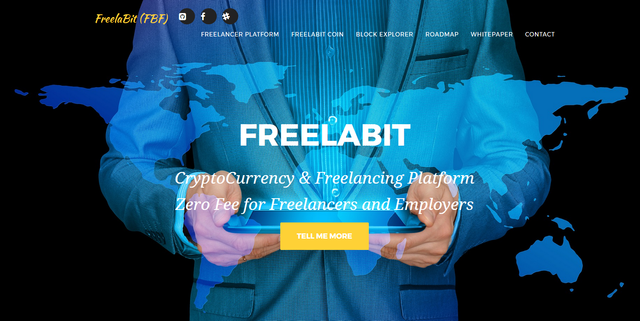 FREELABIT COIN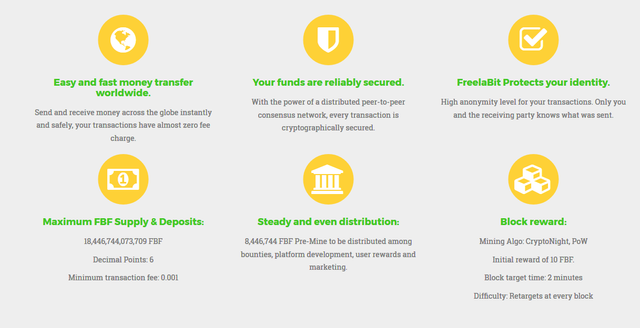 FreelaBit it´s a fork of the DigitalNote/XRY project which is based on CryptoNote.
Featuring anonymous technology and updated with unique untraceable encrypted messaging system and blockchain based deposits( up to 15% Interest on Deposits) *See Roadmap.
Maximum FBF Supply & Deposits:
18,446,744,073,709 FBF
Decimal Points: 6
Minimum transaction fee: 0.001
Total amount of coins to be emitted:
Most of CryptoNote-based coins use (uint64_t)(-1) (equals to 18446744073709551616).
Mind the decimal, its the same amount of units as other cryptonote coins, they put the decimal in a different place.
18,446,744.073709551616 -12 (monero)
184,467,440,737.09551616 -8 (bytecoin)
18,446,744,073,709.551616 -6 (FreelaBit)
Featuring anonymous technology updated with encrypted messaging system and blockchain based deposits.
(*Up to 15% Interest on Deposits)
Steady and even distribution:
8,446,744 FBF Pre-Mine to be distributed among bounties, platform development, user rewards and marketing.
**Block reward: **
Mining Algo: CryptoNight, PoW
Initial reward of 10 FBF.
Block target time: 2 minutes
Difficulty: Retargets at every block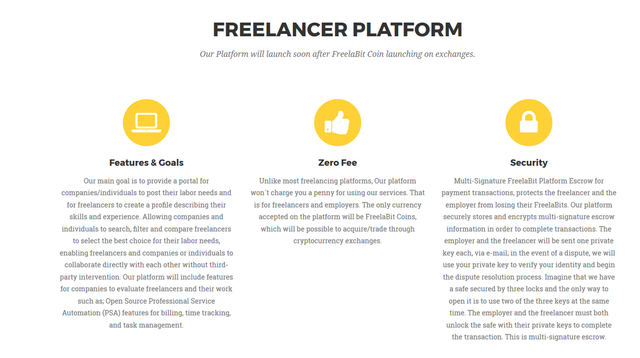 Our Platform will launch soon after FreelaBit Coin launching on exchanges.
Features & Goals:
Our main goal is to provide a portal for companies/individuals to post their labor needs and for freelancers to create a profile describing their skills and experience.
Allowing companies and individuals to search, filter and compare freelancers to select the best choice for their labor needs, enabling freelancers and companies or individuals to collaborate directly with each other without third-party intervention.
Our platform will include features for companies to evaluate freelancers and their work such as; Open Source Professional Service Automation (PSA) features for billing, time tracking, and task management.
Zero Fee:
Unlike most freelancing platforms, Our platform won´t charge you a penny for using our services.
That is for freelancers and employers. The only currency accepted on the platform will be FreelaBit Coins, which will be possible to acquire/trade through cryptocurrency exchanges and/or mining.
Github:https://github.com/freelacoin/freelabit
Slack:https://join.slack.com/t/freelabit/shared_invite/MjM2NDIyNzI1MTU4LTE1MDQzOTM2OTAtNDYwYzBhM2EzZQ
Facebook:https://www.facebook.com/freelabit/
---
BOUNTIES:
-Mining Pools (up to 5)(0 spot left):100,000 FBF (One Hundred Thousand) Each
-GUI Wallet (Win/Linux)(0 spot left):500,000 FBF (Five Hundred Thousand)
-Official ANN Translations: 10,000 FBF (Ten Thousand)
*Payments for Official ANN Translations will be released on block 45551
*Please send a PM (on BTC Talk) with links to previous works, wait for approval to start translation.
Languages needed: Indonesian, Chinese, Croatian, German, Greek, French, Hindi, Italian, Dutch, Korean, Filipino, Polski, Russian, Romanian, Turkish
---
Source Code: https://github.com/freelacoin/freelabit
Block Explorer:http://explorer.freelabit.xyz
Windows 64b GUI Wallet: https://github.com/freelacoin/GUI/releases/tag/v.0.1
Linux GUI Wallet: https://github.com/freelacoin/GUI
Mining Pools (3rd party):
http://flb.pools.e-scavo.net.ar S. America Region - Argentina
http://52pool.com:8089 Europe - UK
http://danger4society.de Europe - Germany
http://freelabit.kiramine.com Europe - Germany
http://202.5.18.38:82/ N. America Region - USA
Deposits:
Months Interest Rate
1 1.25%
2 2.50%
3 3.75%
4 5.00%
5 6.25%
6 7.50%
7 8.75%
8 10.00%
9 11.25%
10 12.50%
11 13.75%
12 15.00%
Seed Nodes:
"155.254.33.76:31002",
"18.220.137.254:31002",
"155.254.34.99:31002",
Ports:
P2P_DEFAULT_PORT = 31002;
RPC_DEFAULT_PORT = 31006;
PRE-ANN https://bitcointalk.org/index.php?topic=2202076
Official ANN https://bitcointalk.org/index.php?topic=2344886