LOCAL COIN REVIEW

PRELIMINARY
Cryptocurrency Trading platforms also known as Exchanges are online platforms where you can exchange one cryptocurrency for another cryptocurrency or sometimes for Fiat currency. A cryptocurrency exchange is a third-party platform from which one can purchase or trade Cryptocurrencies. A Cryptocurrency can simply be exchanged for Fiat or different Cryptocurrencies on an exchange. There are varieties of Cryptocurrency exchange depending on the type of services they give. They can be trading platforms, peer-to-peer exchanges or brokers. In determining an exchange, factors such as security, speed, fees, the process of buying, ease of use, effective customer service, etc. need to be analyzed.
There are two(2) types of cryptocurrency exchanges; Centralized and Decentralized exchanges.
Centralized Exchanges: A centralized exchange is an online cryptocurrency platform that makes use of a third party or middle man to execute transactions no matter the asset that may be in place. Just like customers trust banks to hold their money, traders trust these middle men operating in centralized exchanges to handle their assets.
Decentralized Exchange (DEX):: A decentralized exchange on the other hand is an online cryptocurrency platform which eradicates middle men, and returns control and security of assets and private keys to their respective owners. A decentralized exchange can be termed as a "trust-less Environment".
PROBLEMS OF CENTRALIZED EXCHANGES
Security: Security of funds and private keys lies in the hands of centralized exchanges, and this can put the funds of various users at risk. A centralized exchange can be easily breached by hackers, thus resulting to loss of funds.
High Transaction Fees: Popular centralized exchanges such as Kucoin can charge between 0.5% to 3% in fees, when in fact a decentralized exchange mostly requires a low fixed transaction fee, or in some cases, no fee at all.
Poor Customer Service: The support services of most centralized exchanges are poor. They take time to respond to customers and may end up not providing possible solutions to their challenges.
INTRODUCING LOCAL COIN
LOCAL COIN is a decentralized exchange is an amazing cryptocurrency exchange, LOCAL COIN DEX exchange is on a mission to provide users with a simple, reliable and low-cost service to use, buy, sell, and trade Local currency(FIAT) from range of countries, that also allows users to actually purchase and sell cryptocurrencies directly with FIAT currencies. LOCAL COIN will have so many trading pairs for user's to utilize. this is what makes the LOCAL COIN exchange unique and different from other exchanges.
#LOCALCOIN exchange builds the next generation digital asset exchange for traders of every skill level with the aim of making digital currency trading accessible to everyone.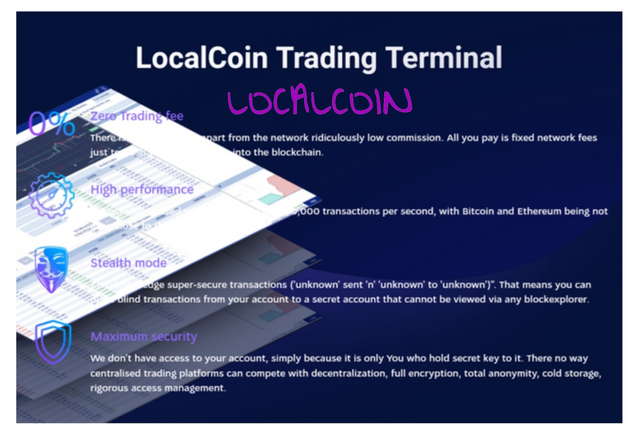 WHY LOCALCOIN DEX IS BETTER THAN OTHER DECENTRALIZED CRYPTO TRADING EXCHANGES
#LOCALCOIN is a fully featured decentralized exchange (DEX). It guarantees the highest possible security and full transparency. The main idea behind the decentralized exchange is the removal of the third party and it doesn't need to collect your personal data like email, name or identification number. All user data are held by the smart contract. Hence only the users have the tendency to control their assets thereby making human mistakes very impossible.
LOCALCOIN exchange is a revolutionary decentralized Exchange that will redefine crypto trading. Might sound too ambitious but this is the only reason the LOCALCOIN exchange team and developers whom are passionate about blockchain aims to create an outstanding decentralized (Dex) cryptocurrency exchange.
OTHER BENEFICIAL FEATURES OF LOCALCOIN DEX
The LOCALCOIN exchange is highly secured because user's are in control of their funds and other advanced security measures are taken to prevent theft and hacker's from the exchange platform.

24/7 Support Services

Modern User-Interface

No signup on theLOCALCOIN EXCHANGE

High Liquidity

No KYC verification process
LOCAL COIN APP DOWNLOAD
WINDOWS: https://mega.nz/#!QZ0nSAAL!e450bBrFjHPcnTfd7pe_HLniyKvAzXwu8tZXpPy4H4E
ANDROID: https://wallet.localcoin.is/
MAC OS: https://mega.nz/#!BUsFUKyS!Ee1JP0ueX7SjOFfwXYTEr12LDLQx1Om6AkYYY1w_7qY
IOS: https://wallet.localcoin.is/
WEB WALLET: https://wallet.localcoin.is/
ABOUT THE LLC TOKEN
The LLC coin will serve as the native cryptocurrency of the Localcoin decentralized exchange platform. The LLC coin is developed on the Ethereum blocckahin and smart contracts and can be used for fees and other services on the LLC exchange.
NAME Local Coin
TICKER: LLC
TOTAL SUPPLY: 1,100,000,000 LLC
Price: $0.5 USD
TOKEN DISTRIBUTION
10% (10,000,000 LLC) Airdrop
10% (10,000,000 LLC) Bounty Program
80% (80,000,000 LLC) Public Crowd-sale
CONCLUSION
Conclusively, LOCAL COIN exchange is developed by professionals with the sole aim of providing traders with the best trading experience any Cryptocurrency exchange could offer and also make available trading pairs of FIAT currencies. Thus creating a a world-class crypto exchange.
FOR MORE INFORMATION AND PARTICIPATION ON THE LOCAL COIN EXCHANGE PLEASE VISIT THE FOLLOWING LINKS
Website: https://localcoin.is/
Whitepaper: https://localcoin.is/downloads/LocalCoinBlockchain.pdf
Bitcointalk Thread: https://bitcointalk.org/index.php?topic=5125670
Facebook: https://localcoin.is/#
Medium: https://medium.com/@localcoinis
Discord: https://discordapp.com/invite/vzxSzYNj
Twitter: https://twitter.com/LocalCoinIS
Medium: https://medium.com/@localcoinis
Steemit: https://steemit.com/@localcoin
Reddit: https://www.reddit.com/user/LocalCoinIS
Golos: https://golos.io/@localcoin
VK.com: https://vk.com/localcoin
Telegram: https://t.me/LocalCoinIS
Wallet: https://wallet.localcoin.is/
AUTHOR'S DETAILS
Bitcointalk username: Noma45
Bitcointalk Link: https://bitcointalk.org/index.php?action=profile;u=2025710
Local Coin User ID: Crispy553