DABANKING.IO: A DECENTRALIZED GAMING PLATFORM PROJECT REVIEW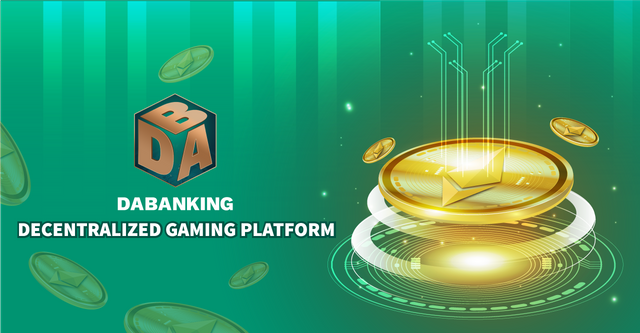 OVREVIEW
Blockchain is the foundational technology behind Digital assets(cryptocurrency) . It is also a potentially groundbreaking innovation in how data is created, shared, and edited. Through an immutable ledger and consensus algorithms that ensure the integrity of the blockchain, it is possible to create a "trustless" type of information; a type that is truly decentralized and transparent. In the Early months of 2017 we expereinced so many projects creating decentralized Apps also known as "DApps".
Today, i would like to introduce the Dabanking.io decentralized gaming platform. Dabanking is an outsanding decentralized gamng platform that makes the gaming experience something to remember.

INTRODUCING DABANKING.IO
Dabanking.io is a revolutionary blockchain based project that has developed a great platform #DApp that aims to ehance the gaming market through a decentralized platform. Dabanking project has many things to offer it's user's and all that a user will require to be a part of this great platform is just an Ethereum wallet (Metamask or Trust wallet), then head to the dabanking,io website and enjoy the best services in the gaming industry. Dabanking.io platform also developed a DAB wallet whereby user's can engage in mining activities and enjoy greater profits. Dabanking.io leverages #blockchain technology to ensure that user's funds and assets are secured and stored in a safe place, and also eradicates the involvement of third parties.
DAA Tokens will serve primary tokens used on the Dabanking.io platform.. DAA tokens has a total supply of 200 million tokens minted. And the only way user's can earn DAA tokens is by buying tickets and playing games with ETH. User's can also choose to mine their earned DAA tokens, which is sub-divided into 10 stages ( Read the whitepaper for more details). The Dabanking.io team will burn DAA tokens over time , which will in turn increase the value of the DAA token and also reduce it's circulating supply.
Notwithstanding, Dabanking.io will increase the adoption of blockchain through it's platform because it offer's a lot of benefits to it's user's. Here are some benefits you can enjoy from the Dabanking platform.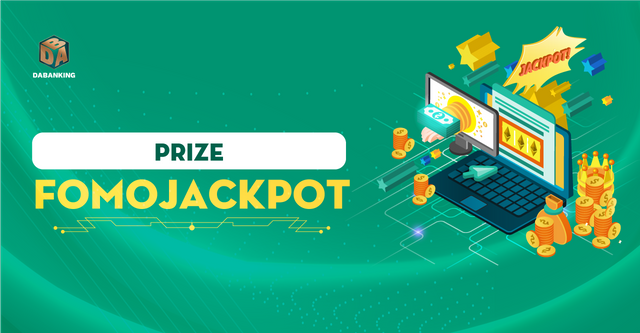 DABANKING.IO BENEFITS
User's can earn both Eth and DAA tokens from playing games and winning on the #Dabanking.io platform at a very low cost.

Dabanking.io DApp creates a peer-to-peer platform where user's can decide to monetize their assets by exchanging it for greater profits.

Dabanking.io platform leverages blockchain technology and smart contracts which creates a decentralized platform for user's to have full control of their funds and can also make secured payments without the fear of any security breaches.

User's will earn dividends every two weeks from the total ETH tickets bought. Up to 30% dividends will be paid to user's every two weeks.

User's can also earn Eth by staking and also holding DAA tokens.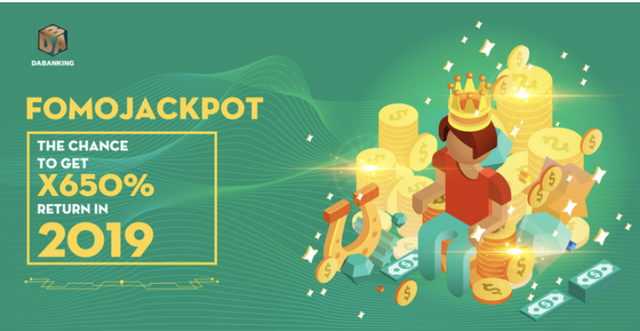 CORE PRODUCTS OF DABANKING.IO
FOMO JACKPOT
When we hear of the word "Jackpot", what comes to everyone's mind is the act of winning a big reward at a very low cost. The Dabanking.io Fomo Jackpot allow's user's to participate on the jackpot programme with at least 0.002 ETH and stand a chance to win outstanding #ETH rewards. To participate in the #Fomojackpot, all a user has to do is to get the Metamask wallet plugin for their computer browser, and also download the Trust wallet for mobile smart phone devices. However, whenever a User purchases a ticket, they as well mine DAA tokens.
FOMO GAME
The Fomo game allows user's to purchase tickets and stand a chance of winning the Diamond Chest, Rubby Chest, Gold chest, Draw chest and Silver chest.
TOKEN DISTRIBUTION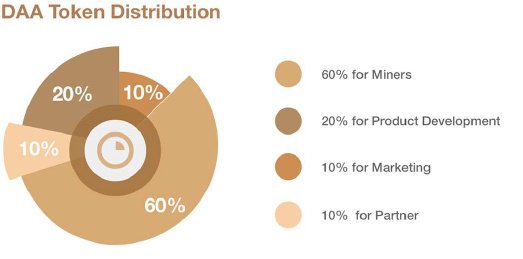 PRIZE DISTRIBUTION
User's will stand a chance to earn these percentages from making ETH purchases
50% into the award
20% Speedy Income
17%: Referral Income
10% of dividends
3% Develop new products
PROJECT ROADMAP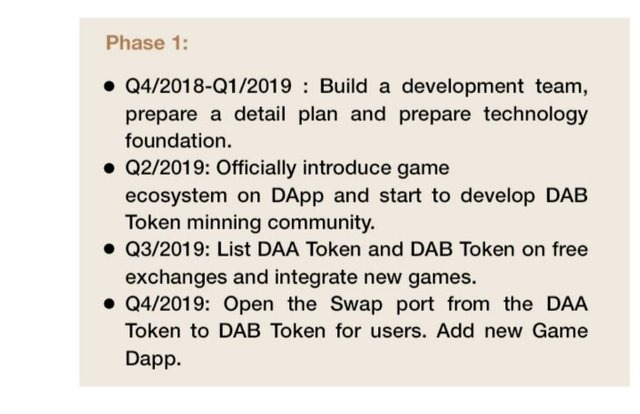 FOR MORE INFORMATION AN DPARTICIPATION ON THEIS PROJECT PLEASE VISIT
Website: https://dabanking.io/
Whitepaper: http://dabanking.io/static/whitepaper.pdf
Telegram: https://t.me/DABANKINGOFFICIAL
Facebook: https://www.facebook.com/dabanking.io/
Youtube: http://bit.ly/2VYtVOV
Medium: https://medium.com/@dabanking.io
Reddit: https://www.reddit.com/dabanking/
Twitter: https://twitter.com/Dabanking_io
Email: [email protected]
AUTHOR'S DETAILS
Bitcointalk Username: Noma45
Bitcointalk Profile Link: https://bitcointalk.org/index.php?action=profile;u=2025710