ATOMIC WALLET REVIEW: HOW TO TRADE AWC ON BINANCE DEX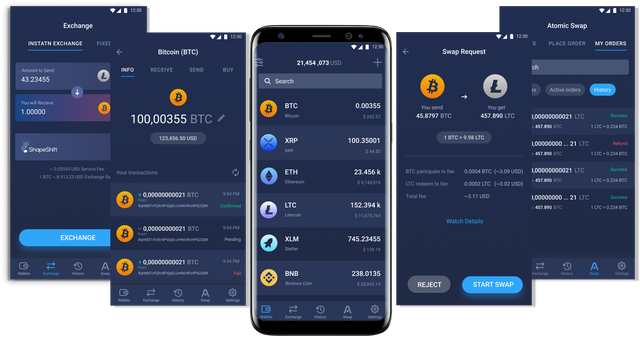 INTRODUCTION
Atomic wallet is a decentralized multi-currency platform that provides a powerful, in-demand service that allows users to reduce effort spent on managing crypto assets and makes it transparent and reliable. Atomic wallet platform is not just a wallet but also has a cross-chain Atomic swap exchange and a decentralized order book.
Atomic wallet is a platform which believes decentralization can solve these problems. Blockchains are designed to be immutable and decentralized. Atomic Wallet team believes products designed for cryptocurrency assets should be immutable and decentralized as well.
First and Foremost, The AWC token will serve as the native token of the Atomic wallet platform. It is developed on the Ethereum Blockchain based ERC 20 smart contracts. there are so many benefits for holding the AWC token, and AWC token holders receive benefits such as staking, discounts on exchange services, extra features for trading desks, affilate bonuses and so many more. The AWC token It has a Total supply of 100 million AWC tokens and be traded on the IDEX and BINANCE DEX exchange platforms.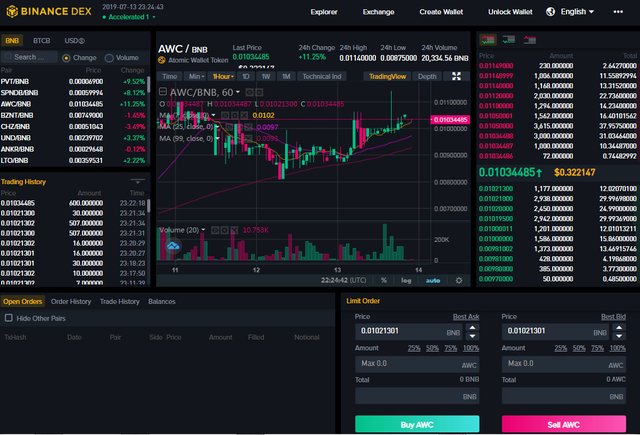 HOW TO TRADE THE AWC TOKEN ON BINANCE DEX
AWC token is really making rounds on the Binance decentralized exchange. AWC has a total supply of 100 Million AWC tokens minted, and they have migrated to the Binance DEX with 50% of their Total supply; This means that the team has allocated 50 Million AWC to the BEP2 standard. As seen in the Image Above the AWC token has recorded an All time high (ATH) of $0.38 since it started trading on the Binance decentralized exchange. And has a 24 Hours trading Volume of $626,355 USD, which is currently the only crypto asset with such Volume on the Binance DEX exchange platform.
KINDLY FOLLOW THESE STEPS AND UNDERSTAND HOW YOU CAN PERFECTLY TRADE THE AWC TOKEN ON BINANCE DEX
First and Foremost, before anyone would be able to trade the Atomic wallet coin (AWC ) on the Binance DEx, one must have to swap their Ethereum standard AWC token to BEP2 standard AWC token. Kindly follow this link to understand how to swap ERC-20 AWC to BEP2 standard token. https://atomicwallet.io/binance-dex-awc-token-swap-guide

After you must have followed the aforementioned first step above and funded your BEP2 wallet with AWC. please be reminded that you will need to fund your BNB wallet which can be seen inside the AWC wallet category with BNB tokens so as to serve as gas for sending out BEP2 AWC tokens.

Next step; Head over to https://www.binance.org/en and unlock your Binance Dex wallet by importing your AWC wallet private keys. In this case, the AWC wallet uses mnemonic phrases which you must have kept safe after you signed up an account on the AWC wallet.

After importing your mnemonic phrases, please create a strong password for your binance DEX account and click on "Unlock Wallet".

Congratulations, you have successfully imported your AWC BEP2 standard tokens to the BINANCE DEX platform and start trading immediately. It is that easy and simple to use.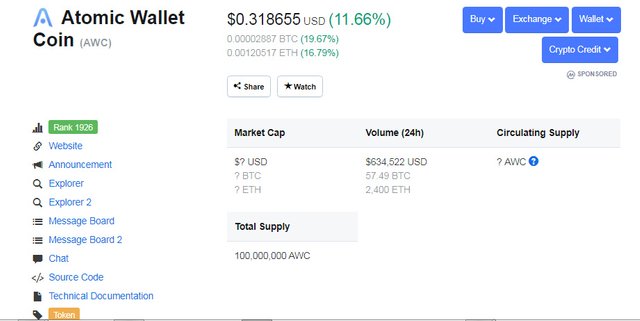 CONCLUSION
Conclusively,the AWC token is one of the Most traded crypto asset on the Binance DEX with over $600,000 USD recorded as it's trade volume in the Last 24Hrs. Kindly follow the aforementioned steps on how to Trade the AWC token on Binance DEX and Enjoy the trading experience with high execution of trade order's be it a Buy or Sell order.
Thank you for reading