MY CRYPTO COMBO TRADING STRATEGY!!!
Good day all Steemians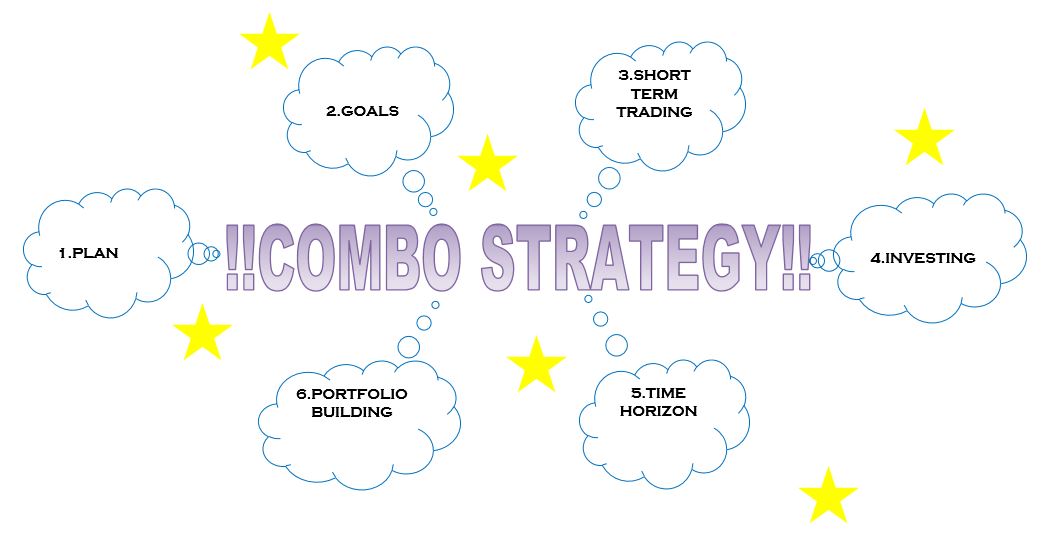 Today I would like to share a cryptocurrency combo strategy that I created and been using for approximately a week now. You can say this is in "beta testing". I am putting it out there because this might be something that you can use. It is not fool proof like almost everything in life, but will give you an edge. You use this at your own risk! 
A short background on myself:
I am a Professional Geologist by trait and have been trading the stock and forex market for about 5 years (part time), so you can say I am an intermediate trader. I have started delving into cryptos a couple of months back and is currently trading full time.  
About the strategy:
 The strategy that I am going to share with you have elements of forex trading in it. This strategy is mainly for the crypto market and very easy to understand. With the strategy, I mainly do my short-term trading on coins that I want to keep in my long-term portfolio so that if there is a drop in price while trading, you can hold on to the coins until it has recovered. The most important part is to invest in long term coins to reduce the overall risk. The main purpose of short-term trading is to drop the risk to a level where you have a bare minimum of your own capital invested in the desired coins. This is a long-term process but I believe it will be a fruitful one.
Lets get started
PLAN - GOALS - SHORT TERM TRADING -  INVESTING - TIME HORIZON - PORTFOLIO BUILDING
My main focus in this post is to share the core of how I trade and invest. We need to have a plan and goals in place otherwise we will be lost. We need to have a time horizon in mind, how long am I willing to hold on to coins and how am I going to build my portfolio. You are more than welcome to ask me about my plan, goals, time horizon and portfolio building as I will not be covering it in this post.
SHORT TERM TRADING
 A step by step breakdown of how I do my technical analyses for short term trades:
1) Determine the long term trend direction on the daily chart.  I do this by drawing a trend line touching price at least 3 times at the base (See chart below). One can usually see if the price is in a general upward moving direction without the trend line.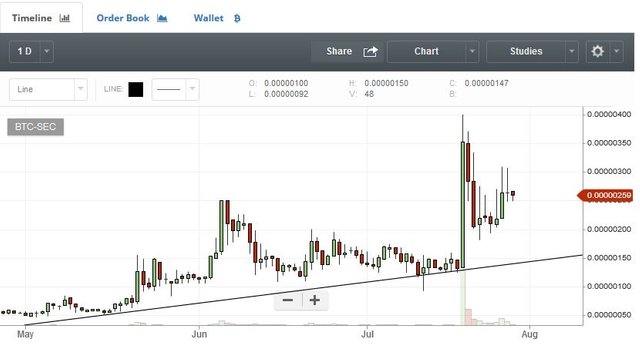 2) Draw in critical levels (support and resistance) on the 30min chart - Change the candle chart to line chart and black background, look for levels where price will touch the horizontal line at least 3 times. The more touches the better (See chart below). You want to look at major swing highs and lows first.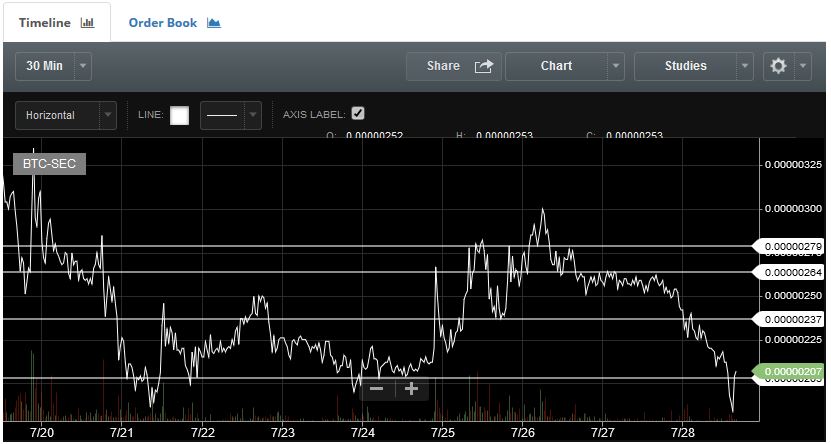 3) Change line chart back to the candlestick chart.
4) Look at the order book - Once the price nears one of the critical levels, look at the order book to see at which price level majority of the bigger buy and sell orders are at. You want to jump in and buy and sell before the big orders to make sure you get filled.

 In this example above you want to place a buy order at 0.00000187 and a sell order at 0.00000219 for a potential profit of 32 satoshis = 17.11%.
5) Take note that you can also look at RSI to confirm overbought and oversold conditions. I don't look at it as the order book is current and gives you a leading indication of what is about to happen. We are looking for quick profits that we can invest in our longer term portfolio.
INVESTING
1) Identify your long term coins (with good fundamentals).
2) The long term coins I'm looking at is Ethereum, Iconomi, Safe Exchange Coin, Stratis, (Big yes for Antshares/Neo), Siacoin, Steem, IOTA, EOS and ECOBIT (Currently trading on Crypropia).
3) I only accumulate these long term coins at a discount of 50% or more (Use Fibonacci retracement and draw in from all time low to all time high on the daily chart).
4) When price is at these discounted levels I will draw in support levels as in short term trading and only looking to buy at these levels. I don't look at the order book in the long term portfolio. I only look for a bullish confirmation such as a bullish engulfing candle pattern at these critical levels.
5) Determine how you will take profit on your long term positions - I set my targets at: sell 20% of coins at 100% increase, 30% at the all time high and 50% I will keep for the long haul (5+ years or at least 10x growth). Use your own discretion.
6) Profit that you make from your long term investments can be kept in BTC or cash for re-investments into the long term coins when prices drop to accumulation levels.
CONCLUSION
Do not trade coins with low volatility (not less than 150BTC)
Only trade coins that you want to hold long term (coins with good fundamentals, active devs and a proper road map)
At the critical levels drawn in on the 30min charts, look at the order book at those levels to see weather the support/resistance will be more likely to hold.
Place buy and sell orders before big orders to make sure you get filled.
Make sure you do not invest all your tradeable capital into a single trade. Rather split it in 3 even amounts and place orders at different key levels.
We only want to accumulate long term coins when the price is at 50% or below the all time high and show bullish bias on the daily chart.
Set your desired amount of coins you want to hold for each long term coin and trade your way up there. Once you reached the desired amount of coins, move on to the next coin.
My long term take profit targets is as follows: Sell 20% of coins at 100% profit, 30% of coins at all time high and keep 50% of coins for at least 10X (Use your own discretion).
Please feel free to ask any questions. I know there might be a lot of questions.
Please also share/up-vote and follow me and I will return the favour. 
Happy Tading/Investing
Nixeus