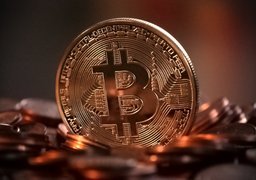 Hello steemit users,
In year 2018, we have seen devastating impact on our cryptocurrency market where every coins gone down by 50%-80% after the hype got created all over the world about its decentralization, non-regulation facts which are the reasons that can lead to increase in black money, terrorism, smugling etc. for which many people called it the global threat and started abandoning the cryptocurrency while many others suggested to bring some regulations over crypto tarding as they see cryptocurrency and blockchain as future technology.
But, we will talk about this matter later on and now continues with the top 10 coins which can give you huge profits of about 2X to 10X by the end of 2018.
Bitcoin (~5X)
As, we all know bitcoin is father of all cryptocurrency and the technology of blockchain has emerged due to this project and after its hype thousands of more cryptocurrency have arrived in the market and so, by the end of year 2018 it can cross $20,000 for sure.
Ethereum (~2X-5X)
Another, best coin which is known as 2nd generation of bitcoin which brought lots of changes and eradicated limitations of bitcoin and today lots of tokens are ethereum based.
Ripple (5X-10X)
Ripple is a centrailised cryptocurrency which is one of the best coin available in the market.
Cardano (5x)
Why, cardano? The best answer can be, this coin have great potential to rise as the project of cardano and its team is really very brilliant and we all can earn at least 2x with this coin if we hold it for few months.
Tron (5x-10x)
Tron, the biggest hype of this year during month of may- june and this project is even so good that holds the potential to rise upto 10x in coming months.
Some, more coins which will go upto 10x are:-
Icon
Sia
Ziliqua
VeChain
Ontology
There, can be few more coins that will go up this year but these coins are very trusted coins and we will surely get this much profits.