Ionomy Partners with #39 NASCAR Driver Ryan Sieg, Showcasing New"Offroad Heat" Racing Game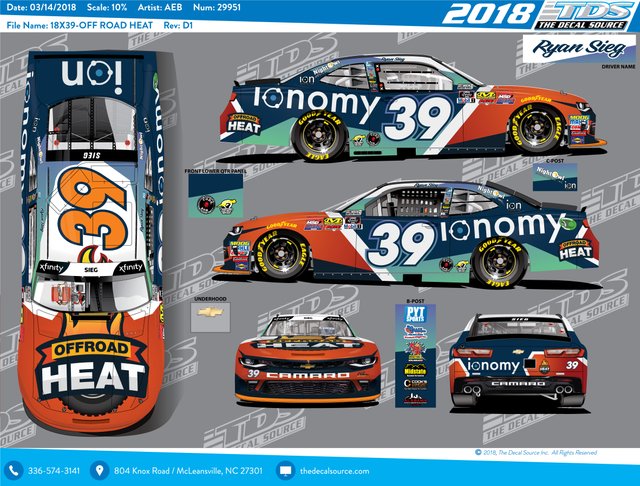 The ION ecosystem seems to be exploding these days, with updates coming from every direction. ION has already been featured on sprint cars this season, but on July 5th, ionomy Studios' newest racing game, Offroad Heat, will be whipping around the racetrack on Ryan Seig's Number 39 car. And this isn't just a sprint car — now we're talking NASCAR in Daytona!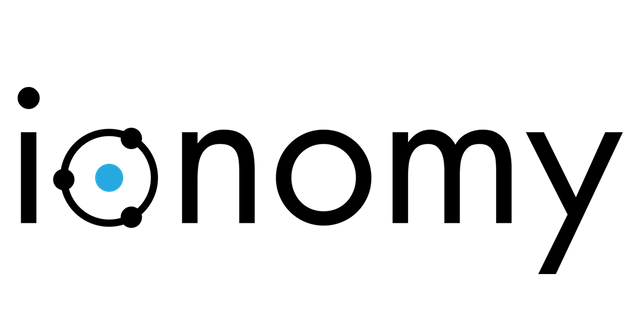 The ION economy, or "the ionomy" as it's cleverly referred to, is vast, but you can break it down into these main components:
ION, the masternode-based cryptocurrency is at the heart of an ecosystem fueled by digital mobile games.

ionomy Studios designs games that rewards top competitors in weekly tournaments with cash payouts. Crypto rewards incentivize gamers to discover and take part in the ION economy.

ionomy.com is a platform for gaming and financial services, including web wallets, hosted masternodes, and tools to use, spend, or trade cryptocurrency winnings from ionomy Studios games.
And here's where the ION economy gets interesting: ionomy is building partnerships with third party game development companies, encouraging adoption of the ionomy PWR-GRD. The PWR-GRD is ionomy's suite of services that makes integration with the ION ecosystem easy. "Lightning," for instance, is a service that lets other games link mobile gaming accounts to ionomy accounts, making it easy for gamers to climb the leaderboards and win tournament prizes just like they do on ionomy Studios games.
"Thunder" allows game developers to tokenize in-game currency. Once they make it into a token on the ION blockchain, it becomes tradable, like real money, on the ionomy.com platform (if that's what the developer wants).
ION Core, the developers behind the ION coin, is making innovations in coin economies through smart economic policies for masternodes. They're even introducing a new protocol, "Commitment of Stake" (COS) to replace their current Proof of Stake algorithm. Basically, masternode holders who commit their ION to operate masternodes can get a higher percentage of the block rewards for longer commitment times.
It stands to reason that the higher rewards will make masternoding even more attractive. If more people buy ION for masternodes, and more people commit to lock their coins off-market, the supply should diminish and demand should increase. That's a sweet formula!
In addition to making the masternodes more rewarding, another ION Improvement Proposal will make them much more affordable. You'll only need to own half the amount of ION to operate one. Come to think of it, that might be really important to lower the cost of entry considering everything else that's going on.
ionomy.com, too, is about to get a total redesign that will feature more trading pairs and expanded masternode hosting.
"Beta is about to begin for the brand new #ionomy platform. Been 8 plus months in the making. Get excited. $ION" (Twitter)
---
Here's ionomy's more formal Press Release on the NASCAR sponsorship: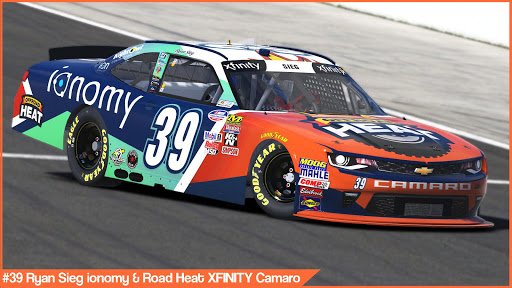 Gorseinon, Swansea, UK (July 3, 2018) — ionomy Studios partners with Ryan Sieg Racing to feature "Offroad Heat" racing game at NASCAR
ionomy Studios is proud to be the primary sponsor for the number 39 car, driven by Ryan Sieg, for two NASCAR XFINITY races in 2018. The talented RSS team will represent both ION (digital currency) and ionomy Studios (mobile gaming company) at the most exciting events in racing. Sieg's car will display not only the ION and ionomy logos, but also the logo for ionomy Studios' forthcoming game, Offroad Heat.
ionomy Studio's upcoming title Offroad Heat is a fantastic new mobile game that puts fans in the driver's seat. Like the latest ionomy game, The Moon or Bust, racers will be able to compete in weekly tournaments for cash rewards when they play Offroad Heat. ionomy Studios works at the leading edge of digital mobile gaming and the future of money. ionomy provides the easiest and funnest way to get started with digital currency.
Ryan Sieg debuts the ionomy #39 car in July at Daytona Speedway and takes it on a second run in September at Darlington Speedway.
"I'm thrilled to be partnering with ionomy. They get racing and they get fun. And they're putting it together in a way that makes racing available to anyone with a phone," commented Sieg. "Plus, the ionomy #39 car is one of the best paint schemes I have ever driven. Just wait 'til you see it on the track!"
ionomy General Manager, Richard Nelson, a long-time racing fan, says, "For the team, this is a dream come true. We're big fans of Ryan Sieg Racing, so we're really proud to have Sieg driving the ionomy car in the NASCAR Xfinity Series."
ionomy will continue as a full-time associate for Ryan Sieg throughout 2018.
About ionomy:
ionomy is changing the way games are made and played. ionomy Studios designs games that leverage the ION digital currency ecosystem, leading the way in advanced incentives by combining fun and cash rewards. Gamers can have fun earning ION coin in weekly tournaments and can spend ION on in-game items at a discount. On the ionomy.com platform, users can manage their digital currency holdings and game assets, and can view tournament leaderboards. The website hosts secure digital currency exchanges and wallets, providing easy methods for users to grow and secure their digital wealth. For more information, see ionomy.com and follow @ionomics on Twitter.
About RSS Racing:
RSS Racing fields the No. 38, 39, and 93 Chevrolet Camaros in the NASCAR XFINITY Series with drivers Jeff Green, JJ Yeley, and Ryan Sieg. RSS Racing has competed in NASCAR events since 2009 from its headquarters in Sugar Hill, Ga. The team had its best career finish of 2nd at Iowa Speedway in 2017. The team recorded its best points finish of 9th with Ryan Sieg in 2016. For more information on RSS Racing and Ryan Sieg, please visit ryansiegracing.com or follow @RyanSiegRacing on Twitter.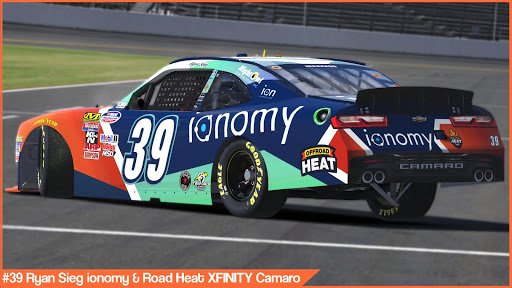 ---
For more information about what's going on in the ION economy, you might want to check out "ionomy: The Future Of Incentivized Gaming" a massive interview (4000 words!). As someone who has been around crypto a while, I can tell you: you don't see this level of sophistication from coin developer teams too often.
I plan to do a deeper dive into the project myself, so I'll bring back some updates that synthesize the most important parts of what's going on in the ION ecosystem.