trade.io settles partnership with SelfKey for fast & secure registration to upcoming exchange
Trade Token (TIO) holders, known as TIOnauts, have asked trade.io to ensure an efficient registration process, and with this new partnership with SelfKey, they will be provided just that.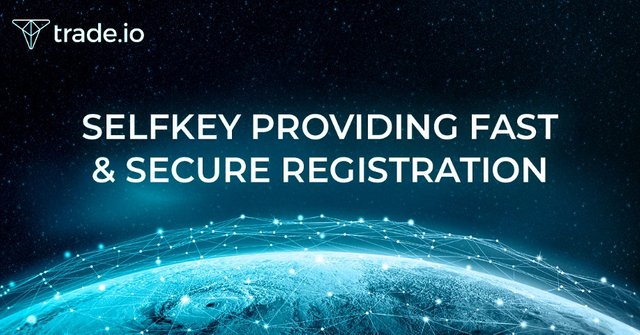 For a simple, stress-free and hassle-free registration process for the upcoming Exchange, trade.io have finalized a strategic partnership with SelfKey – a new token that will enable KYC to be performed using the blockchain. Users can apply for passports, residency, and financial services by staking their KEY.
Blast from the past
What has your experience been like when signing up for crypto exchanges? Was it a happy, quick process? Through the latest proud partnership, trade.io and SelfKey will try to blast registration frustration into oblivion!
How will this partnership affect us?
This partnership will directly impact upon each and every one of the upcoming exchange registrants, who will benefit from a smoother, faster – and most importantly – more secure registration process.
Reduced delays during the verification process.
No need to upload many documents to verify your identity.
No need for a back office team to review your supporting documentation.
How does this work?
Any KYC information you provide to the SelfKey platform, with your consent, will be reused to automatically fill out forms and upload copies of your documents that we require to onboard on our exchange.
The science part
As part of the partnership, there will be an integration of both platforms where SelfKey's digital identity wallets will be used on the trade.io exchange. The partnership and integration of both platforms would enable digital currency operations to be seamless and effortless.
And now for the TIO holders & early birds
Trade.io is also planning to list the SelfKey Token (KEY) on the upcoming exchange, and very soon there will come an airdrop, so stay tuned to the social channels and this blog for more information!
What do both companies say about the partnership?
"We are pleased to partner with SelfKey as their KEY token has traded over 1 billion dollars in the last week, and we feel their approach to Self Sovereign identity is secure, efficient, and will integrate perfectly with our exchange."

– Jim Preissler, CEO of trade.io
"We are pleased to announce our partnership with trade.io as they are one of the most promising new exchanges of 2018."

– Edmund Lowell, Founder of SelfKey
About trade.io
trade.io is a next-generation financial institution based on blockchain technology, providing the ultimate in security and transparency. By leveraging decades of experience in the investment banking, trading & FinTech sectors, and combining them with the power and transparency of the distributed ledger, trade.io has created a truly unique exchange that will revolutionize asset trading and investment banking.
About SelfKey
SelfKey is a blockchain-based self-sovereign identity system that allows individuals and companies to truly own, control and manage their digital identity, securely manage their cryptocurrency portfolio and instantly onboard onto financial, immigration and cryptocurrency services.
Find out more:
Trade.io partners with SelfKey: medium.com/@trade.io
Trade.io on Twitter: twitter.com/tradetoken
Selfkey on Twitter: twitter.com/selfkey