Raiblocks increase (XRB): the value of iota' s main competitor was multiplied by 30 in a few weeks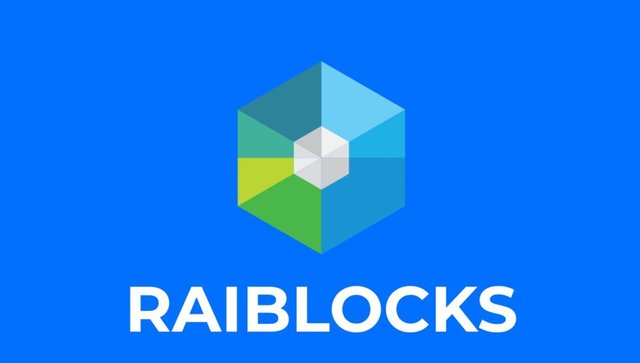 The value of RaiBlocks (XRB) has increased exponentially in recent weeks. The currency, which was trading at less than 0.10 dollars at the beginning of November, reached a new all-time high of 4 dollars this morning.
RailBlocks is a cryptographic currency that has been developed with an innovative architecture: each account has its own registry. It allows you to benefit from almost instantaneous transactions, unlimited scalability, all without any transaction fees.
RaiBlocks increase: a course multiplied by 30 in a few weeks
At the time of writing this article, the price of Raiblocks was $3.29 (2.78 euros), or 0.00019825 BTC.

You can find the XRB course in real time by clicking on this link.
At the beginning of November, RaiBlocks were trading for less than 10 cents: this represents an increase of over 3000% in just a few weeks.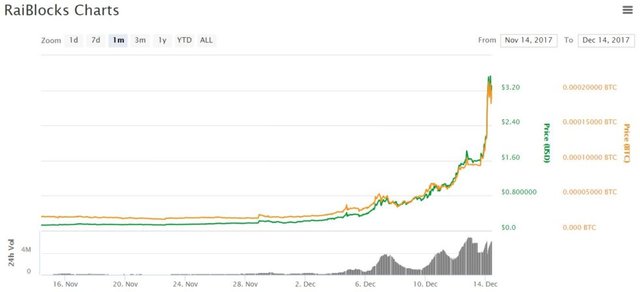 Trading volumes are also up sharply: while they have been below $300,000 a day in recent weeks, they have exceeded the $6 million a day threshold.
One could see that the vast majority of exchanges took place on Mercatox - while BitGrail was no longer accessible:

On Twitter, this earned Raiblocks the nickname "destroyer of trading platforms":
For some, it was time for the XRB crypto-currency to finally get the attention it deserves: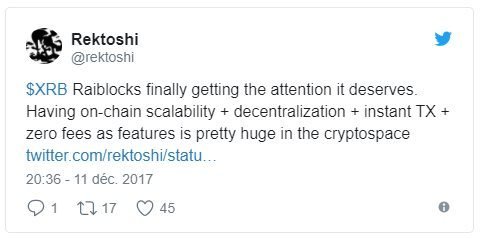 If you are interested in purchasing XRBs, please visit Mercatox by clicking on this link. Note, however, that this is a relatively confidential platform if compared to large trading sites such as Bittrex or Binance, and that great caution is advised.
What is RailBlocks? And what are the reasons that could justify such an increase in its price?
In order to answer these two questions, the IOTA cryptocryptography, which is presented as "the spine of the Internet of Things", should be considered.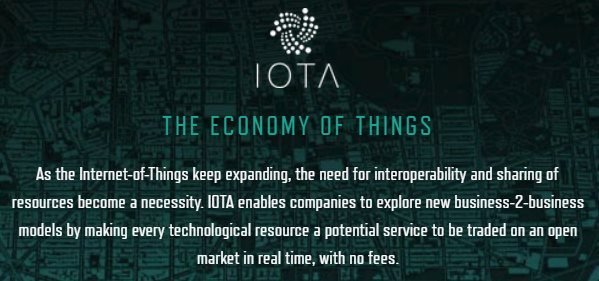 The main problems currently encountered by the Bitcoin, a currency that was developed almost 10 years ago, are delays and transaction costs. The more popular the Bitcoin network becomes, the more congested it becomes - which makes both problems worse.
We can also mention the environmental problems linked to the Bitcoin mining project, which is very energy-intensive - this activity would consume more electricity than 159 countries.
IOTA proposes to solve these problems with the "Tangle".

The Tangle is a kind of blockchain "without block or chain". It is a "distributed register" architecture, based on a Directed Acyclic Graph.
To put it simply, IOTA makes it possible to validate transactions without only a small part of the network being responsible for the general consensus (minors in the case of a working proof protocol, stakers in the case of an issue proof protocol).
With instantaneous and free transactions, IOTA aims to use the Tangle to connect all the elements that make up the Internet of objects.
The strong increase in IOTA that we have seen in recent days was mainly due to the announcement of a partnership with Microsoft. After several months of trading at about $0.50, IOTA reached the $1 dollar mark on November 27, before peaking at a record high of $5.55 on December 6. Since then, its price has fluctuated between 3 and 5 dollars.
It would appear that this increase was partly responsible for the rise in RaiBlocks, while the two crypto-currencies are seeking to offer relatively similar solutions.
Here is a comparative table realized by the RaiBlocks teams.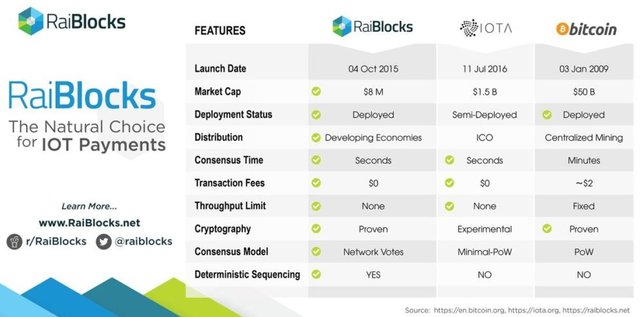 Note that it is advisable to take a step back from such comparisons, which can sometimes lack objectivity.
On Twitter, this user insisted that the offer of corners is much lower on the RailBlocks side: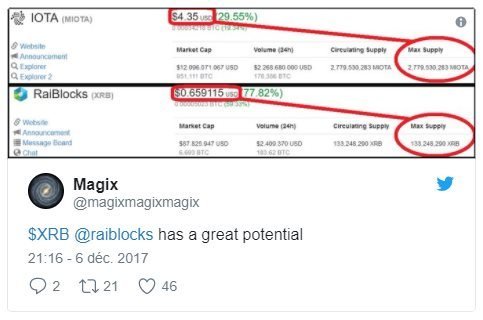 This may, in the long run, offer other growth opportunities for the currency. On the other hand, its price has already risen enormously, and a correction could occur in the coming hours. In addition, RaiBlocks has no partnership with Microsoft, unlike IOTA.