Crowd Genie, a peer-to-peer lending platform, is about to launch its ICO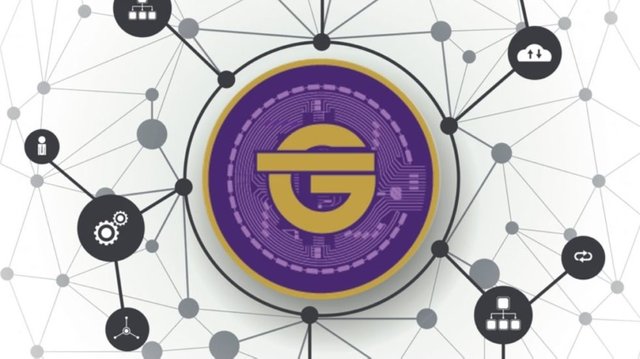 Crowd Genie, a peer-to-peer digital lending platform, managed from Singapore and accredited by the Singapore Monetary Authority (MAS), has been selected by users of ICOBox's ICOs platform as the most promising project to date.
Peer-to-peer loans
Unlike many organizations that want to drive an ICO, Crowd Genie is not a startup, but a loan platform that has been in operation for more than 12 months. It is one of four Asian peer-to-peer lending platforms accredited by MAS.
The individuals behind the project aim to create a pan-Asian Token-based lending platform - a platform capable of leveraging smart contracts to ensure cheaper, more efficient and secure transaction flows between lenders and borrowers.
The project will include an identity management system based on blockchain technology, more than 40 KYC processes ("Know Your Customer") and a decentralized platform for the exchange of digital assets.
Crowd Genie will develop a "digital passport" for each client - for both lenders and borrowers - based on KYC-compliant verification processes. The platform will also make it possible to ensure that the profile of its clients is in line with the provisions aimed at combating money laundering and terrorist financing, while providing a high level of security and guaranteeing the confidentiality of users' data.
Thanks to the blockchain technology on which they rely, smart contracts will enable previously accredited users to make transactions instantaneously, at much lower prices.
Thanks to the "tokenisation" of the assets managed by Crowd Genie, the platform will offer the possibility of exchanging fractions of assets - assets that would otherwise have been too expensive or impractical to exchange using traditional methods.
The project will be based on an algorithm based on an artificial intelligence system, which will make it possible to assess the credit scoring of borrowers thanks to the documents they have sent. This algorithm can be constantly adjusted thanks to artificial intelligence, as new data is added, through re-evaluations and ex post controls.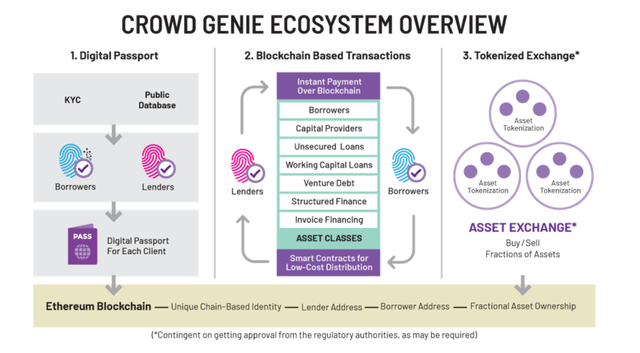 Crowd Genie is also the only platform in this industry where executives will participate in each asset addition. This ensures that the interests of each of the parties concerned converge.
We believe that driving an ICO, while we already have a well-established company, has many advantages,"said Akshay Mehra, founder of Crowd Genie. We have had time to develop our platform to offer the most complete solution on the market. It is the only platform to support the entire borrowing process, from KYC audits to asset lending. No other startup can claim it."
An ICO starting next January
The public COI will begin on January 15,2018, and will be conducted until February 15,2018.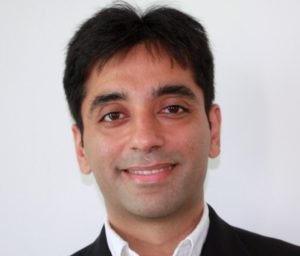 50 million CGCOINs will be offered - the token that can be used to trade on the Crowd Genie platform. When a transaction is initiated, the lender will have the option of purchasing the corresponding amount in CGCOIN tokens and transferring these to the borrower. The latter will be able to exchange these tokens for currency or choose to keep them, which will ensure a "natural" demand for CGCOIN tokens.
Borrowers will also receive incentives when they pay their loan maturities on time. For each payment, they will be allocated CGCOIN "Credits", assets that can be added to their digital portfolio. These credits will be visible to all, and will improve the reputation of the borrower in the system, by offering him/her the opportunity to benefit from larger loans, or at more advantageous rates.
This is a very promising project,"said Nick Evdokimov, co-founder of ICOBox. The fact that Crowd Genie is already an established company is a real asset. The use of new blockchain technologies will make the platform more reliable, less expensive and faster. We are delighted that the token owners have been able to see the value of this project, and we expect a successful ICO ".

Crowd Genie would like to raise 100,000 ethers through this fundraiser.
The price is set at 1 ETH for 400 tokens. All unsold tokens will be destroyed.
You can access the official ICO website by clicking on this link. You can also consult the "white paper" of the project by clicking here.