Ledger Nano S now supports EOS
Ledger Nano S now supports EOS. See below link for documentation from Ledger:
https://support.ledgerwallet.com/hc/en-us/articles/360008913653
Ledger Live app doesn't directly support EOS. There is no way to see your EOS balance from Ledger Live app. You have to install an app called "Fairy wallet" to check and access your EOS.
Installation and using EOS wallet:
1. Install EOS app to your Ledger Nano S from Ledger Live desktop app.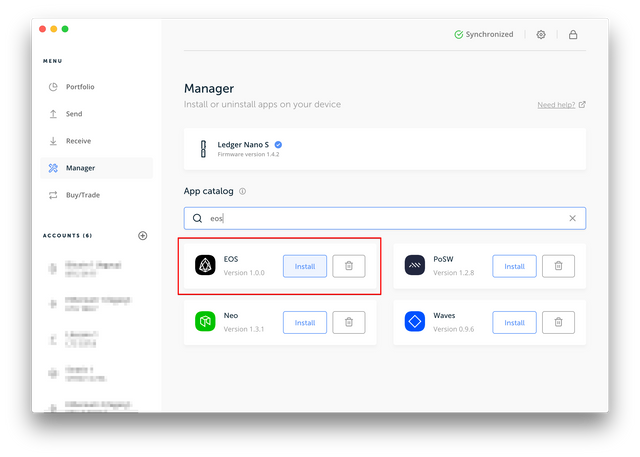 2. Install Fairy wallet app on your desktop
Fairy wallet is available from https://github.com/tarassh/fairy-wallet/releases/. They provide Windows, Mac and Linux(deb) packages.
You can find more information from https://github.com/tarassh/fairy-wallet/wiki.
3. Create EOS wallet from Fairy wallet app
Creating accounts is not free on EOS. You have to have RAM to save your data, and also have some coins staked for CPU and network. Fortunately Fairy wallet provides account creation within the app. Since the purpose of using a hardware wallet is never to reveal the private key, it is not possible to import your private key to the device. Ledger Nano S generates a private/public key pair and only displays public key from the Fairy wallet.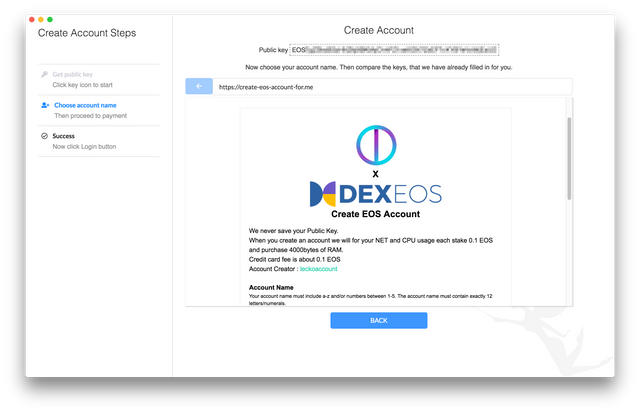 Account creation is handled by DEXEOS (Decentralized Exchange). Account costs USD $6. You can use PayPal or credit card to pay. Unfortunately my PayPal account was declined. For whatever reason, it is not possible to pay from South Korea. My PayPal account was declined. It also does not accept credit card issued from South Korea. I was able to pay using a credit card from other country.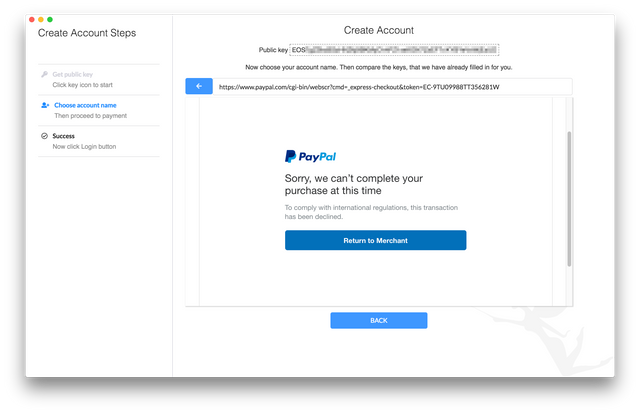 Here is the result of the freshly created account (bloks.io):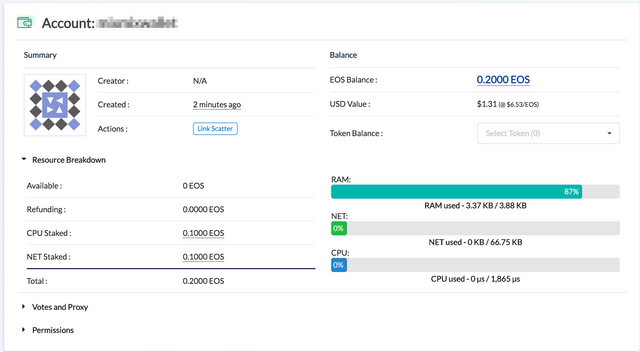 The account value is USD $1.31. I paid $6, but I want to keep my EOS more safe. There are cheaper ways to create EOS accounts, but it won't work with Ledger Nano S.
4. Fairy wallet features
Fairy wallet supports basic features.
transfer EOS and tokens - Tokens did not show up automatically. You can add tokens by pressing + button
staking/unstaking CPU Network
buy/sell RAM
vote block producers
Ledger Live app does not display any information about EOS. I hope it supports displaying EOS balance inside Ledger Live app. I also hope it can connect to Scatter Chrome extension in the future, so I can play with dapps safely. I'll transfer most of my EOS and keep it safe in Ledger Nano S.