Cryptocurrency Portfolio v3 for Google Sheets
I'm sharing my cryptocurrency portfolio template for Google Spreadsheet (again!).
There are many crypto exchanges and multiple ways to store your coins. I couldn't find an easy way to manage my cryptocurrency portfolio. I wanted to track where all my coins are stored. And I wanted flexibility so I could customize. With Google sheet it's really easy to customize.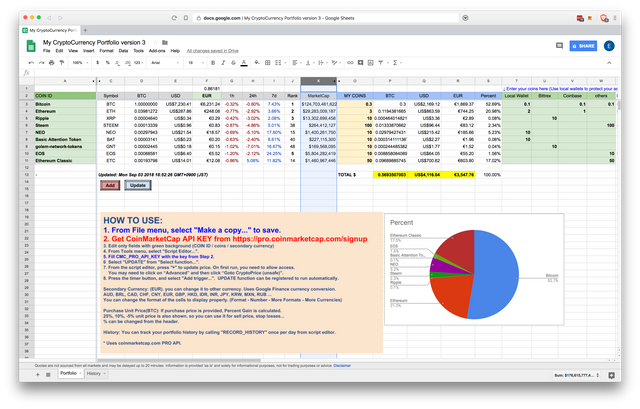 The sheet uses CoinMarketCap.com API. This is the third version. There were some important changes to coinmarketcap's API. They will deprecated the old API, so I had to update to make it work. They came out with a "Pro" API, and you need API KEY to access the new API. So users have to sign up for their pro API service. There is a "free" starter plan, but you only get 200 API calls per day. So I had to optimize to minimize calling the API. Now it is only 1 API call per "UPDATE".
You can register a timer to run the script to get prices periodically/automatically.
Here are some features portfolio sheet provides:
fetch price data(price in USD, BTC, 1h/24h/7d change, rank, market cap, available supply, total supply) from coinmarketcap.com. It also displays price in secondary fiat currency(you can choose) and also in ETH.

Track where your crypto assets are located. You can add new columns. Just make sure the sum(MY COINS) is correctly calculated. Price of your assets in BTC/USD/Secondary currency is calculated automatically.

graph of % holdings for each asset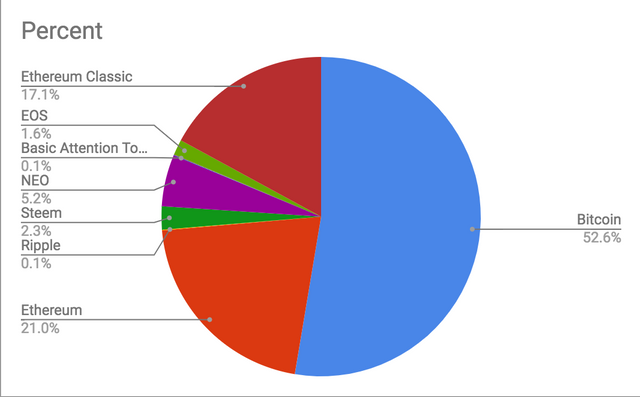 secondary fiat currency (EUR, KRW, AUD …)

ratio between local wallets, exchanges and fiat (keep your assets mostly inside your local wallet)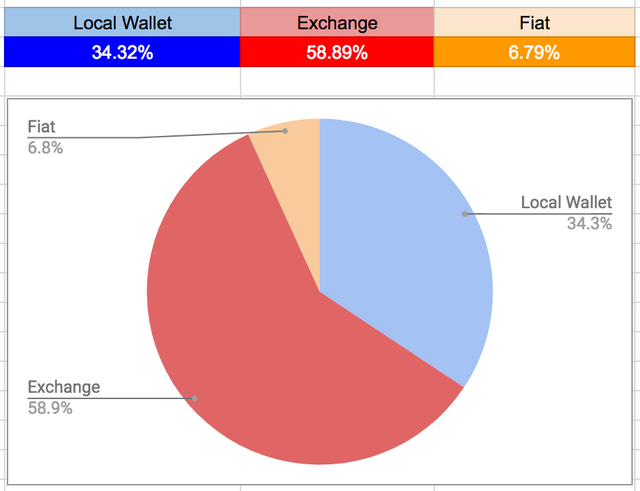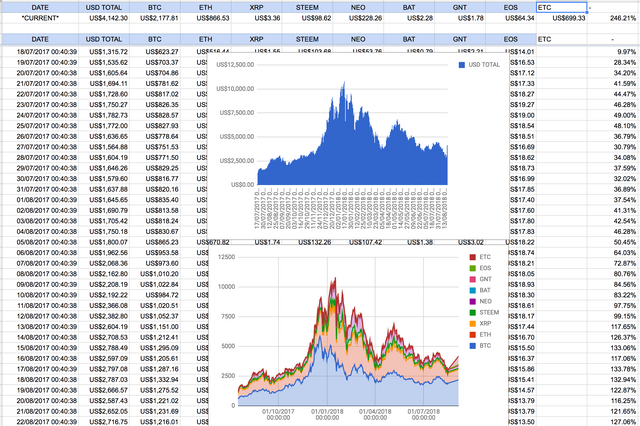 Here is the link for the Cryptocurrency Portfolio v3 for Google sheet:
https://docs.google.com/spreadsheets/d/1d1LIILS7Kny-wPZn2-lkPyfTuDbcWMYvUp1NIzhQWqM/edit?usp=sharing
Please watch the YouTube video for initial setup. You will need to get a free API KEY from https://pro.coinmarketcap.com/signup. You also need to allow access from the script editor.
Youtube Videos:
Changing secondary currency and hide/unhide columns: