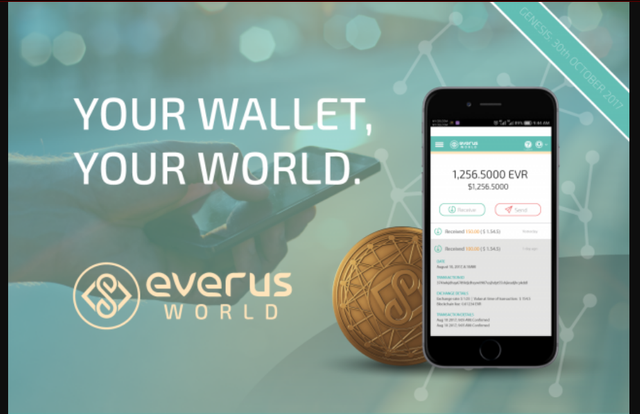 I. Overview.
Founded around September 2017 during the ICOs storm taking over the cryptocurrency market, Everus Technologies is a blockchain technology company based in Malaysia that aims to pioneer the widespread adoption of blockchain worldwide. By utilizing the blockchain technology which opens up new avenues and methods of conducting operations, Everus's goal is to create an array of products tailored to offer world-changing solutions, providing a seamless experience and a positive transition for everyone that wants to be a part of the cryptocurrency ecosystem.
II. Technical Specifications.
Name: Everus
Ticker: EVR
Algorithm: ERC-20 Token
Total Supply: 1 billion (June 18th 2018)
Current Supply: 144 millions (June 14th 2018)
Protocol: Proof-of-Stake
Market Cap All Time High: 29 millions USD (March 04th 2018)
Exchange: C-Cex, Kuna, Cryptopia
III. Fundamental Specifications.
Everus's main goal is to become a bridge that help fills in the consumer-regulator gap, providing solutions in managing and aiding compliances.There are 3 main products that Everus's developing, with its token EVR being a fuel of the ecosystem.
One product is EverMO, an online and offline platform that can help bridge the gap between the merchant and the customer. Merchant can accept cashless payment utilizing cryptocurrency in order to save their moneys on credit card fees and so on. On the other hand, customer can earn some bonus or discount by paying for their shopping items using EVR/ other cryptocurrencies of their choice. There will be further development that they continue to develop the project, with target aiming at opening some cryptocurrency ATM around the world, and also Everus Debit card and Wallet.
There are 2 other products in the EVR ecosystem that is actually still in its infant stage. One is called DataNoodles, which is a predictive data market platform that can help process big data into smaller, more accessible data for general population. The 2nd one is YottaHash, a cloud-mining platform that people can pay EVR to mine some certain cryptocurrency.
IV. Coin Index

V. References
https://bitcointalk.org/index.php?topic=2155630
https://coinmarketcap.com/currencies/everus/#markets
https://everus.org/