Mile 4th ICO Two weeks remaining.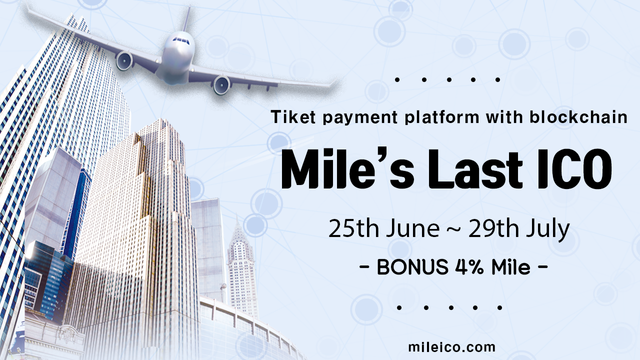 Mile is Australia based mileage integration platform using blockchain technology. Mile team started with the concept 'travel', and has made service in that area. Main idea of Mile is 'how to save my time and money when I travel?' More further, Mile will help all users to eliminate their plastic cards with the motto 'Free your wallet, free your time' by integrating all points into the Mile platform. Mile aims to people free from inconvenience and troubles in their everyday life.
Mile platform will be integrate mileage from the most of all airline companies for passengers to use their mileage more conveniently and efficiently. Users often forget even if they have mileage or not because of the long procedure to check it. If those points are tracked and stored in a blockchain, users could have instant access to their balance. Mile helps users to use their points immediately like cash from the airport. Users can use their tokenized loyalty benefits immediately rather than holding on to it until it becomes nothing. By integrating mileage system, each airline company can provide more options and flexibility in their loyalty program in addition to just bring points to their customers.
[Mile Coin 4th ICO Price]
1 Mile = 0.35 AUD
1 ETH = 2080 Mile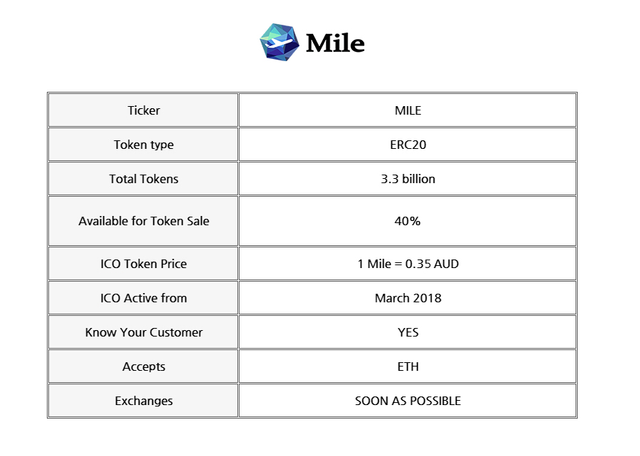 ※ Mile Coin's 4th ICO is now on sale. You need personal wallet to join Mile ICO