CyberMiles: A Decentralized E-commerce Platform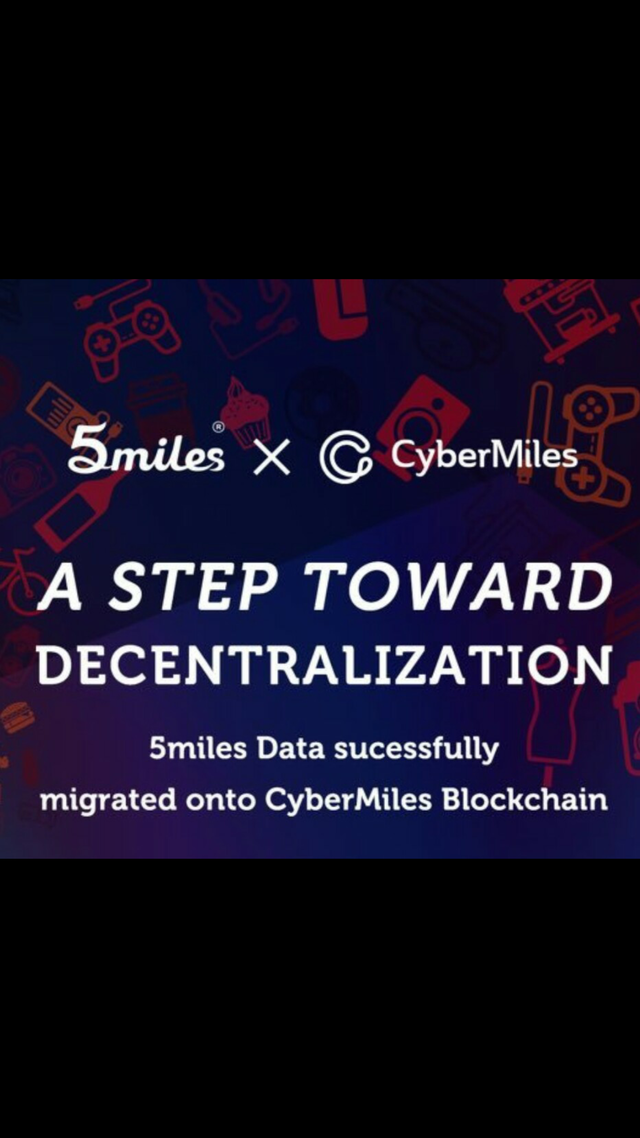 CyberMiles is a blockchain-based platform derived from already existing company called 5miles (an ecommerce marketplace app firm that has its based in the United State of America with more than 15 millions users). CyberMiles is another e-commerce platform like Alibaba, Amazon and Co but was built on different technology. The CyberMiles platform is decentralizing the e-commerce ecosystem with a features of utilizing cryptocurrency for e-commerce businesses. At the early stage of this project, the platform was built on ethereum blockchain but with more efforts from the team, they have launched their mainnet and migrated into their own blockchain.
WHY BLOCKCHAIN IS NEEDED IN E-COMMERCE
The first issue I will emphasize on is security level of e-commerce industry. The internet are prone and vulnerable to attacks from the cyber criminals and it has been an issue of concerns in this ecosystem. The blockchain technology has the features that is more secure than the traditional e-commerce system and it is fully fitted to answer all the security challenges facing this ecosystem.
In the traditional e-commerce businesses, there are lack of trust and fairness. The system has records some issues of someone ordering for object 'A' and object 'B' was delivered to him.
The larger e-commerce platform like ebay, Alibaba, Amazon and other top ones are outshining the smaller platform and they can't compete. So it is more like a one sided game as many other people that are willing to venture into the business are sideline and don't have the opportunity to launch their business in the online.
Method of payments in the traditional e-commerce involves inclusion of third party which make consumers pay extra fees. Currency differences is another means of lingering the payment method. For someone in a country like Angola to buy a goods from an online store in USA, he will have to convert his local currency into dollar through western union before the payment will be made.
All these challenges I mentioned above is what CyberMiles is aiming to solve. Just as I said earlier, CyberMiles was derived from a centralized e-commerce app platform called 5miles; this means they have learnt a lot of lessons from 5miles and found a means to make an e-commerce industry a better online peer to peer marketplace.
HERE COMES THE LIGHT
CyberMiles is the light shining in the e-commerce industry, the platform was built on blockchain technology in other to decentralized the ecosystem. CyberMiles being a blockchain based e-commerce platform will bring transparency, fairness, and make the transaction process faster. The CyberMiles will tokenize the e-commerce industry by making suppliers and consumers to be utilizing cryptocurrencies in this ecosystem. This will solve the challenges of currency difference as cryptocurrency is easy to use and worldwidely accepted. The CyberMiles platform was embedded with a payment gateway that make it possible for uses of cryptocurrencies for e-commerce businesses. This will make it possible for people to use fiat, btc, eth, and their local coin called CMT to order for a product through this platform.
SOME FEATURES OF CYBERMILES PLATFORM
CyberMiles has a developer hub for people to build and launch their decentralized (DApp) application on it for free. At the point of filing this article, the platform has already recorded some top decentralized application built on it e.g MetaMask for CMT, a payment gateway, a security token launchpad and many more.
CyberMiles has a digital wallet for storing cryptocurrency. This means suppliers and consumers can receive and send digital assets into the wallet. The wallet was designed to suits both android and iOS compatible.
CYBERMILES TOKEN (CMT)
The CMT is the native token of Cybermiles platform built on their main blockchain. It is an utility token which can be used for payment or tradable at any listed cryptocurrency exchange. This same CMT coin can also be mined by using a decentralized power of stake algorithm. Same time, the CMT token is already listed in top exchange like Binance, Huobi, OkEx, Digifinex, Bithumb and DragonEX.
CONCLUSION
Just like I said earlier, the well known e-commerce platform like Alibaba and Amazon don't gives room for small business to comes into the industry, but with Cybermiles, the story will change. People will be able to launch their stores both small or large enterprise onto blockchain. Lastly, the Cybermiles platform was implemented with smart contracts to make a transaction faster and safer.
For more information about CyberMiles, please visit any of the links below;
Website: http://www.cybermiles.io
ANN Thread: https://bitcointalk.org/index.php?topic=2344875
Project Whitepaper: http://www.cybermiles.io//wp-content/uploads/2018/03/Project-white-paper_en-US.pdf
App Download Link: https://play.google.com/store/apps/details?id=io.cybermiles.cmtwallet
Twitter: https://twitter.com/cybermiles
Facebook: https://www.facebook.com/cybermiles
Telegram: https://t.me/cybermilestoken
Writer's Information:
Bitcointalk username: Luchee45
Bitcointalk profile link: https://bitcointalk.org/index.php?action=profile;u=2132793