Can Blockchain Help Prevent Suicide?

Around 20 million tonnes of cotton is produced globally every year. And this volume of cotton represents about half the material used to make clothes and other fabrics across our lovely globe.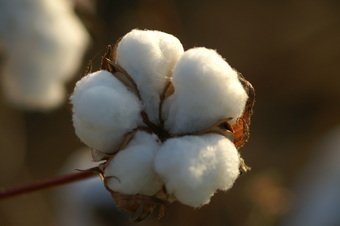 Source
I've been more than familiar with the environmental impacts of the agricultural industry for a long time. And I'm more than aware of how environmentally damaging the cotton industry itself can be.
Of all the crops and animals that are farmed as part of the agricultural industry, cotton is one of the largest water consumers. It takes, on average, 20,000L of water to produce 1kg of cotton. This amount of cotton is roughly equivalent to a T-shirt and pair of jeans. And, on average, two billion T-Shirts are sold worldwide every year. This volume of water is very similar to the amount of water required to produce 1kg of meat. For comparison, it takes about 500 to 4000 litres of water to produce 1kg of wheat. The problem here is that we then feed most of this wheat to farm animals so that we can eat them.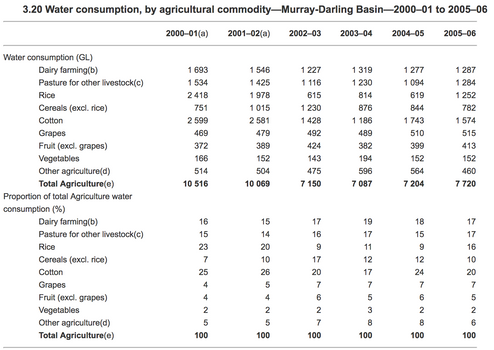 Water use via cotton production in Australia
In addition to water consumption, cotton is also one of the top consumers of chemicals for the purpose of pest control and fertiliser. The chart below depicts the chemical consumption of agricultural crops in the US alone.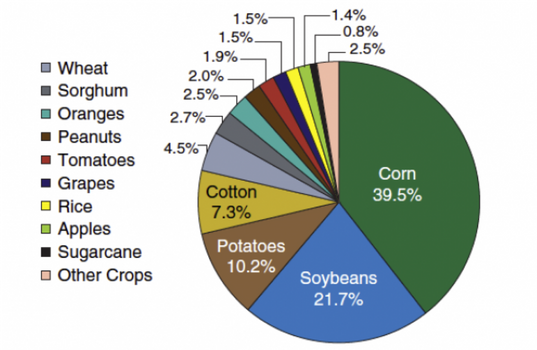 Source
So in addition to cotton being a huge water consumer and contributing to our ongoing pollution and unsustainable use of our very limited fresh water supplies, it has significant impacts on our environment via chemical pollution in the form of pesticides and fertiliser use.
But one thing that I wasn't aware of, was how the cotton industry impacts on the cotton farmers themselves in third world countries.
---
The Plight of our Cotton Farmers

In India, it is estimated that one cotton farmer kills themselves every 8 hours and more than 300,000 cotton farmers have killed themselves in third world countries since 1995.
These are shocking statistics for a single industry. Cotton is, for obvious reasons, a massively in demand resource. It is one of the most in-demand commodities in the world. So naturally, in third world countries that rely on agriculture as a primary source of income, cotton is one of the go to crops to plant and generate an income from.
But there have been a broad range of issues that have plagued the cotton farmers in these third world countries. These problems range from unseasonal weather changes leading to reduced or excessive crop production (low yielding crops mean reduced income but higher cotton prices while excessive yields drive down prices, also reducing income to farmers). Rain and hail has also completely destroyed crops, leaving farmers without income for an entire cropping season.
And then there are more complex issues such as lack of government support, corruption, scams, lack of reliable credit and so on. All of these issues have placed incredible pressure on the cotton farmers of these regions. And without proper support, the farmers have been ending their lives leaving their families and loved ones to pick up the pieces.
---
How Can the Blockchain Help?

While the blockchain cannot fix changing weather patterns or environment issues in this issue, there is one area where it can be applied to help resolve the payment and transparency of the cotton industry. And the team behind Cotton Coin are developing this solution.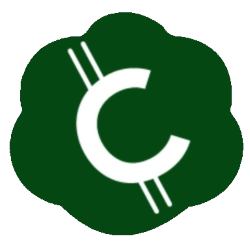 Cotton Coin proposes to:
create a trusted transaction ledger to integrate consumers, supply chain participants and authorities in one ecosystem. This peer-to-peer payment network can be used as an alternative to fiat currency for instant payment. Thus, solving the delayed payment issue to the cotton farmers.
Cotton Coin also has a backend growers-to-buyers traceability solution, to be used by over 6,000+ companies, managing more than 400,000 transactions each day and reaching 30 million people through the world with the help of our agents and distributors. A front-end B2B dApp helps to authenticate cotton sources, tracks delivery and monitors cotton prices while a B2C dApp assists consumers in buying cotton directly.
Source
Cotton Coin believes that their solution will help to improve the distribution of cotton, resolve the delayed payment issues, minimise corruption, support fair trade in the cotton industry, and help to build trust among the cotton supply chain companies, consumers, and authorities.
And most importantly, make the lives of our cotton farmers better and easier, thus reducing the horrendous suicide rates that we are seeing and experiencing today.
---
So when should we expect to see this solution live?

The roadmap can be found on the Cotton Coin Website (https://cottonco.in/) however the first phase of the traceability system testing is expected to be underway in Q1 2019. And to me, this is the key part of this blockchain solution that will have the greatest impact on making the lives of our third world cotton farmers better.
---
Concluding Remarks

It is inspiring to see blockchain being used in industries like this to bring about positive change in our world. Will this currency be the ultimate solution for the cotton industry? I don't know. But I have high hopes that this is a key part of solving the horrendous rates of suicide that we are currently seeing in this industry and that blockchain can aid in improving the likelihoods of the cotton farmers in our developing nations.
Personally, I'll be keeping a close eye on the development of this project. It's rare to see a project such as this being developed. If you'd like to learn more you can check out:
---