Guide to Investing in Cryptocurrencies in Malaysia — Maybe this is just Part 1 (there's a lot to cover in this area 😅 )
A friendly warning before you continue reading…
If you're new to cryptocurrencies, before you proceed further, if your intention is to invest in cryptocurrencies, please be informed that cryptocurrencies are VERY high-risk high-return investments. So let's start by saying this isn't investment or financial advice. Just as with any other conventional investment, you need to do your own research and make up your own strategy including the important exit strategy i.e. when to cut your losses.
Enter AT YOUR OWN RISK and if you lose your money, it is NOBODY's fault but yours!
This guide was written with Malaysia in mind, however you can read it to gain basic knowledge on cryptocurrencies. In Malaysia, using MYR, there are limited options to buying and selling bitcoins (BTC), however there are a few that you can use.
You can buy and sell bitcoins through these platforms (click to go to the website):
Important Notes
Cryptocurrency prices on these websites are often a few percentages higher compared to the average global prices. In order to get the best BTC or ETH price, it is recommended that you check out the prices on all 5 exchanges mentioned above.
It is of utmost importance to activate 2-factor authentication (2FA) for better security for any exchange you sign up.
When you buy crypto from any one of these exchanges they will be stored in the exchange's wallet. You must transfer it to your own wallet if you would like to do anything with them.
Cryptocurrency transactions carry a network fee, but unlike the commission fee this is determined by the network's traffic. Learn more about them here before you make a transaction.
Following is a description of each of the above exchanges and the fees charged by them.
Localbitcoins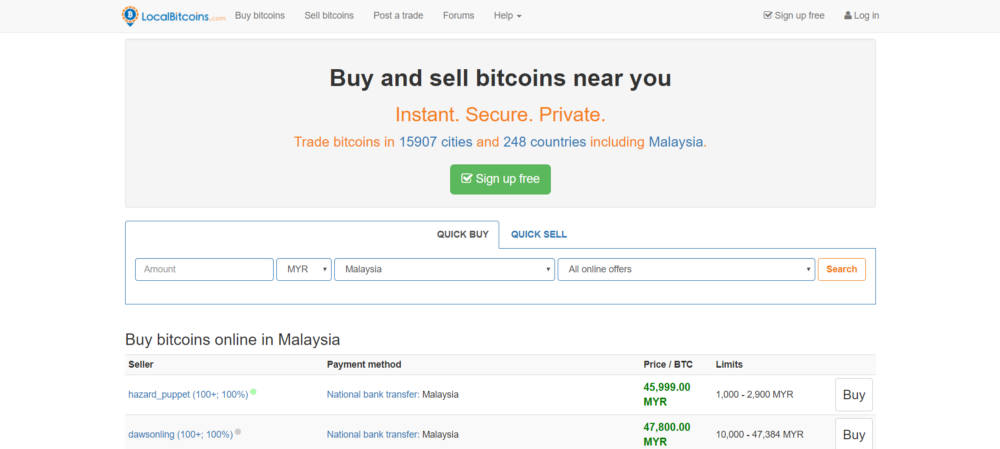 Peer-to-peer exchange (P2P) where the website serves as a platform for you to deal directly with a seller (or buyer).
Since you are dealing with a stranger, it is very important to:
a) Deal with verified trader who has very good reputation/feedbacks and has done many deals. You can check their profile by clicking on their ID.
b) Ensure they are online
c) Read the traders terms & conditions before you trade
d) Ensure you can do instant bank transfer especially for different banks. If possible, it is preferable to use the same bank to avoid delays.
The good thing about Localbitcoins is that you can send messages (and pictures if needed) during your trade. Say you want to buy 1.0 BTC, you click the "Buy" button, indicate the amount you want to buy, and type the message. I usually type something like "Wanna buy BTC. Can proceed?" and wait for them to respond.
Once you have transferred the money, you have to click on the "I have paid the seller" button. The seller will be automatically notified and will release the BTC when he confirms the money is in his bank account. You must NEVER accidentally press the "Cancel trade" button when you have already transferred the money or you will lose your hard-earned cash!!! The "Cancel trade" button is only used when you really want to cancel the trade and have not transferred any money.
For safety purposes, once you initiate a trade, the BTC is kept in escrow (kept by the website) until the trade is complete. In the event that there are problems with the trade, the BTC will be held until the issue is resolved.
Your BTC is kept in the websites BTC wallet which you can transfer to your wallet or an exchange wallet later.
VIEW FEES
Remitano


P2P exchange that supports both BTC and ETH
operates similarly to Localbitcoins except you can't communicate with the seller
your BTC is also kept in the website's BTC wallet.
XBit Asia exchange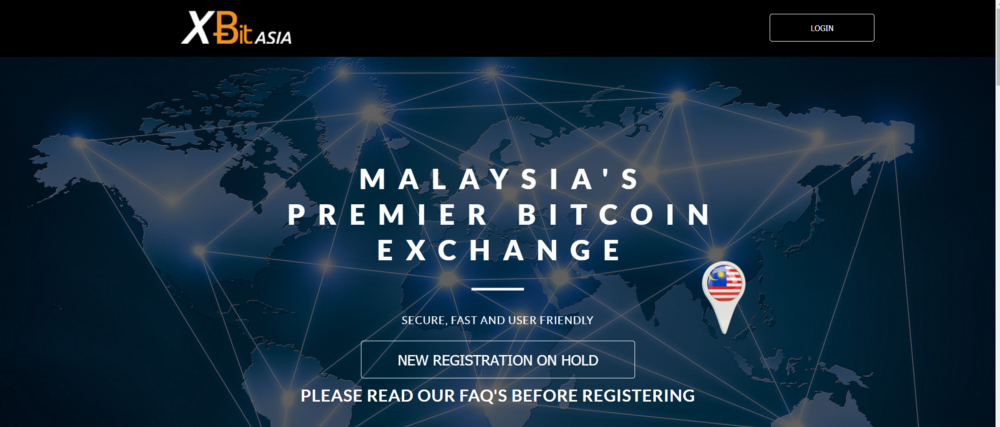 Online cryptocurrency exchange, similar to stock market exchanges. XBit Asia is a bit different from abovementioned peer-to-peer platforms, as you need to first transfer money directly into your "account" in XBit Asia before you can buy BTC.
Transfer of money is not instantaneous. You need to bank-in your money to XBit Asia's designated bank account and then email them the evidence. Once the staff confirms your bank-in, it will be made available in your "account" and you can then buy BTC. Confirmation can be quite fast but only occur during working hours and working days.
The disadvantage of XBit Asia is that there are not many buyers/sellers, hence the liquidity is low, leading to larger buy/sell spread prices. Your BTC is kept in the website's BTC wallet until you transfer it elsewhere.
When you sell your bitcoins, the proceeds are credited into your account in XBit Asia, which you can then withdraw, and the funds will transferred to your Malaysian bank account via GIRO. Withdrawals are processed 3 times a day, on working days only.
Luno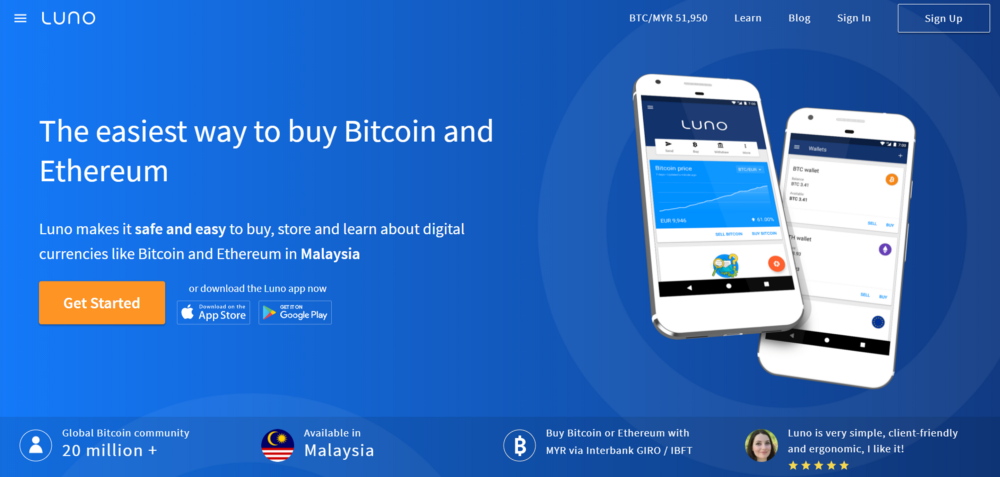 Online cryptocurrency exchange, similar to XBit Asia, but LUNO supports both BTC and ETH. If you deposit MYR using Instant Interbank Transfer you should typically see your LUNO account credited within 15–30 minutes.
Luno also offers bitcoin and ethereum wallets via their mobile app.
Cex.io


Like Luno and Xbit Asia this is an exchange where you can buy and sell cryptocurrencies with Fiat currencies. The only drawback here is that they do not accept MYR but instead accept EUR and USD. Although they sell at a rate higher than many other European exchanges you might sometimes find their rates more attractive than the above exchanges. They are also one of thefew exchanges that allow Malaysian cards to buy cryptocurrency with Fiat. You can still connect your Malaysian bank issued Visa or Mastercard to buy here.
An advantage of using Cex.io is that it offers more currencies than just Bitcoin or Ethereum, for instance Ripple, the coin with the third largest market cap.
SUMMARY
Cryptocurrencies are a new trend and they are a revolutionary disruption in the financial industry. If like everyone else, you wanted to get in on the trend too, I hope this article proved useful. AGAIN, this is not financial advise this is just insight. Always do your own research too.
You can find me on telegram, if you'd like to discuss more with me and/or other crypto enthusiasts, https://t.me/maybebored