Financial expert claims Bitcoin has only reached 1% of its potential
More bullish news for cryptocurrency
Financial expert: Bitcoin has only reached 1% of its potential
"For me some french fries with a croquette, please" - "That will be 12 bits, thank you for your purchase!". Will we ever hear such a conversation in real life? It is possible; nobody can predict the future. If Bitcoin succeeds in reaching its full potential, we will not be far off. According to the financial expert Vincent Launay: Bitcoin has only reached 1% of its potential!
We will not buy chips with Bitcoins in the future; this would be rather expensive fries. But Bitcoins can be split into smaller units that can serve as a payment method.
1 bit is 1 / 1,000,000 of a Bitcoin. 1 Satoshi is 1 cent of a bit or 1 / 100,000,000 of a Bitcoin.
Such units open up huge prospects if the price of Bitcoin were high enough.
What the future of Bitcoin is going to bring is still unclear. JP Morgan CEO Jamie Dimon for example thinks that Bitcoin is a fraud and will fall back to $0. Others think that Bitcoin can 'easily' rise to $500,000 or even $1 million.
To see where Bitcoin can end, we need to look at what Bitcoin stands for today, says Vincent Launay. Bitcoin is used as a means of payment and as a safe haven. Safe havens are not born that way, but are chosen by humanity because of their specific characteristics. In recent years, mankind has increasingly opted for Bitcoin as a safe haven.
We can therefore compare Bitcoin with other currencies (as a means of payment) such as the euro, the dollar or the yen and gold (as a safe haven).
Will you become a Bitcoin Millionaire?
Bitcoin currently has a market capitalization of just over $150 billion. The dollar, cash - deposits - money market funds, is worth around $12,500 billion. The gold market comes to about $8,000 billion.
Bitcoin has therefore reached only 1% of its potential compared to other currencies and gold. To achieve 50% of the potential of gold, Bitcoin must already rise to $241,000. 50% of the US dollar would mean Bitcoin being priced $376,500.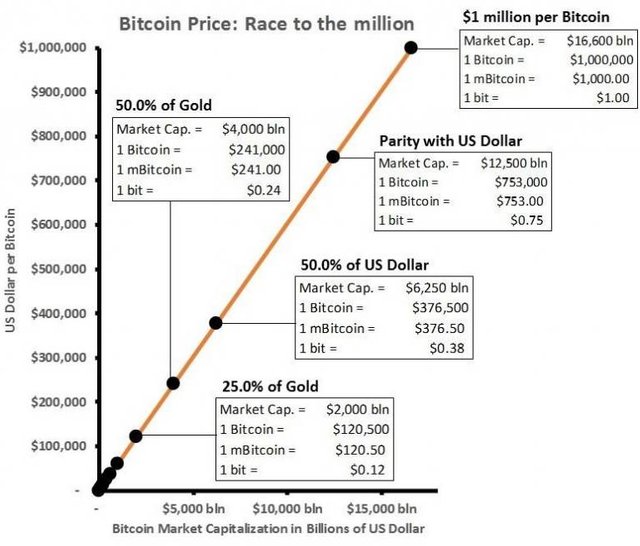 If Bitcoin can exploit its full potential, we will no longer speak about Bitcoin, but about bits or Satoshi's. Those who own Bitcoins will be richer than they ever dreamed!
The future is crypto! <3
---
Thank you for reading.
Feel free to upvote, comment, resteem and/or follow my blog @maxdigi if you liked this post!
I greatly appreciate your support!
Cheers,
MAXIDIGI