29/08/2019/14:00CET
Holy shit, we have had a breakdown it seems. So what is in store now for Crypto?
---
BTCUSD 12h on Bitstamp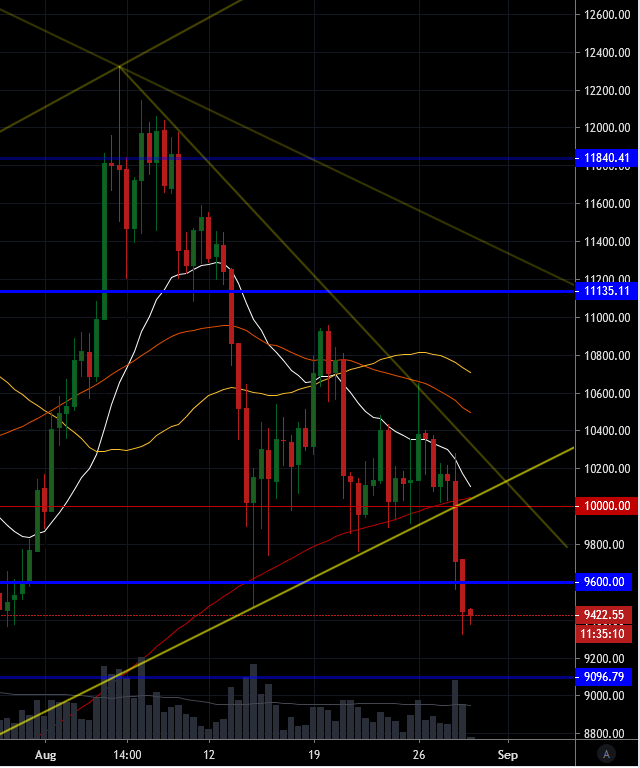 We are trading at 9422USD at press time.
Yesterday afternoon we had out decisive move out of our tightening wedge pattern.
We all hoped for a break out instead we got a break down.
The initial break was violent! +6% down in 1 hour
It stabilized at the 9600 range but there was too much fear to stage a rally back up.
So since the initial drop, we have drifted lower.
Till now we have had a local low of 9320USD
Apart from the initial drop, volumes have also dried up again so this hints at more bearishness to come.
I feel the odds are that we revisiting the 9100 support line in this session before a reversal of short term trend.
Cause? I have looked around my news feed for a convincing argument and there were none.
There are a lot of candidates that could be given the crown, but none deserve it outright.
I believe that once the 9800 level was broken, the stop losses did most of the damage.
We chalk this up to whales I guess. We have to admit that there are players out there with deep pockets and hungry for risk assets. They trade on leverage and have figured out how to play Bitcoin.
I think we have to admit that we are still at the size of a toy for the big players. Till we outgrow that, we will remain a play thing
As conclusion to the point on stop losses, this theory would then suggest there is capital hoping to get back in at a lower price. A reversal rally is not unlikely.




As always guys, leave comments, have fun and trade safe.
---
Disclaimer: This post is not financial advice. Before investing any funds do your own research and make your own decisions. Cryptocurrencies are highly speculative.
And finally: Do not invest money you are not comfortable losing.
---
Help me to make more content like this.
Upvote me, comment and resteem.
Thanks