16/0/2019/20:00CET
CRYPTO BLOODBATH! What a washout today, and it may not be over. Lets take a look at the charts.
---
BTCUSD Daily on Bitstamp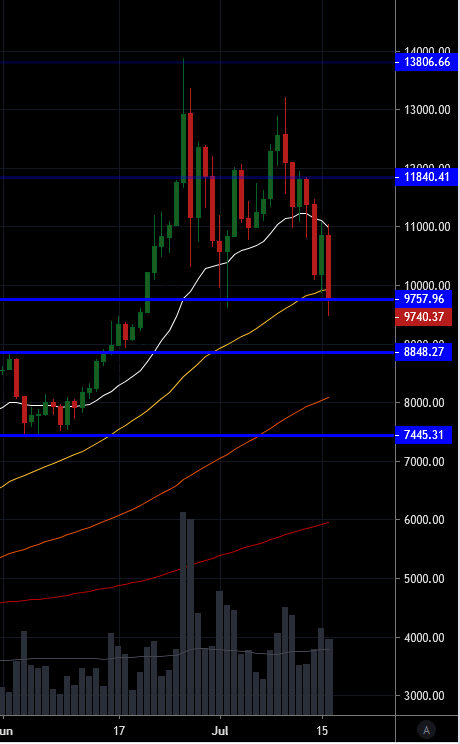 trading at 9740usd at press time
We have had a hard flush over the last 4 days with a fake breakout after testing the 10k support.
Many (inc me) thought that the hold on the 10k support was it. We are unlikely to revisit 4 digit bitcoin prices ever again. I was WRONG
We have had a local low of 9467 on Bitstamp, this is below the previous local low of 9614 by about 150usd.
This may have potentially opened the trap door to a break further down.
We are through our 21dema and 50ema indicators. 9750-9600 is a level to watch.
---
BTCUSD Hourly on Bitstamp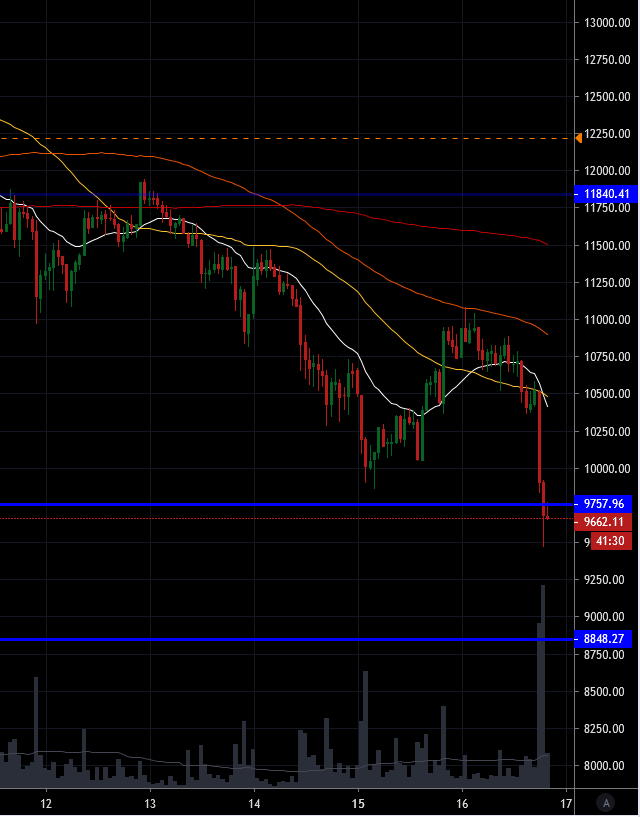 In the hourly you can clearly see how the floor has dropped out from the bids in the lat 2.5 hours
This is coinciding with the FB and social media senate hearings that are focusing on Libra. Correlation is not Causation though
In several previous posts I call for a retracement back well into the 4 figure prices link
and from here were do we go?
I think we have a few resistance levels still below us to test.
9700-9600 is the first one
8850-8750 is the next
And then there is 7500
21 weekly moving average, a major support indicator in bitcoin bull runs is at 7850 at the moment.
I will watch closely because if we break 9k, stop losses may be called for.
Whenever sentiment turns bearish, our collective imagineations always see the dark side of all analysis
Also we have only very recently been treated to a rally in bitcoin after a brutal winter. We have not yet put our coats and boots away, and so it is not hard for us to imagine a last flash of cold conditions in cryptoland.
Hope for the best, plan for the worst!




As always guys, leave comments, have fun and trade safe.
---
Disclaimer: This post is not financial advice. Before investing any funds do your own research and make your own decisions. Cryptocurrencies are highly speculative.
And finally: Do not invest money you are not comfortable losing.
---
Help me to make more content like this.
Upvote me, comment and resteem.
Thanks