Oyster Shell (SHL) Airdrop Snapshot Date Update
Today, we have a significant update regarding the date on which the blockchain snapshot will occur to facilitate the Oyster Shell (SHL) Airdrop.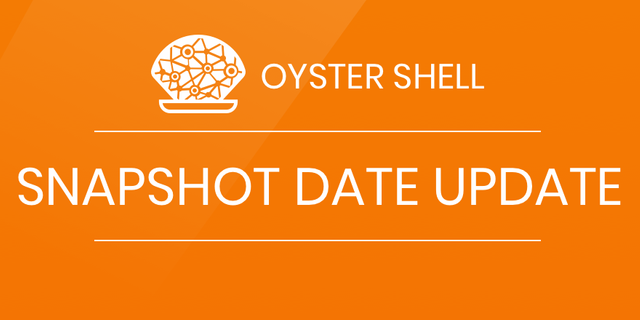 As mentioned in our post from Friday, KuCoin has confirmed that they will be participating in the SHL Airdrop. Since the agreement between KuCoin and Oyster for the SHL airdrop was not finalized until this past Friday and given KuCoin's busy schedule and limited available development resources, April 6th was not going to be a feasible date to have proper preparations made for the SHL airdrop on the KuCoin platform. Thus, we are changing the date of the SHL Airdrop snapshot to April 13th, 2018. Ultimately, this change in date will be of great benefit to our community, as it will allow those individuals who are storing their PRL on the KuCoin exchange to receive SHL at the same 1:1 ratio without having to move their assets to an external wallet (e.g., MyEtherWallet). For those storing their PRL on an external wallet in anticipation of receiving SHL during the Airdrop, this change does not affect you. SHL will be airdropped to both external wallets holding PRL, as well as KuCoin wallets holding PRL.
Countdown for the airdrop
https://crackingcryptocurrency.com/cryptocurrency-fork-airdrop-countdowns-info/oyster-pearl-prl-oyster-shell-shl-airdrop-countdown-cracking-crypto/
KuCoin will be the only exchange where you can keep PRL and still receive the SHL Airdrop. For all PRL holders not utilizing KuCoin, we would recommend using a personal wallet like MyEtherWallet.
The snapshot of PRL addresses will be done at block height 5436000, which is estimated to be on April 13th, 2018 at approximately 12 PM EST (GMT – 4). Delivery of the first SHL tokens will be completed in the following week after April 13th. Finally, We are currently in the listing process with KuCoin for SHL and expect to know more about a potential listing date for SHL later in April.