Cryptocurrency transaction stopped in India??????
Today's most highlighted news in India...
What will be the future of cryptocurrency in India???? 
Will RBI ban crypto banking transaction or RBI revise the decision????? 
From last few months, we have heard so much about cryptocurrency that Bitcoin is banned in India and many more.
 In India, the Reserve Bank of India (RBI) has banned them with immediate effect from "dealing with or providing services to any individuals or business entities dealing with or settling virtual currencies". You will not be able to buy cryptocurrency through banks or e-wallets etc. 
RBI has warned banks about cryptocurrencies in January, telling them to step up scrutiny of financial transactions by companies and exchanges involved in the trade of bitcoins and similar digital tender.
To date, Bitcoin is not functional as a means of payment, but it relies on the oxygen provided by the connection to standard means of payments and trading apps that link users to conventional bank accounts. If the only "business case" is use for illicit or illegal transactions, central banks cannot allow such tokens to rely on much of the same institutional infrastructure that serves the overall financial system and freeload on the trust that it provides. The biggest impact was after the RBI circular came out on April 6 when there was a 25-30% drop in crypto prices because of panic sale. "The current sentiment in India is a little negative because we are not able to see a clear path. Unless there is clarity from the government and the RBI, no one can be sure what comes next" 
What will be the next step of RBI??????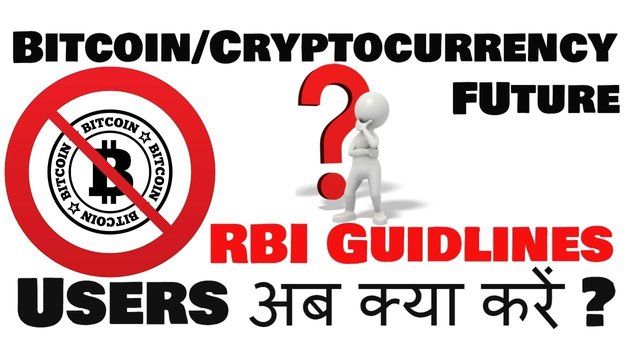 Today, the Reserve Bank of India (RBI) released a statement directing all regulated entities, including banks, to stop dealing with individuals and businesses dabbling in virtual currencies. This amounts to a ban on banks in dealing with companies or individuals that trade in cryptocurrencies.
"Virtual Currencies (VCs), also variously referred to as cryptocurrencies and crypto assets, raise concerns of consumer protection, market integrity and money laundering, among others... In view of the associated risks, it has been decided that, with immediate effect, entities regulated by RBI shall not deal with or provide services to any individual or business entities dealing with or settling VCs," the RBI said in a statement today.
Today's is last date of banking transcation for cryptocurrency.
What will be the next step for people to convert into INR from cryptocurrency????
Do you have any suggestion then suggest us!!!