PAYBLOK TOKEN REVIEW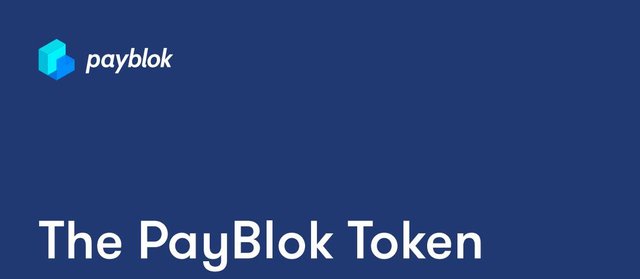 Introduction 
Small and medium-sized business, sometimes seen as small and midsized business (SMB). When a business has 100 or fewer employees is generally considered small, while a business with 100-999 employees is considered to be medium-sized. And one of the main problem this Small and mid-sized businesses face is impact of relatively long duration of credit upon sale and the traditional financial products are failing to render support for them. 
InstaSupply was created by Lee Pruitt and Tim Huegdon from their experience to make things easier for buyers and suppliers business online. InstaSupply built a sturdy and strong digitizes and automate all the back and forth reciprocal action that proceed payment. InstaSupply is introducing PayBlok which is a token whose main aim is solving the SMB cash-flow problems.
The Main problems SMB encounter
* The Payment Process 
* Late Payment Problem 
InstaSupply is the Solution 
InstaSupply currently have over 2000 businesses using the platform presently with over $60 million worth of invoices passing through InstaSupply annually. InstaSupply objective of disentangling buyers and suppliers to manage their payment and collections respectively.
With the PayBlok token Which gives organizations access to installment and financing highlights inside the InstaSupply stage but owning of PayBlok token doesn't  guarantee owners to any rights to InstaSupply as a Company.
PayBlok renders InstaSupply to offer solutions to the problems SMB encounter which are:
1. An integrated Solution 
2. Supply Chain Financing
3. Asset Based Lending 
Value Exchange and the Network Growth 
For the PayBlok token to be successful the numbers of end users engaging in the PayBlok and InstaSupply platform is vital so large proportion of  PayBlok budget would be allocated towards customer acquisition adding to the already 2000 plus using the InstaSupply platform. And with the help of specialist team and marketing team who are already in place to help improve the Growth of InstaSupply network. The Strategy to increase demand of the InstaSupply services and PayBlok token would include;
* Inbound Marketing 
* Partnership 
* Integration 
Users would receive PayBlok Token as incentive for fully adopting the InstaSupply platform and referring other business since we know that every business has its own normal process in place , and some of the rewards can be used for Paying invoices using InstaSupply, Approving and Verifying invoices early plus taking an early pay discount and Referrals to InstaSupply as the payment for some of the users transactions
Token Information
Token Name: PayBlok
Token Symbol: PBLK
PRE SALE: 15 MAY 2018 - 15 JUL 2018 (0.1 USD = 1.0 PBLK)
PUBLIC SALE: 27 AUG 2018 - 23 SEP 2018 (0.1 USD = 1.0 PBLK)
PLATFORM: ETHEREUM
ACCEPTING: BTC, ETH, LTC
Soft Cap - $5,000,000
Target Cap - $15,000,000
Total Token - 250,000,0000
AVAILABLE FOR SALE: 60%
Project Team and Roadmap
Team : The PayBlok token has a team of 9 professionals from different fields. The team is led by Lee Pruitt and Tim Huegdon who are both the founders of this project.
The experience history and expertise of this team is stated fully in the PayBlok WHITEPAPER.
Roadmap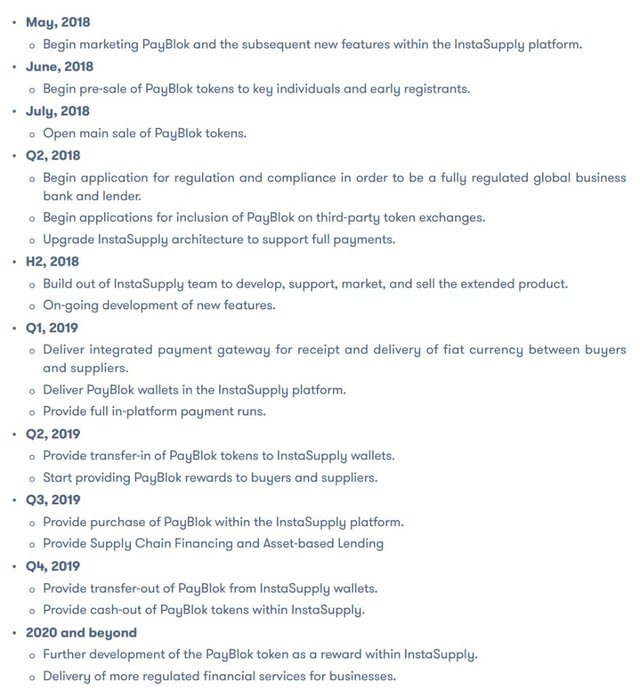 Official Contacts
Website: https://payblok.instasupply.com/index.html
Whitepaper: https://assets.ctfassets.net/5vuk877t9hxd/3NAfrZaazmEk6emsaikqiW/87fb62e129789d978720d85d56c49e0e/payblok_whitepaper.pdf
Telegram: https://t.me/joinchat/HZSTLA9rcKJJZKXUHlHkfA
Twitter: https://twitter.com/instasupply
Facebook: https://www.facebook.com/instasupply
Medium: https://medium.com/instasupply-blog
Youtube: https://www.youtube.com/channel/UCoYhK-h2xW8oBy3KlxwK0bQ
Reddit: https://www.reddit.com/r/ico/comments/8jccem/payblok_is_a_cryptoasset_that_incentivizes_b2b/
Contact me on bitcointalk >>
My Bitcointalk profile:
https://bitcointalk.org/index.php?action=profile;u=2227129
Bounty0x User name : @macshad