Top 5 Cannabis Based Cryptocurrency - June 2018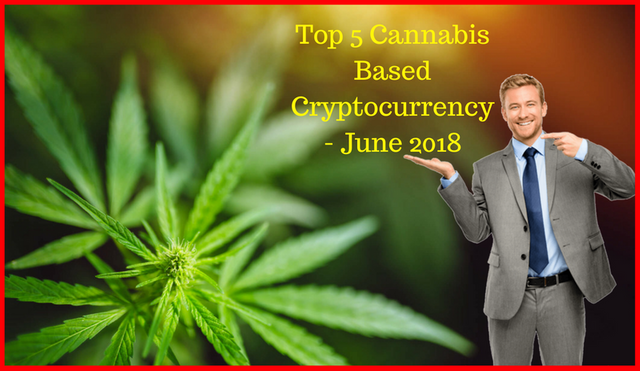 Cryptocurrency has definitely revolutionized how people conduct business across the globe. For a long period, cryptocurrencies like the bitcoin and CannaCoin have stood firm as mediums of exchange and widely dominated the Cryptocurrency market. While the cannabis industry has had to face many difficulties due to the unwillingness of the available financial options financing it, the rise of cryptocurrencies may be its saving grace. As cannabis is slowly becoming legal in many countries, people are now combining Cryptocurrency and cannabis and making cryptocurrencies that are exclusively for marijuana businesses. These cryptocurrencies are created to make it easy for individuals involved in the marijuana business to transact easily. With that, here are the Top 5 Cannabis Based Cryptocurrency 2018.
1. PotCoin (POT)
Launched in January 2014, PotCoin was one of the earliest cryptocurrencies for the marijuana industry. It was created to provide a solution to the various banking struggles faced by people transacting in legal marijuana. Despite it's good start, PotCoin failed to make it big in the market, leading to it remaining in the low light for some time This was until June 12 2017, when a press release and video of Dennis Rodman, an NBA star, rocking a potcoin.com shirt in Northern Korea gave it a boost. Potcoins current market value is approximately $31 million.
2. CannabisCoin (CANN)
Cannabis coin came into publicity in 2014, just a few months after PotCoin was created. Just like potCoin, this currency was also aimed at improving the transactions in medical Cannabis dispensaries. Although the currency seemed to have gained popularity at first, it has failed to give much desired results for it's investors. CannabisCoin has been focussed on its industry and even propositioned to directly convert Cryptocurrency into marijuana. The supply of CannabisCoin is currently totaling 91.8 million, with more than 77 million in circulation. According to coinmarketcap.com, the currency currently has a market cap of approximately $5.2 million.
3. DopeCoin (DOPE)
DopeCoin was founded In February 2014, by a man named Adam Howell. Although very little is known of the specific markets that DopeCoin serves, it's mission is clearly stated as providing cannabis enthusiasts with a modern and more secure way of transacting in the 21'st century. The currency was created with a vision of starting a Silk Road enabling marijuana transactions across the whole world. The supply of DopeCoin is limited to about 200 million DopeCoins, with approximately 117 million is in circulation. The current market cap of DopeCoin is about $7.7 million.
4. Paragon Coin (PRG)
Paragon Coin is the newest and arguably the most interesting cannabis Cryptocurrency. The currency aims at revolutionizing everything in the cannabis industry. Apart from supporting cannabis transactions, the Cryptocurrency was also created to push the legalization of the various cannabis businesses. Currently, each coin goes at 0.778USD with more than 100million coins in circulation. The currency is currently valued at $50.5 million.
5. HempCoin (THC)
This is also another Cryptocurrency that was created in 2014. Focusing less on the individuals using it to purchase weed, the currency has instead been designed to focus more on the farming industry and the medical/recreational dispensaries. From it's website, the currency claims that it can be used to improve facilitate the transactions between the local dispensaries and the marijuana farmers. It also aims at facilitating the purchase of tools and gears for the cannabis farmers. Currently, a single HempCoin goes at 0.101USD and has a market cap worth more than $234 million.