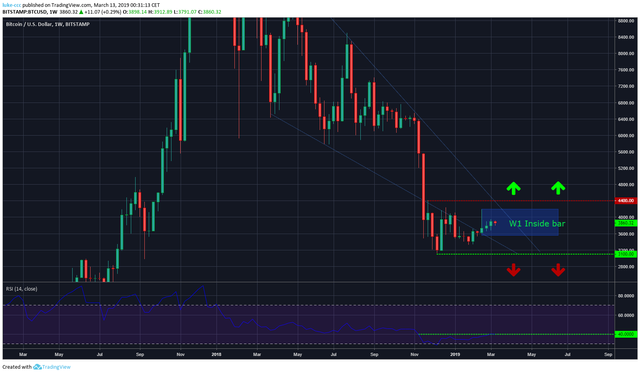 Source:

[email protected]



Bitcoin has seen an increase of almost 3% in the last week and has a run of three growth candles W1. However, the dynamics of the approach leaves much to be desired, trade is still contained in a candle with a visible upper wick.
From a technical point of view, the positive information that emerges from the chart is the return of the price to the falling wedge, so we can expect the price to increase to the upper limit. Also, the RSI indicator is growing above 40 points, so there is still a lot of space to range of overbought.
As long as BTC is above $3,600 we can expect further slow price increases. Only a clear breakdown of the level of $4,400 will allow us to start another upward move.
---

I am not a qualified licensed investment advisor. I am an amateur investor. All information found here, including any ideas, opinions, views, predictions, forecasts, commentaries, suggestions, or stock picks, expressed or implied herein, are for informational, entertainment or educational purposes only and should not be construed as personal investment advice. While the information provided is believed to be accurate, it may include errors or inaccuracies.
If you like this blog, you can support it with a grant:
My wallet address:
▶ Bitcoin: 1MBubGJpQkGieifNWt8TYQRHuoswFGrjj1
▶ Litecoin: LW4cdCHbiPyKYtFBVZAdUQkKBhNHU3TgcV
▶ Ethereum: 0x06B22dAB9dB5C9dDE283102B15cE75dDBED333c3