LocalCoinSwap announces first community vote
As you surely have noticed, there has been a significant downturn in the value of Ethereum and other cryptocurrencies.
When we first calculated our token metrics, the price of Ethereum was over USD $1,000. Accordingly, we pegged the price of LCS Cryptoshares to 0.0004 ETH, a price that would allow us to raise the necessary funds to reach our target hard-cap.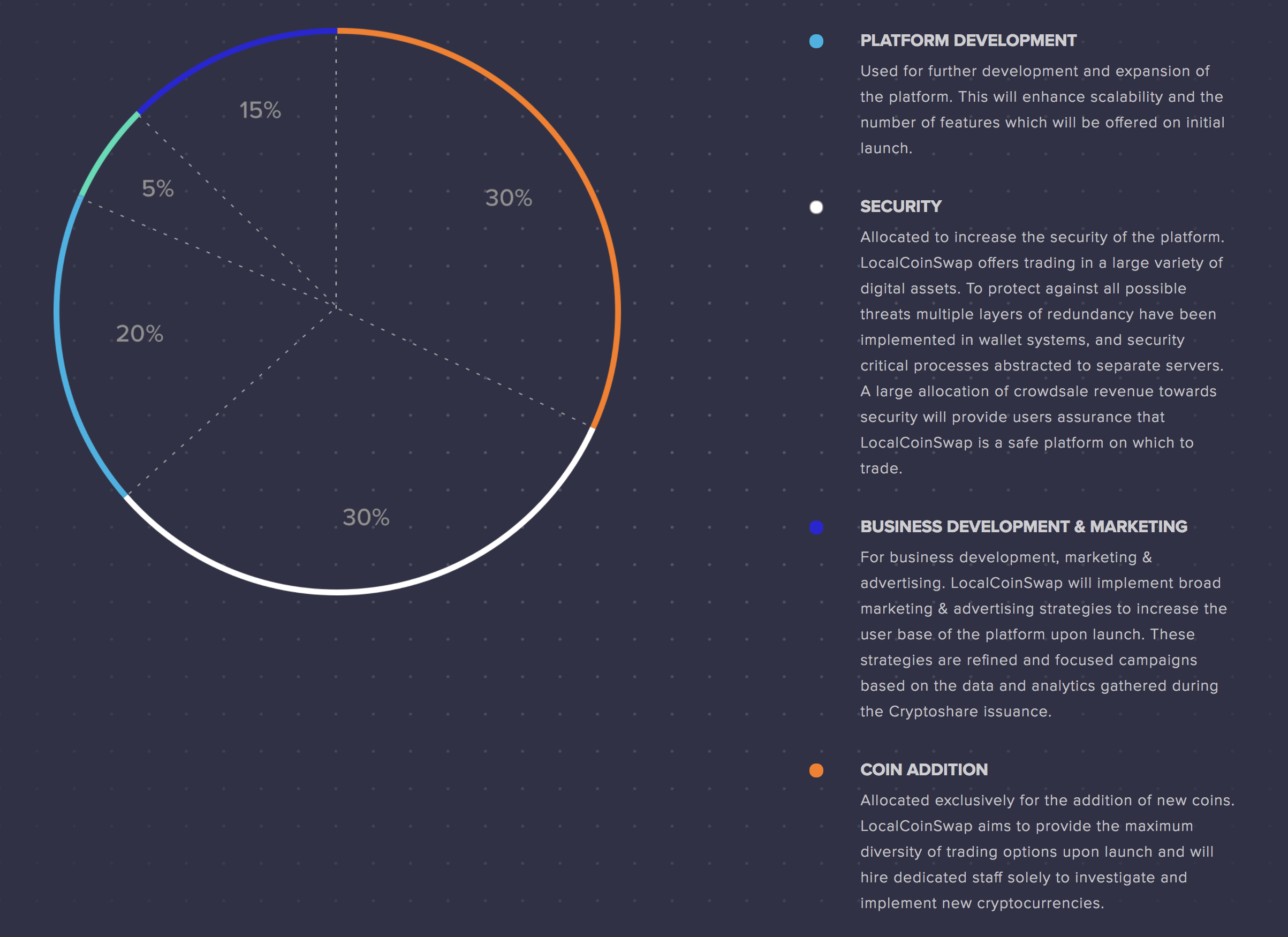 As of now, the value of Ethereum has dropped to USD $366. A price that directly affects reaching the hardcap and bonus stages. Early ICO investors have also paid a significantly higher price in USD terms than later investors will need to pay.
To rectify these problems and turn the downturn of cryptocurrency into an opportunity, LocalCoinSwap is now officially announcing the first community vote. LCS Cryptoshare holders will vote to decide on whether to peg the price of LCS Cryptoshares to USD 40c. This will not only allow the hardcap and bonus stages to be reched, but will also preserve the value early stage investors.
To all community members:
Voting tokens have been distributed in a 1-to-1 basis and are already in your Cryptoshare holding wallets. The vote will close on Monday the 9th of April at midnight, at which point the token will be frozen
To add the voting token to your wallet please use the following details:
Contract address: 0xDa58C06b2ACbB32c647b245ae85621efcc626dCE
(Coinomi contract address: 0xda58c06b2acbb32c647b245ae85621efcc626dce)
Symbol: LCSV
Decimals: 18
To vote to peg the price of Cryptoshares to USD, send voting tokens to:
0x0000000000000000000000000000000000000001
To vote to keep the price of Cryptoshares pegged to ETH, send voting tokens to:
0x0000000000000000000000000000000000000002
The LocalCoinSwap team will implement whichever decision you decide on together as a community. No voting tokens have been issued to the team and we will stay completely impartial on this issue. We will not influence anyone's decision, because it's your choice - not ours.
Want to follow the voting action?
You can follow the voting action live by viewing the LCS voting tokens being sent to each address.
Change to USD: https://etherscan.io/token/0xda58c06b2acbb32c647b245ae85621efcc626dce?a=0x0000000000000000000000000000000000000001
Do not change to USD: https://etherscan.io/token/0xda58c06b2acbb32c647b245ae85621efcc626dce?a=0x0000000000000000000000000000000000000002
Please note: this vote is being taken before the platform launch and so is purely Blockchain based. After the platform launches, we will be providing an integrated dashboard to simplify the voting and dividend process.