I want to share my personal experience with Bitconnect so far....
I am not very far into it, but what I have learnt is very positive so it makes good sense to document the progress from the start.
This post is not intended to start a debate about whether or not Bitconnect is a ponzi scheme / scam etc.. The intention of this post is simply to give others an introduction to Bitconnect. If after learning a little about it you have an interest to learn more then it would be smart to research others opinions and stories. There are many on YouTube. Research the source of anything you think you believe or would like to believe.
Then make your own decision!
There are two main reasons why I am writing this post:
The first is to share what I have learnt because I believe that short term this has the potential to change a lot of peoples lives for the better. I am not a fool who believes automatically that this venture will be lucrative forever, but what I do know is that it IS lucrative at the moment and for me it a risk I have been willing to take after doing many many weeks of research. I will keep posting updates of my progress - even if it's negative - because my purpose of sharing this knowledge is only for good intention.
This video gives a simple introduction to bitconnect:
There is also a useful document on their own website which is worth reading:
https://bitconnect.co/upload/presentation/english/PDF/BitConnect-english.pdf?v=982658948
The second reason I am doing this post is for any money that I may possibly make from any referrals and upvotes.
( You may know if you have read some of my other posts that I have twin babies on the way so I am trying to earn every penny I can at the moment.)
MY EXPERIENCE SO FAR
My interest in Bitconnect began quite recently after after following my partners own crypto journey for the last 18 months. He bought 2 Bitcoin for £250 each about 5 years ago, last week after weeks of researching Bitconnect he sold his bitcoin for £11,000 and invested it into Bitconnect. He started his investment 4 days ago and has already made interest on his investment AND WITHDRAWN £350.
So I sold some of my Steem Dollars for Bitcoin, then traded them for Bitconnect and invested just $200 a few days ago. I have already made money that I could withdraw, but I intend to reinvest for the duration of my investment to make the maximum return. The estimated return on my $200 investment if I reinvest each day is $2,100 at the end of the 299 day period. That's a daily interest of $16.80.
The estimates are based on a lower than average percentage rate too. They are based on a daily percentage of 0.8% but if you look at the history of the daily rates they have been higher than this.
Here is my lending wallet so far: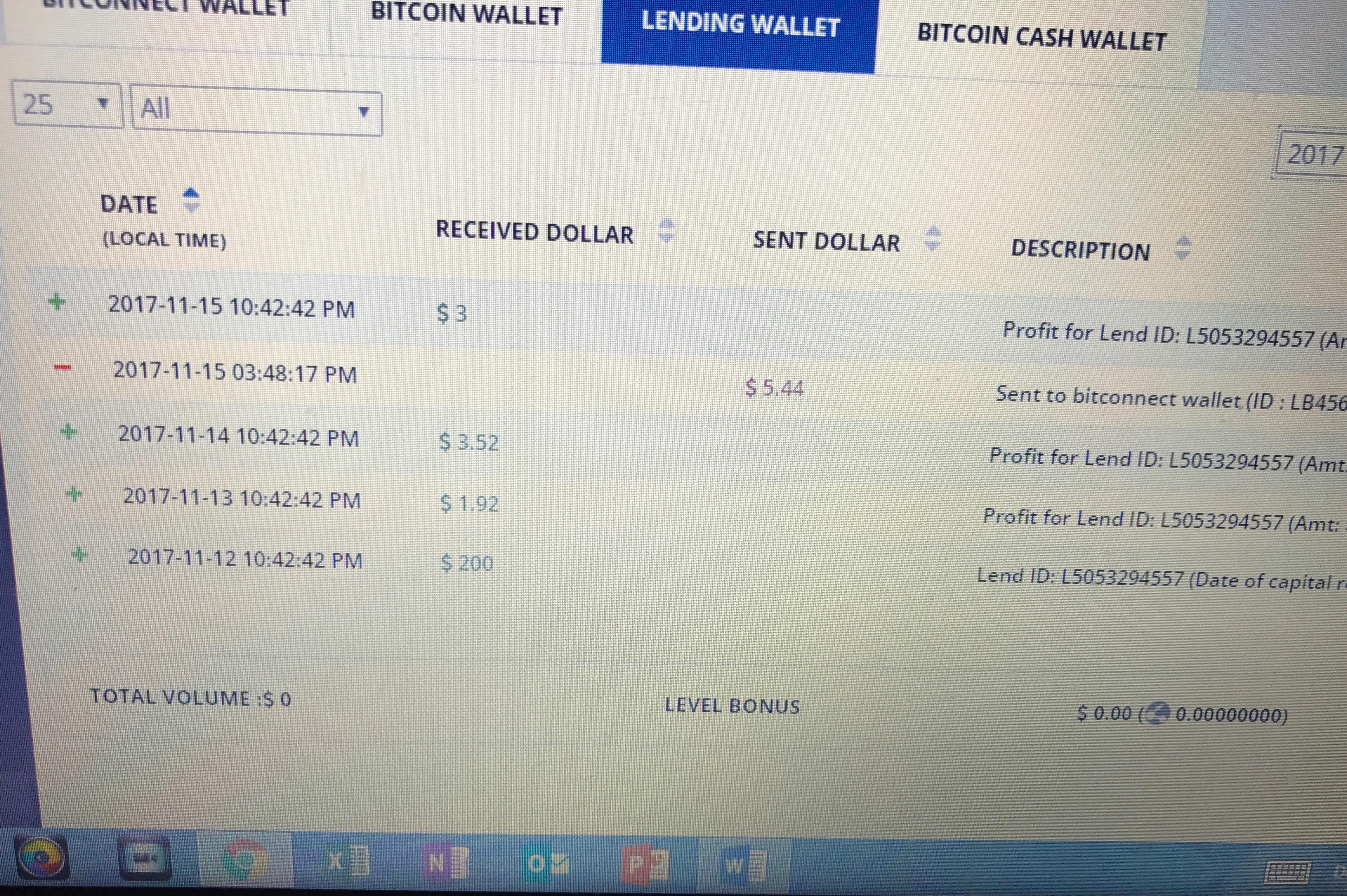 If you like this post please upvote / share. If you are interested in how this goes then please follow me.
And finally, if you do decide to invest anything into Bitconnect, please use my referral link below to set it all up. :D