Get 0.3 SBD+ for feedback. LAToken at the first Fintech Week in Silicon Valley. The blockchain platfrom to tokenize assets from real estate to wroks of art.
Our ongoing road show brought us to the world's leading tech mecca — the Silicon Valley, where LAToken's founder and CEO Valentin Preobrazhenskiy spoke at the first Fintech Week Valley about the disproportionate role of blockchain startups in changing the way financial services serve people. He first presented the ideas behind LAToken to the VCs, large firms and innovators in the "Fast Paced Company Intros."

"To describe it in simple words, LAToken is the "Amazon" of blockchain. We have built a marketplace that connects investors with borrowers and asset owners. Now you can sell your assets by fractions and borrow cash super-fast without paying interest. Or, contrariwise, you can buy fractions of any assets, ranging from real estate to works of art, and get exposure to the industries you believe in without having to spend fortunes," — says Valentin Preobrazhenskiy.
Later Valentin spoke at the panel discussion "Blockchain 2020" about the most recent developments in the blockchain industry and its outlook for near future. He emphasized that the current outdated corporate processes will eventually be replaced by the improved blockchain analogues in every industry. LAToken, for example, will reshape the way people sell assets and invest money, he explained. And the investors gathered at the conference agreed with him, noting that making even the most illiquid assets tradable by fractions would give an impetus to the development of several industries at once.
"I think it would be really interesting to see how people can put their money to work by being able to own fractions of the assets. You don't need to purchase an entire asset, and you can get a return anyway. So even if you don't have a level of income sufficient to purchase large assets, you can now participate in smaller or more meaningful rounds for example. I think it would be very interesting to see how this idea could work in agriculture. It's a very fragmented industry for small and medium-size businesses, and if they could tokenize their assets, like the machinery they are using, it could create a great opportunity for local investors to participate in the local economies,"—said Jack Saba, Managing Partner of Day One Investments.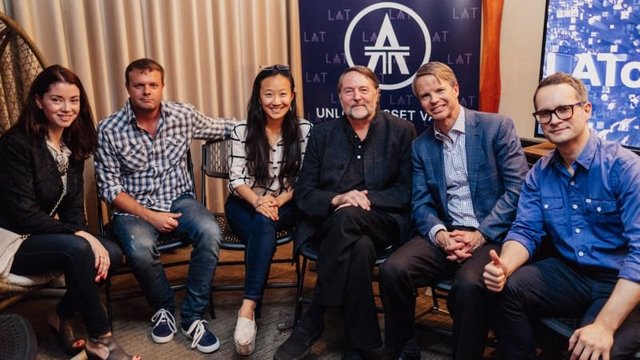 After the last session, LAToken hosted a pizza party in San Francisco to discuss recent blockchain regulatory developments in a more casual setting. This party, held on July 31, gathered together more than 250 blockchain investors and entrepreneurs and led to the creation of the Token Security Working Group — an association aiming to make the token market scalable and transparent for investors so that VC and pension funds will be able to invest in our projects.
About us
LAToken is a platform connecting investors with borrowers and asset owners via blockchain allowing each party to get the best offers. We tokenize and make tradable assets ranging from equity and debt to real estate and works of art.
LAToken is one of the first tokens based on an existing profitable business. The company was founded in 2013 as a home equity marketplace where borrowers could get approved loan offers against their equity with the lowest possible rates in seconds. We processed 1000+ deals last year with 35 banks and investors, and now we are adding new asset classes. The Public Token Sale starts on August 22.
More info: http://sale.latoken.com
FAQ: http://help.latoken.com/faq/latoken-faq
Subscribe to our channels:
Github: https://github.com/latoken
Facebook: https://www.facebook.com/LiquidAssetToken/
Twitter: https://twitter.com/LATokens
Telegram: https://t.me/latoken
Steemit: https://steemit.com/@latoken
Slack: https://latoken.herokuapp.com/
You can also contact us at [email protected]
Follow, resteem and give constructive feedback (questions/concers) on our project - LAToken and you'll get 0.3 SBD. We will choose 3 best comments and will give 1 additional SBD each.