Whale Maker | Redefining The Future Of Cryptocurrency Launchpad
Blockchain technology is a new innovation that is most important since the internet was invented for the first time, Blockchain technology introduces a new unique system that is a decentralized ledger that is the basis of bitcoin, the first Blockchain technology-based digital currency. The ledger is a compiled collection of transactions stored in individual distributed databases maintained by more than 60,000 computers on the Bitcoin network. Blockchain makes it possible to record Any changes to a cryptographically signed distributed book to prove that the person who transferred the coins is the real owner of the coins and not the result of manipulation. Blockchain is also a solution for Double Spend where no one can spend their coins twice, because once the transaction is in the ledger, every node in the network will know about it. The idea is to monitor every unit of virtual currency and prevent unauthorized transactions.
Blockchain creates an ecosystem for users to use a new kind of currency where there is no monopoly and manipulation role, Digital currency has led to this basic idea and finally tries to solve the perceived problem by building a new cryptocurrency on the new Blockchain. But proponents have taken advantage of the idea of ​​a decentralized, cryptographically secure database for use outside of currency. The biggest driver believes that blockchain can not only replace the central bank but also usher in a new era for all sectors, Various projects with new concepts are emerging as Blockchain develops and therefore need a System to become a place for initiators and investors to meet, Whale Maker is unique new platform that brings the two together in one place.

What is Whale Maker?
Whalemaker is a unique new Fundraising Platform and is the defacto standard process for all deal launches and aggregations in the Crypto market. The WhaleMaker platform simplifies the entire launch process of a new project through a unique cycle developed by them. The main purpose of developing this platform is to make it possible for anyone to go from idea to full project creation, fundraising, and launching IDO in one platform. Their platform does not require a lot of money and time and the process is made simpler, Redefining the future of Launchpad on the crypto Space. This allows retail investors to engage with startups and access promising opportunities before they are launched to the public. Coins or tokens from a project will be locked first automatically and secured to prevent withdrawals or cancellations unilaterally and this provides an advantage for investors because they no longer have to choose between an expensive launchpad, or buy on a late exchange. Whalemaker creates a new investment circle for everyone which is a win win solution for all parties involved.
ICOs and STOs are less attractive and therefore currently the market prefers Launchpad or IDO because the systems are more open and profitable. Launchpad currency giving the most explosive crypto returns are for everyone who invest in projects that have not yet entered a public exchange. However, this still has its drawbacks because various new blockchain startups are ultimately only provided for venture capitalists or Instituonal Investors so that they do not provide fair opportunities for small or retail investors. The IDO or Launchpad system was born for this reason and connects investors looking for an initial deal with a potential crypto startup but the current platform has a drawback that is they only focus on fundraising alone regardless of the startup's development itself, most platforms don't. handling the many needs of crypto startups that take a lot of time for each process starting from Team, Cost, Security, Audit, etc., so that it is detrimental to investors and of course the startup itself. Whalemaker wants to be a solution for this by becoming a unique platform that is multifunctional and fair for all parties, ensuring various processes are transparent in the ecosystem.

Whale Maker Benefit
WhaleMaker is a decentralized community-driven system designed to help the incubation process of a new crypto startup optimally. Then they collect the best flow of deals for all community members and provide more benefits to early supporters. Our private sales include projects launched on Ethereum, Polkadot, and the Binance Smart Chain. New projects that want to raise capital through a social financing model that allows for better returns, easier access to capital, and advisory for public launching of projects and maximizing growth potential in the initial launch process, In addition to providing benefits to early investors, Startups crypto also gets more profits and maximizes the initial development process with the funds raised early, kicking off a new startup that can hit the market before it even hits the public market.
Whale Maker Native Currency?
Whalemaker will use a Native Currency called WAKER and this is a token based on Ethereum Blockchain Technology (ERC-20), this token is used as the main payment tool in the ecosystem and allows its holders to access private agreements, governance, and interact with the ecosystem on an ongoing basis. comprehensive and accessing initial deals with various crypto startups in the ecosystem. The value waker will continue to increase over time with more market demand and incubation of more projects in the future. This token becomes a new kind of cryptocurrency that provides initial access to its holders for various potential new projects. In addition, the Deflationary concept ensures that its value is maintained and remains stable.

Cryptocurreny Market Growth
Digital Payments continue to increase every year and introduce a new, more effective financial system. One of the alternative options is Cryptocurrency which continues to grow every year with various innovations with unique use cases and one of them is the Whale Maker where this platform presents a Fund raising system. new unique by being a solution to various problems that exist on Launchpad. In recent years Crypto has begun to be recognized as a new alternative financial option that is recognized by the world as one of the best alternatives and various institutions have started to integrate Blockchain technology besides the entry of various global figures such as Elon Musk also gave a bigger boost to the Crypto market, Whale Maker. providing better profits, their ecosystem allows crypto startups to grow and retail investors who can maximize their profits by participating in various potential projects.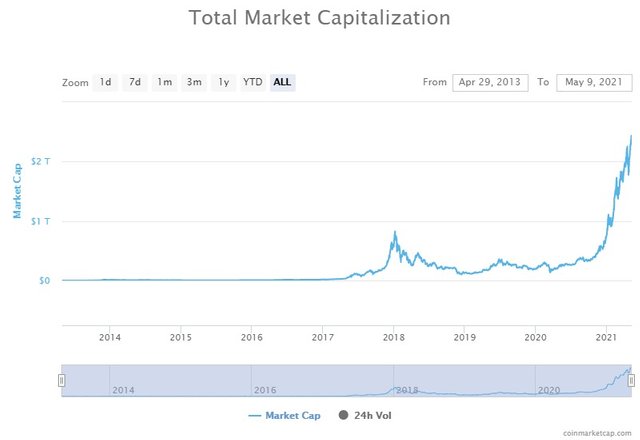 Roadmap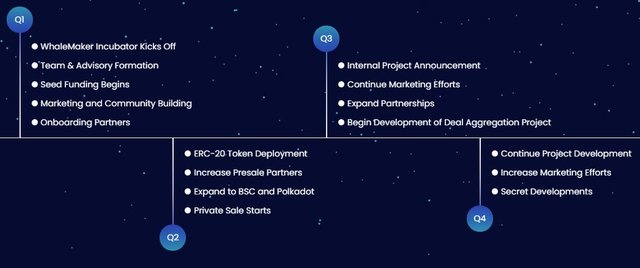 Conclusion
Blockchain brings new innovations and is implemented through cryptocurrency which introduces a new system for everyone with the most affected sector, namely finance where various processes are carried out automatically without third parties, Besides that crypto is also an alternative investment option that is quite attractive to everyone. Whale Maker is a solution for everyone who is looking for an alternative investment by providing a fair opportunity for everyone to be able to contribute to new crypto startups that have not gone public, thus maximizing the profits they get. In addition, crypto startups also benefit from initial outreach assistance to the public and financial access for the initial development of their projects. I highly recommend you to join the Whale Maker Project!
I think that's enough for now, don't forget to follow & upvote for more content about new potential projects, I will provide some links related to the Whale Maker Below. Thank you very much!