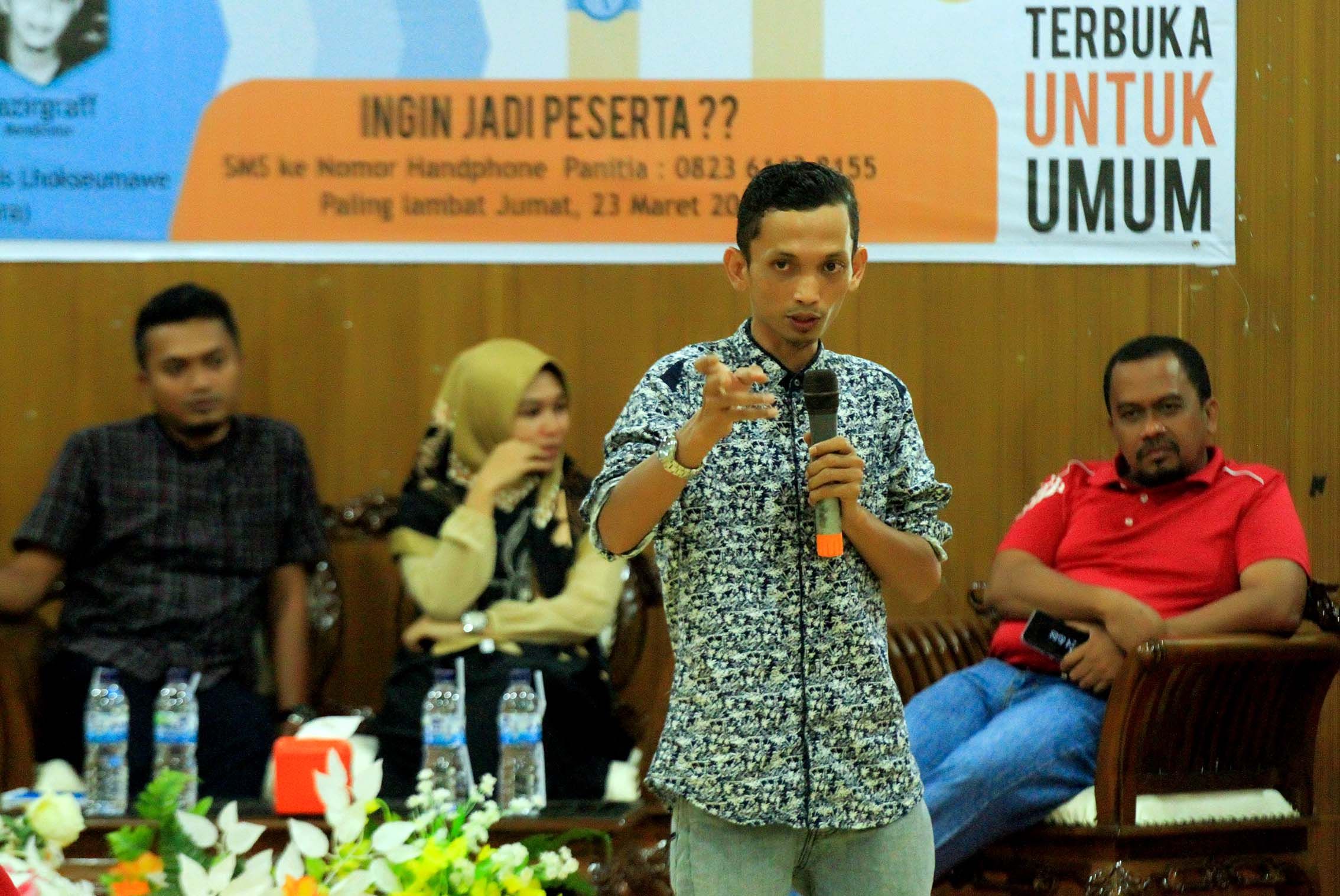 I was giving a public lecture, image source @rahmadantara
---
Syllabus the first steemit workshop in Lhokseumawe, Aceh, about the introduction of Blockchain, Cryptocurrency, and digital investment opportunities. I gave this open lecture to all the participants who had attended on Saturday evening, March 24, 2018, at the VVIP restaurant meeting hall "Ayam Penyet Pak Ulis". Participants come from various backgrounds, entrepreneurs, students, lecturers, academics, local government, and religious observers.
The activities went smoothly and conducive, the participants were very enthusiastic and interested in the material delivered.
I acknowledge that there are still many shortcomings in my course materials, and also because time constraints cause me to press every point of submission, I also know that I find it difficult to find the appropriate language equivalent to interpret some points of discussion so that there are some participants who have difficulty digesting.
I deliberately publish my lecture material so that for the future participants and the steemit community, in general, can develop and complete the course material.
| | II was giving a public lecture on introducing basic blockchain on March 24, 2018 in Aceh. image source [@rahmadantara] |
| --- | --- |
KEYWORDS
Blockchain
Cryptocurrency
Investment
BLOCKCHAIN
The ledger that records every transaction and continues to grow, the book is called a block, each block is connected and secured with cryptography
Blockchain using cryptocurrency was discovered in 2008 by Satoshi Nakamoto (anonymous)
Blockchain 1991 was once used by Stuart Haber and W. Scott Stornetta to send messages
Blockchain uses a decentralized system (not centralized)
Cryptography
Derived from greek (kryptós and Graphein which means Kryptós = hidden/secret
Graphein = to write
Previously used by spies to convey messages
Messaging with cryptography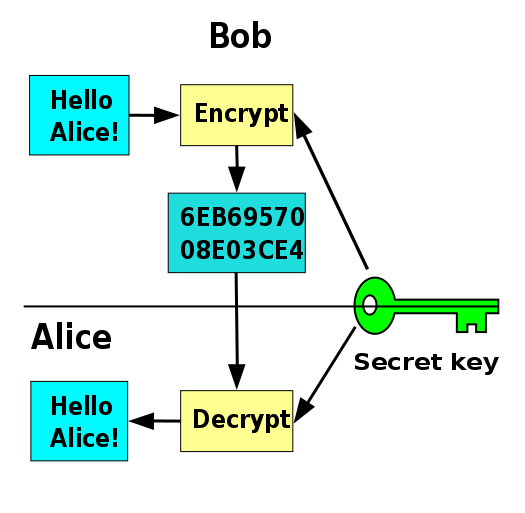 Symmetric-key cryptography, where a single key is used for encryption and decryption. Image source wikipedia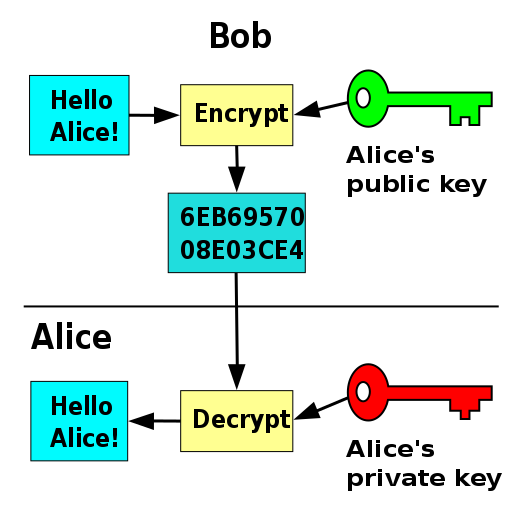 Public-key cryptography, where different keys are used for encryption and decryption. Image source wikipedia
Message translator


Key owned by Alice (public and private)

Bob sends a message (encrypted by Alice's public key) - The ledger / block only records the writings and numbers (messages) of Bob that have been encrypted - to read messages sent by Bob (encrypted), Alice needs a private key to decrypt a message from Bob - Message received by Alice
Transaction


I just give the public key to someone else, so people can send me a message/transaction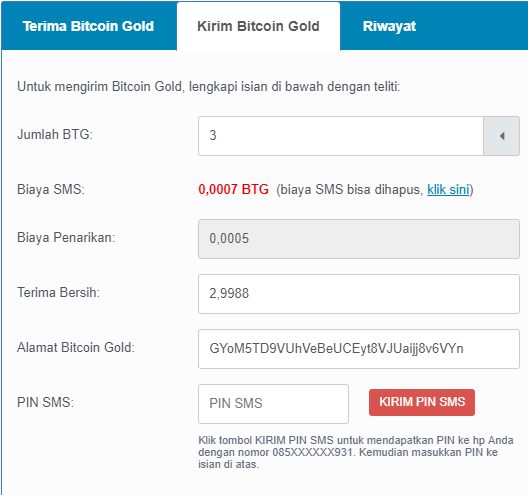 To send cryptocurrency/transactions to others, I must know the public key belongs to that person first
Blockchain simplification
The ledger containing the note (block = book)
Each book has a capacity (more than 30GB or less)
It takes 4 seconds or more to create a new book/block (Depending on the built system)
The recording will continue (after 4 seconds or more) on the next book/block
Each book has a unique code, and is related to previous books
Those who record and provide books are accountants (miners or witnesses in steemit)
Blockchain Scheme


The main chain (black) consists of the longest series of blocks from the genesis block (green) to the current block. Orphan blocks (purple) exist outside of the main chain. image source wikipedia
CRYPTOCURRENCY
Cryptocurrency can be used as a digital asset and is created as a means of exchange that uses cryptography to secure transactions
Can be created limited or not
Can not be intervened
Can be owned by anyone
Not legally recognized as a medium of exchange in Indonesia
INVESTMENT
Where?
Creating a new cryptocurrency (altcoin)
Being miners/provide services (in steemit, miners are also called witnesses)
Collecting/stockpiling cryptocurrency (in steemit, increasing steem power-SP)
Merchant (conventional money exchange service/IDR/USD etc.)
When is the price of cryptocurrency rising/expensive?
Nobody knows
The more market demand is likely to increase (economic principles)
Investment = accept the risk of failure 99%
Very high fluctuations
The analysis is just an opinion
No one is responsible
Vulnerable fraud and abuse
Must understand the system
Very dependent on the network (internet)
Steem Prices from 18/4/2016 to 24/3/2018 (IDR)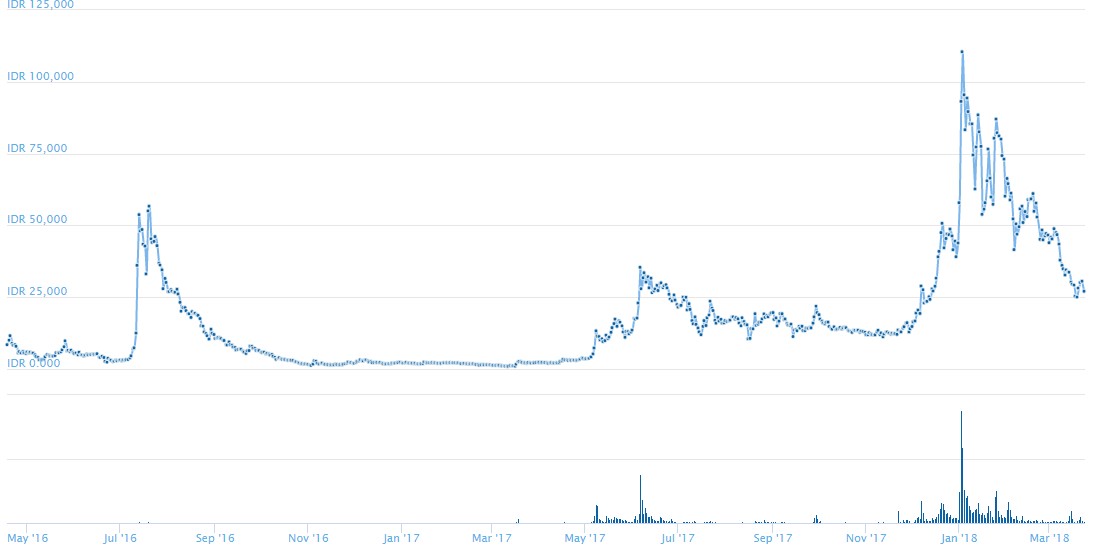 What can you learn from the graph? NOTHING, you just know, when the market volume increases then the price will rise. image source www.coingecko.com
April 18, 2016 steem price = Rp 8,490.-
Steam price March 23, 2018 = Rp 27,072.-
April 18, 2016 to March 23, 2018 = 704 days
Lowest price of March 11, 2017 = Rp 962.-
Highest price January 03, 2018 = Rp 110,473.-
---
Finally, I have to analogy every point of the matter, blockchain, cryptocurrency, and how to invest.
---
In fact, I have much to say, and I should also make sure the audience can digest every point of matter that I preset to be useful in the future, and finally. because of the limited time then the matter I stop and solid until it's there, then I will have a personal discussion with the participants.
Thanks to @pakulis who has sponsored this workshop (without you this workshop may not materialize), thanks also to colleagues who have worked to succeed this workshop (@saifuelbahrie, @azirgraff, @teukumukhlis, and @jumaidafajar) also to all journalists who have attended the event.
---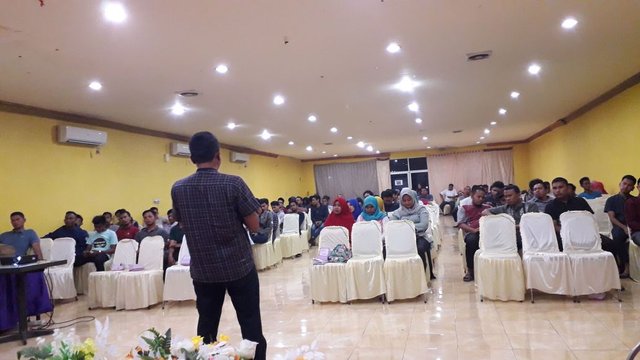 @teukumukhlis was presenting in front of the participants on the basic introduction of steemit, the participants looked very enthusiastic. @kharrazi documentation
You can download my matter using Bahasa for free here (pdf)
Hopefully useful
---
Reference:
1. Cryptography
2. Blockchain
3. Cryptocurrency
Best Regards @kharrazi