Tokenization will turn the whole internet into the world's largest "Stock Market"

Reading that quote gives me goosebumps, especially when thinking about SMTs and Steem.
But wait, it gets better...
This was a quote retweeted by Dan Nathan of Fast Money on CNBC: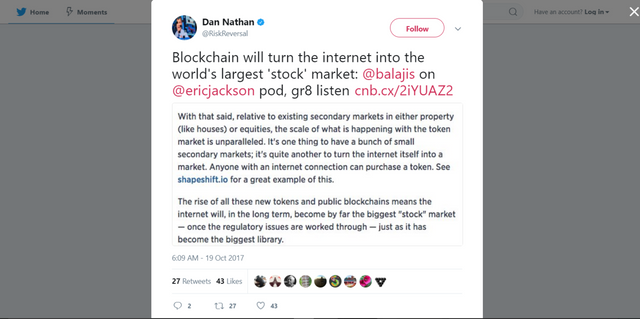 The original quote was uttered by the CEO of 21.co, Balaji S. Srinivasan, on CNBC back on September 7th. 
The exact quote can be read here:
"With that said, relative to existing secondary markets in either property (like houses) or equities, the scale of what is happening with the token market is unparalleled. It's one thing to have a bunch of small secondary markets; it's quite another to turn the internet itself into a market. Anyone with an internet connection can purchase a token. See shapeshift.io (or steem SMT) for a great example of this.
The rise of all these new tokens and public blockchains means the internet will, in the long term, become by far the biggest "stock market" -- once the regulatory issues are worked through -- just as it has become the biggest library."
(except for that part about Steem and SMT, I added that part) :)
But, Wow!
The entire release can be read here:
https://www.cnbc.com/2017/09/05/balaji-srinivasan-21-co-interview-on-blockchain.html
Let's break that down a little...
Basically he is saying that what is about to happen is without precedent, basically since the creation of the internet. There are tons of other markets out there, some of which are very large, but this could make the entire internet a market place. One just waiting to be tokenized.
Which is another reason why these things will be so hard to control. If two people have an internet connection there can be a token transaction. In order to shut it down, the internet will have to be shut down.
The big thing is going to be making sure all these new tokens are not securities, that is one of the biggest things the SEC is looking at. If they are securities there is a whole host of regulations that will be attached to them.
Basically as long as the token has a utility behind it, it won't be considered a security.
What can be tokenized?
According to Balaji, tokenization will be most closely related to scarce assets. Anything that is scarce, for one reason or another, will be tokenized.
Today the most appropriate thing to tokenize is something that is purely digital.
However, by 2025-2030 Balaji thinks that there will be jurisdictions that allow the tokenization of virtually any scarce resource, including personal tokens.
By that time you might be able to take a stake in an individual's tokens by giving them a lump sum of digital currency today in exchange for some smart-contract enforced percentage of future earnings on just about anything.
Want to buy some of Steph Currie's future earnings as a basketball player? You just might be able to do that some day.
Pretty exciting ehh?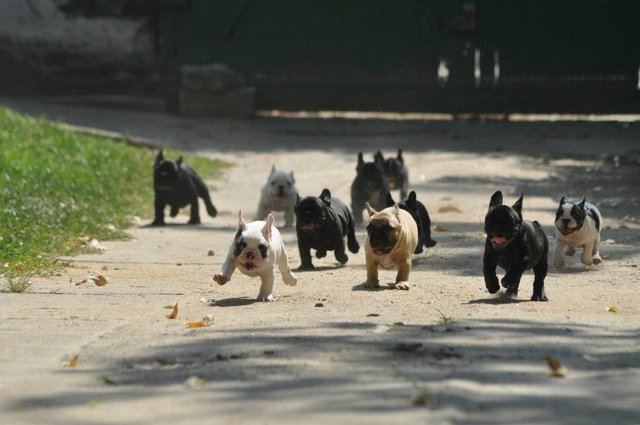 The dam is breaking, the stampede is coming, do you hear it?
Stay informed my friends.
Sources:
https://www.cnbc.com/2017/09/05/balaji-srinivasan-21-co-interview-on-blockchain.html
Image Sources:
https://www.earth.com/news/understanding-early-life-forms/
https://twitter.com/BKBrianKelly?ref_src=twsrc%5Egoogle%7Ctwcamp%5Eserp%7Ctwgr%5Eauthor
http://www.thatericalper.com/2013/04/28/the-cutest-picture-of-the-running-of-the-bulls-youll-ever-see/
Follow me: @jrcornel