In the past, weekends have not been good to Bitcoin or the entire Crypto space in general.
Some of the biggest declines have taken place on weekends and the volume in general is usually much less.
This being a Holiday weekend in the United States is likely exacerbating that trend. 
The past month has been pretty rough for the entire space. After Steem made all time highs near $3 it is trading down around $1.60. 
Bitcoin has a similar chart but not nearly as much of a decline currently. After reaching nearly $3000 per coin, it is currently trading around $2500 per coin.
What's going on? 
Much of the decline initially was likely good ol profit taking with some other minor contributing factors as well.
However, lately with the uncertainty over what is to come, some investors/traders decided to take some chips (coins) off the table.
The lack of volatility in the Bitcoin markets likely has to do with the coming user activated soft fork. When the dust clears there is the remote possibility of 3 competing blockchains. With a much stronger possibility of 2 separate blockchains being created.
Basically, no one knows for sure what is going to happen, so they are sitting on the sidelines. 
Continued uncertainty likely means volumes will be down for the next several weeks leading up to the August 1st date. The price will likely be subject to headline risk even more so than usual, as the latest headlines coming out will likely whip the price around until we get some definite answers as to what is going to happen come August 1st. 
The following is a 2 hour chart of Steem/BTC showing the last month of trading activity:

Sideways is good, for now.
Judging by the current environment we are in, sideways is pretty good price action. After a month or so of declines it finally is looking like the selling is slowing down.
The only question is if the selling is slowing down because it is finally getting exhausted or is it slowing down because no one wants to take an action prior to the coming soft fork in bitcoin?
I tend to think the first one is the more likely scenario.
ZombieTraderAbott on BitcoinMarkets tends to see things quite a bit more positively saying this:
"I'm super bullish right now. I think we are about to jump to around $2800 within 3-4 days, wobble for a bit, and then make new all-time highs within 1-2 weeks. I honestly think we could be cracking $5k before the end of August."
Not sure I agree with all that, but I like his thinking. Perhaps he is right but maybe push the dates out just a little more in my opinion.
After all, we cannot forget this picture: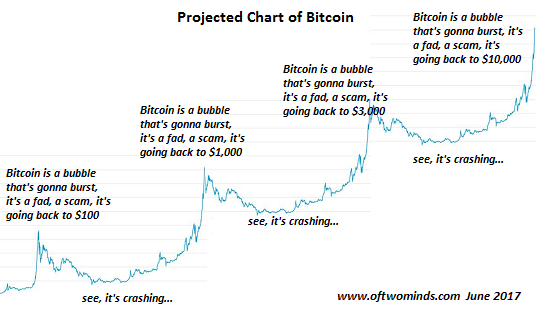 The bigger picture.
Looking at the bigger picture, Bitcoin and Steem (as well as many others) are still multiples of where they were trading just a few short months ago.
Bitcoin was trading around $1000 on April 1st and as we just passed July 1st, it is hanging in there quite well around $2500. Impressive returns over a 3 month stretch. 
Steem has enjoyed very similar types of gains over that time period. 
So, while sideways might be the new up for the time being, I tend to think we are just consolidating before the next leg up takes much of the cryptocurrency space to new highs yet again.
Stay positive my friends!
Sources:
https://themerkle.com/bitcoin-price-remains-stable-around-us2500-as-overall-uptrend-remains-intact/
Image Sources:
http://www.turn2profit.com/bomeasyandfun.html
Follow me: @jrcornel