Cryptocurrencies are not in a Bubble, and here's why:

If you have turned on any financial news channels over the last few weeks you have likely heard some talking head referring to Bitcoin and the rest of the altcoin market as one giant bubble, ready to burst. 
However, upon doing some critical thinking and a bit of research I find that likely not to be the case. 
In order to decide whether there really is a bubble or not, we must first establish what a bubble is.
Investopedia defines an economic bubble as this:
"A bubble is an economic cycle characterized by a rapid escalation of asset prices followed by a contraction. It is created by a surge in asset prices that is unwarranted by the fundamentals of the asset and is driven by exuberant market behavior. When no more investors are willing to buy at the elevated price, a massive selloff occurs, causing the bubble to deflate."
Now that we have a definition, why do I think that Bitcoin etc. doesn't fit this definition, at least not yet?
One reason is basically the same reason that you and I are even talking about it right now. When bubbles are truly in their blow-off top phase, hardly anyone actually thinks it's a bubble. 
In fact, it is usually quite the opposite. 
That is the reason it bursts in the first place. 
At the peak of price cycles you have everyone on the same side. All the bears have been converted to bulls and have bought in hoping for the ride to keep going. 
When there is no one left to buy, that is when the music stops and the bubble bursts. Leaving many hurt investors along the way.
This chart shows the price cycle of bubbles fairly clearly: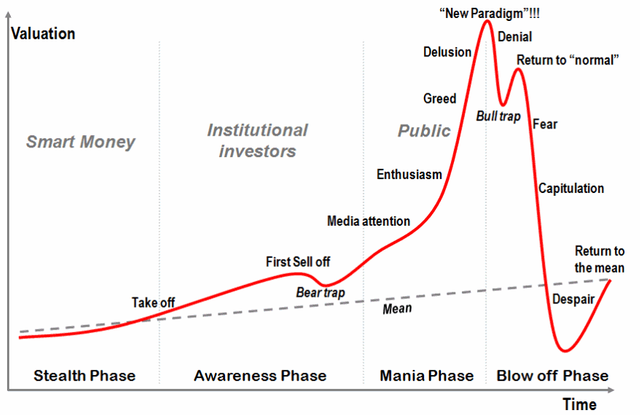 Looking at the above chart, I would argue that we are somewhere on the far left, possibly the "take off" phase, right at the beginnings of when institutional money is starting to get involved. 
As long as there is plenty of skepticism out there I would tend to argue that we are not close to bubble bursting territory. 
The 2nd reason that I don't think we are in a bubble...
Unlike some other assets that are driven up exuberantly, Bitcoin and other cryptocurrencies actually have utility value.  
They are a means of transaction. They can facilitate international transactions in a fraction of the time and at a fraction of the cost. There is real value in that. 
Plus it can't be manipulated in the way that current means of transaction can (dollars). The supply is known, there is no trickery going on with central banks adjusting the money supply. Which means it has a very real chance of supplanting those means at some point. 
Not to mention each cryptocurrency has a network behind it. Steem is the perfect example of this. There are literally thousands of users on steemit.com every day that interact and communicate on it. Each person could literally bring in an exponential number of new people to cryptocurrency at any time. 
If the base is growing, it's price likely is growing as well. 
The 3rd reason I don't think we are in a bubble...
How many people do you know outside of steemit that actually own any cryptocurrencies?
For me personally, I can't name one person that I know that even owns a single Bitcoin. Not one. Keep in mind that I have worked in the Finance sector for several years and still talk to many investor and trader types and not a single one of them owns any cryptocurrency. 
When Grandma and Grandpa start calling me up and asking me when the shiny new bitcoins they bought will arrive in the mail that is when I will start getting fearful of a market collapse.
Conclusions:
These are just a few of the reasons I don't think we are in a bubble, there are probably a few others that I am missing but in my opinion these are some of the biggest indicators telling me there is plenty of runway.  
The next time someone tells you we are in Bubble, show them this chart: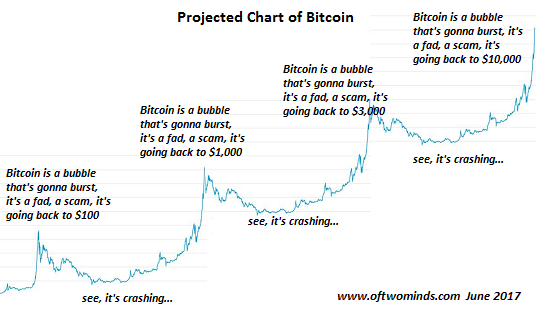 Then think of how many people there are in the world (7.5 billion) vs. how many of those actually own a cryptocurrency of any kind. Think of how many hedge funds own cryptocurrencies. How many investment funds, how many insurance corporations etc etc...
Basically none of them have gotten involved in any meaningful way yet. 
We haven't even scratched the surface of what could be coming if these things reach their full potential... 
That's what gets me really excited.
Keep the dreams alive my friends!
Sources:
http://www.investopedia.com/terms/b/bubble.asp
http://charleshughsmith.blogspot.co.uk/2017/06/projecting-price-of-bitcoin.html
Image Sources:
https://www.reddit.com/r/mildlyinfuriating/comments/38ybe5/this_gif_of_a_bubble_bursting/
https://people.hofstra.edu/geotrans/eng/ch7en/conc7en/stages_in_a_bubble.html
http://charleshughsmith.blogspot.co.uk/2017/06/projecting-price-of-bitcoin.html
Follow me: @jrcornel