Hi everybody! Looking for new cryptocurrencies to invest in I bumped into this interesting coin which I want to share with you its basis:
Over the last 50 years, in order to prevent money laundering, financial crime and certain activities related with it, such as drug trafficking and terrorism, the financial institutions needed to conduct identity verification (IDV) services and "Know your customer" (KYC) processes to verify the identity of a costumer and the authenticity of the information provided by that customer when seeking access to a new product or service like opening a new bank account. This trend quickly spilled over other sectors, like e-commerce. As result of it the IDV sector is large and continously growing. But still there are plenty of security breaches and thefts.
Due to the high costs and inefficiencies involved, the IDV industry presents a highly competitive landscape for newcomers who can offer innovative technical solutions. Driving down the costs of IDV-related services will increase access to such services and thereby increasing benefits aswell. The cost for financial institution to implement KYC and IDV is significant, and are quite time-consuming for customers.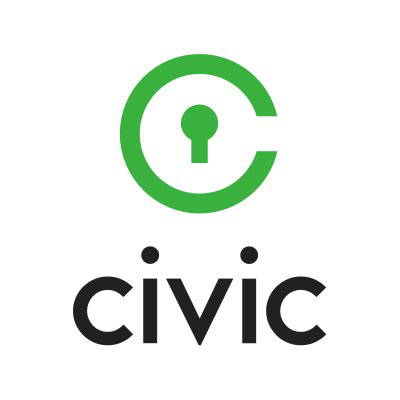 In this panorama is where Civic comes, a company based on securing and protecting identities. It aims to build an ecosystem that is designed to facilitate on demand, secure, and low cost IDV services via the blockchain, such that, background and personal information verification checks will no longer need to be undertaken from the ground up every time. With the Civic token (CVC), the participants in this ecosystem will use them to transact in IDV-related services. Civic hopes that this ecosystem can reduce the overall costs of IDV, remove inefficiencies, enhance security and privacy, greatly improve user experience and disrupt the current IDV supply chain.
At present, Civic provides a digital identity platform known as the Civic Secure Identity Platform (the SIP) which individuals can access by downloading the "Civic App", setting up their digital identity on their device and verifying their identity to become a Civic`s user, in which point it is supposedly harder to gain access to your information by hackers or other malicious groups. It uses high-level encrypting and biometric locks such as fingerprints.
Civic, an already trusted player in the IDV space, bases the blockchain technologies to offer a solution to the problems faced by organizations in the process of conducting IDV on their customers, in particular the smart contracts or the code executed on the blockchain bring significant advantages over existing applications. Some features that Civic takes from using the blockchain technologies are: Low cost, Immutability in the integrity of the network, Transparency, Irreversibility, Pseudonymity and Security.
Through its decentralized architecture with blockchain and biometrics on the mobile device, the civic App enables users to share and manage their fully verified identity data. Civic's identity partners can request a user's information through custom QR codes to be scanned by the user with the civic App, who can scan these codes, review which information is requested and choose to whether give it or not. This allows a voluntary information exchange between the user and the identity requestor, ensuring a real-time authentication and secure sharing of data.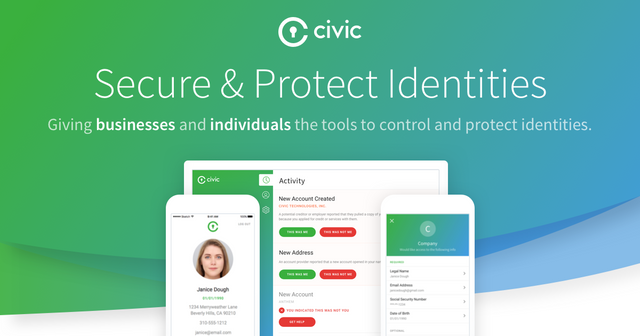 Civic tokens, which they say to have created a fixed supply, are meant to finance the developing of a fully decentralized Civic ecosystem for IDV services (The ecosystem) which will have three new components: A variety of smart contracts, an utility token (CVC) and new software application which will allow to interact within the ecosystem. It will use validators of the information given by the users, reminding miners in Bitcoins. The CVC is paid in a transaction and distributed to the validator and the user as a reward for sharing information. It will also incentivize the contribution to their ecosystem. Users can use their CVC tokens to build additional identity-focused services.
This token was launched on July 18th and from August 9 to 11 has rised its value a 300%. We have to be careful because it might be a pump/dump coin, but based on what they want to build I think its value could go further.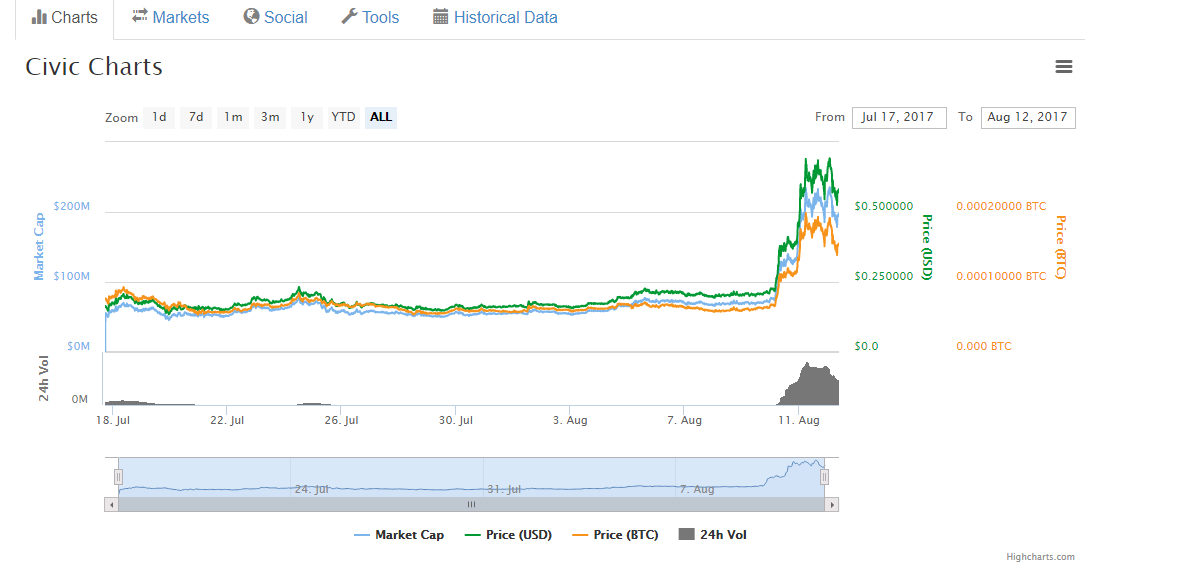 Bibliography:
https://tokensale.civic.com/CivicTokenSaleWhitePaper.pdf