BINANCE: The new chinese exchanger with a promising crypto coin!
Searching for new and promising cryptocurrencies to invest in, I found Binance , a chinese brand new exchanger with a cryptocurrency that have a bright future in my opinion: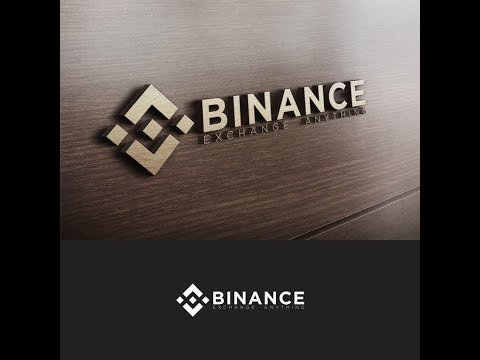 First of all I'll talk about Binance: Binance is a new exchanger that deals only with crypto coins. Even though they are small now, they strongly believe that pure crypto exchanges will be bigger, many times bigger, than fiat based exchanges in the near future. They will play an even more important role in world finance and they call this new paradigm Binance ; Binary Finance
Recently there´s been a lot to talk about some crypto exchangers like Poloniex for example. Some of them suffer from a number of problems:
● Poor technical architecture
Exchange systems need to be engineered from the ground up with security, efficiency, speed, and scalability in mind, otherwise the system might work well at the beggining but they won´t be able to handle the increased load afterwards . This often slows down the initial development, but is critical for long-term success.
Their team claims to have decades of combined experience building and maintaining world class financial systems that shape the economy.
●Insecure platform
There are hundreds of exchanges that went down due to being hacked. Binance is built to high standards, audited, and penetration tested. They have experience building financial systems to the highest security standards and strive to ensure security first.
● Poor market liquidity
Professional traders and normal users are significantly affected by this. Having a shallow orderbook means high slippage when trading, which is very expensive for traders. Getting miners, institutional investors and large traders into a new exchange is a chicken and egg problem, and requires a team with deep industry resources.
Binance's team have been in both the finance and crypto industry for many years. The team has worked on and operated a number of exchanges, and have accumulated a large network of partners in this space. These partners will be key in bootstrapping the exchange. These investors you can see them at their whitepaper: (https://www.binance.com/resources/ico/Binance_WhitePaper_en.pdf ).
● Poor customer service
Traders are a different breed when it comes to users. Understanding the trader mentality is vital for running a successful exchange. Money is literally on-the-line. Many exchanges service traders as if they were running a social media site. A 3-second delay in seeing your friends' status update would hardly be noticed, but on an exchange, the same would be unacceptable, resulting in a torrent of user complaints.
In additional to the technology stack, Binance is built with service in mind. Binance shares support responsibilities across the entire staff and company. When a trader has a problem, they get an answer directly from someone who knows the system and not someone reading from a script.
● Poor internationalization and language support
Blockchains have no borders. Most exchanges focus only on one language or one country.
They possess an international multi-lingual team which has extensive working experience in North America, Europe and Asia, and they are able to smoothly support the global market.
BINANCE EXCHANGE
Matching Engine
Their matching engine is capable of sustaining 1,400,000 orders / second, making Binance one of the fastest exchanges in the market today. This has as a result that our orders will never be stuck due to the matching engine being overwhelmed.
Device Coverage
They will provide cross-platform trading clients for:
● Web-based trading client
● Android native client
● iOS native client (pending App Store review)
● Mobile HTML5 client (including WeChat H5 client)
● PC (Windows) native client
● REST API
Multilingual Support
They will support English, Chinese, Japanese and Korean on all of their user interfaces. (The initial release will be in English and Chinese only.) More languages will be added over time.
REVENUE MODEL
Binance's revenue will come from the following sources:
Exchange Fee: Binance initially will charge a 0.2% fixed fee per trade. Other variations will be subsequently introduced, including maker-taker, volumed based tiering and 0 fee promotions.
They say they have no plan to charge above 0.2%.
Withdrawal Fee: Binance may charge a small fee for withdrawals.
Listing Fee: Binance will select innovative coins and other assets to be listed on the exchange, there may be a fee associated with those listings.
Margin Fee: If you trade on margin, there may be a fee or interest on the borrowed amount.
Other Fees: There may be other fees the platform may collect for various services such as automated algorithmic order etc.
TEAM:
Changpeng Zhao – CEO
Roger Wang – CTO
James Hofbauer - Chief Architect
Allan Yan - Product Director
---
Binance Coin (BNB)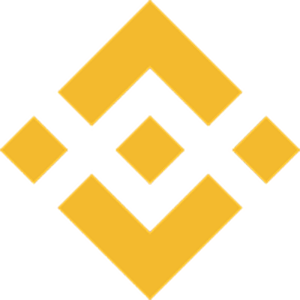 A strict limit of 200MM BNB will be created, never to be increased. BNB will run natively on the Ethereum blockchain with ERC 20. I f you want to get these coins, the only place I found was its exchanger (https://www.binance.com/), neither in kraken nor poloniex nor bittrex have this currency avaible for purchaising at the moment.
BNB Value & Repurchasing Plan
You can use BNB to pay for any fees on our platform, including but not limited to:
● Exchange fees
● Withdraw fees
● Listing fees
● Any other fee
If you use BNB to pay for fees, you will receive a significant discount:
1st year (50% discount), 2ndyear (25%), 3rdyear(12.5%), 4th year(6,75%), 5th year(no discount)
Repurchasing plan
Every quarter, They will use 20% of their profits to buy back BNB and destroy them, until they buy 50% of all the BNB (100MM) back. All buy-back transactions will be announced on the blockchain. They will eventually destroy 100MM BNB, leaving 100MM BNB remaining.
Decentralized Exchange
In the future, Binance will build a decentralized exchange, where BNB will be used as one of the key base assets as well as gas to be spent.
Funds Usage
● 35% of the funds will be used to build the Binance platform and perform upgrades to the system, which includes team recruiting, training, and the development budget.
● 50% will be used for Binance branding and marketing, including continuous promotion and education of Binance and blockchain innovations in industry mediums. A sufficient budget for various advertisement activities, to help Binance become popular among investors, and to attract active users to the platform.
● 15% will be kept in reserve to cope with any emergency or unexpected situation that might come up.
Its value has rocketed from its beginning by the end of July till today and I think it will go further as Binance seems to offer a good opportunity to trade safe and has good supporters like Antshares or Ethereum. Not to mention that this exchanger is based in China, a place where the crypto bussiness seems to be on the top.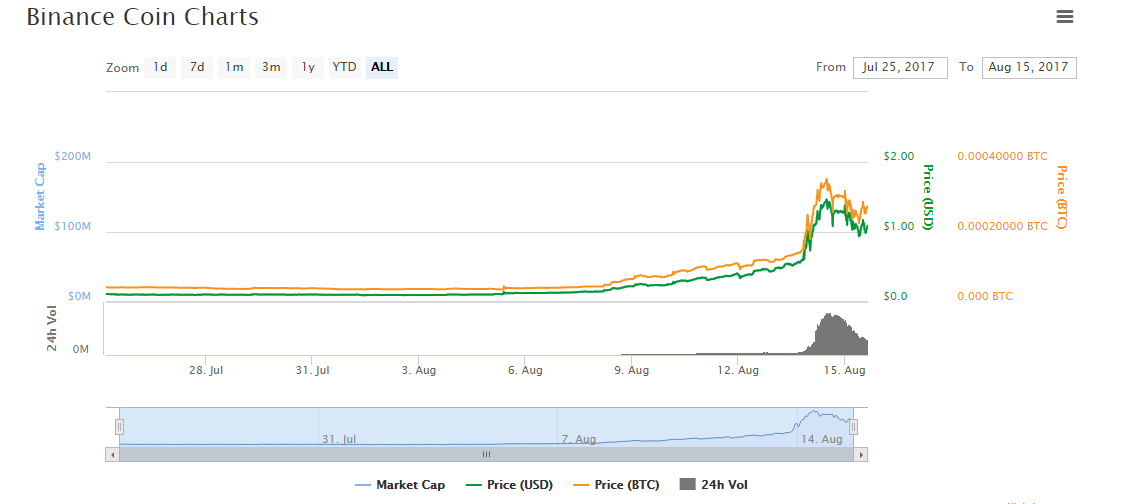 Bibliography:
https://www.binance.com/resources/ico/Binance_WhitePaper_en.pdf